A Silence Haunts Occupied Aztlán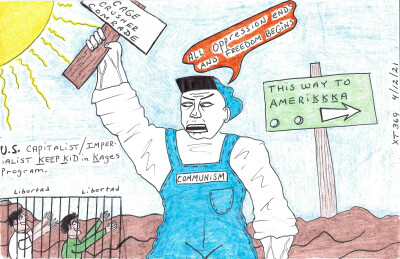 In the United Snakes of Amerikkka there is an eerie silence surrounding the most grotesque reality of today within the borders of this imperialist settler colonial nation. A silence similar to the one on that cold night in Germany on the 9th of November, 1938, known as Kristallnacht. This silence is different however because unlike that night otherwise known as the "night of broken glass," this silence encompasses both day and night seamlessly and seemingly endlessly. This silence protects the interests of a select few in power. It protects them from having to answer for the chaos they created outside these arbitrary borders against the survivors of Amerikkkan imperialism by separating the families in custody of the criminal Amerikkkan state. I'm talking about the children in cages.
We're talking about traumatizing the youth of colonized nations in modern day concentration camps. Like in the concentration camps for "amerikkkan citizens" there is no shred of dignity provided. No recognition of humanity. The magnitude of crimes actually perpetrated by these agents of fascism is unknown. Occasionally a whistleblower will receive a small slot on the evening news to highlight a particular abuse. Hollow promises of change from the settler government followed by silence from the settler masses are soon to come with a distraction here or there to qualm concerns of the still inquisitive.
The European settler seeks to soothe the colonized revolutionary demands in order to settle for reform. So it's no surprise then when fundamentally nothing changes in the system which perpetuates these horrors. Many who are conscious of said horrors and who claim to be serving the "best interests" of the people are quick to co-opt anything that sounds remotely revolutionary. Democrats or Republicans, Coke or Pepsi, both are toxic formulas made by the colonizers to extract profit from the oppressed colonized people while simultaneously killing them slowly.
Even amongst those who call themselves "the radical left" there's barely a shred of concern sustained outside of a shareable post on social media. When hysteria breaks out over a single incident millions are quick to interject with an opinion. When over 2.3 million people are incarcerated and enslaved it's just business as usual. When over 70,000 children are jailed it's justified to "protect the borders" from Raza fleeing chaos started by those in power within these same borders.
We are all prisoners of war, some of us are politicized prisoners but we all remain at war whether we wish to be or not. Whether we are surrounded by concrete towers, riflemen overhead, or kept in line by terrorists with badges in the barrio. Make no mistake the poor and colonized are at war. They will justify incarnating the "Gangster" or the "Cholo." They will say that we had "opportunities" but simply made the wrong choices. They will have us believing that we are the problem. Just like they told our ancestors as they burnt our sacred texts and destroyed our highly developed societies. They will teach us of salvation in white Jesus. They will teach us that we may face peril here on earth as slaves to the colonizer but in reality we should be grateful because those same colonizers brought us european religion that will give us everlasting life and a kingdom of riches in the afterlife!
I have a cousin named Jesus but he is brown and I can tell you I have never met a white Jesus. I'm even less concerned with riches in an afterlife when we all are subjected to poverty here in this one. The fact is that we are not the problem. We only had opportunities to betray our nation and class. We were taken from the womb to the tomb. Our sentence was handed out before we even opened our eyes to see the devastation that Amerikkka has brought to the world.
They can fabricate lies about us, but when it comes obtaining a respiratory infection in ICE custody, this is the greatness United Snakes of Amerikkka aims to return to. The "great" genocide of all the poor Brown and Black people unfortunate enough to be "discovered." Thousands of recorded cases of little girls being sexually assaulted in ICE facilities with untold more numbers growing daily are being told it's going to be okay because Amerikkka is a Pepsi nation now and Coca Cola is in retreat. Joe is in office and the orange man is out! If we are being honest with ourselves and true to the plight of those traumatized children though. We all know that the shackles which bind us all together on this sinking ship won't be unlocked by the same person who put us in them. As for the impotent left that is silent to our suffering and the suffering of our children in cages. Break the silence with the sound of marching feet or be tread upon by the roar of history's feet stomping over the indigent rulers of yet another decaying social order.
Free the children!
Free them all!