Justice For Adam? The Aftermath of a Mexican Youth's Murder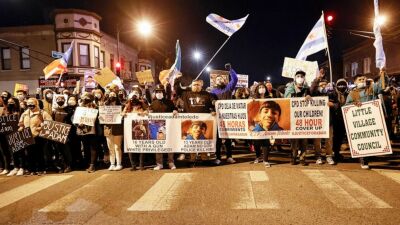 In April, we published a piece covering the killing of Adam Toledo: a 13-year-old Mexican lumpen youth who was a member of the Mexican/Chican@ neighborhood of Little Village, westside Chicago. Here we address some of the organizing that has come out of this tragic death.
The Mexican/Chican@ Youth Speak
On the day the Chicago city government released the body camera footage of the way Adam was killed, police abolitionist rallies and protests were gathered in Chicago and other major cities of the United $tates. Primarily, these rallies were calls for abolition and reform of pig forces in the United $tates and were attended by the Mexican and Chican@ masses – mostly the youth. Despite comprador Mayor Lightfoot and the Chicago Pig Department's fearful cries of imminent social unrest and "riots," these social rallies were peaceful and non-violent.(1)
During school time, the same youth who might have attended those non-violent rallies mourning Adam's death and righteously condemning the Chicago Police Department (CPD) would have found a bit more safety than usual due to the lack of pig presence in their schools. Chicago Public Schools (CPS) officials announced on the 23rd of April – a week after the release of the body cam footage – that uniformed pigs won't be on school campus until the fall semester. This policy however, is only temporary and will not apply to sergeants who patrol the areas around CPS schools. On top of that, officers are still assigned to 55 high schools whose local school councils voted to keep them in.(2)
The murder of a fellow oppressed nation youth has sparked a lot of righteous resentment against the oppressive police system among Chicago's public school students during that month – the CPS population is comprised of 83% oppressed nation students.(3) Nathaniel Martinez, a sophomore of Roosevelt High School in Albany Park, made the following statements:
"The cops are the ones who are holding the gun. They have the power to choose what will happen, what won't happen. And what they chose for Adam was death. And when I saw that, when I realized that, it just made me scared. But at the end of the day… am I scared of cops? Yes. Am I scared what one of them will do to me if one of them ends up having a bad day and they just want to do something crazy? Yes, I always am. … But right now we're trying our best to make a difference."
"We shouldn't have students being monitored like criminals by cops in schools,"
Oppressed nation youth like Nathaniel lead movements across the country to get rid of armed pigs monitoring school halls. Many of these youth correctly recognize the disparity of how much harsher and more frequently New Afrikan or Latin@ children would be targeted by school pigs as compared to their Amerikan peers. Other progressive minded people have also recognized how the patrolling of schools and youth (oppressed nation youth in particular) lead to those youths entering the prison injustice system. In this sense, there is strong solidarity that should be built among the prison movement and the youth movement. However, a big weakness, reflecting pre-scientific thinking within these movements, is reformism and dependency on the imperialist system. These are ideas communists should be challenging through political education when deepening their roots into the progressive youth movements.
The Elders Respond
One important voice that has been raised are the ones from the older migrants. While these elders recognize the tragedy of Adam's death, they also supported more pig presence among the Mexican/Chican@ neighborhoods in fear of violence from lumpen organizations. One Mexican elote (Mexican street food) vendor aged 74, named Santamaria, had this to say:
"We are tired of gang violence; it's sad what happened with the young boy, but he had a gun with him and his friend had been shooting, so the officer responded to the threat,"(4)
Many of our reader base will know that the oppressed nation lumpen in the urban centers of the United $tates have hostile relationships with their urban petty-bourgeois counterparts. Some of our readers (and also many communists) might be quick to condemn the above attitude claimed by Miss Santamaria as coming from a petty-bourgeois street vendor and a chauvinist attitude against the lumpen class. However, we shouldn't be too quick to brush off these sentiments and thoroughly combat the anti-people aspect of the lumpen class as well. Ideas stem from material reality after all. The segregated nature of the United $tates will mean that the bread and butter of oppressed nation lumpen will be other oppressed nation people: pigs will care less if a gangbanger steals from a New Afrikan or a Chican@ in the ghettos/barrios than stealing from the Amerikans. As stated in "Who is the Lumpen in the United $tates?" by MIM(Prisons), the First World Lumpen parasitically gets its means of living through other labor aristocrats, or other lumpen. This examination should lead to their surrounding petty-bourgeoisie as well. While it is true that in the United $tates, the First World Lumpen class should be organized to abandon the road of banditry and follow the road of revolution, it is also true that to demand respect and sympathy from poor and lower petty-bourgeois masses while also committing said banditry is idealist and commandist.
One important point that has been brought up by the youth and the intellectuals which led many of the mass rallies and discourse surrounding the murder of Adam was the fact that many of the elders in the Mexican/Chican@ community bring over conservative cultural attitudes of the countryside in mother country Mexico to the cities of the United $tates.(5) Many of these attitudes include the reaction against the violence of the lumpen proletariat drug lords and the Mexican bourgeoisie that fund and cooperate with these enemies of the people. Nine times out of ten, the Mexican drug lord is a gangster and a comprador capitalist at the same time – if not the running dogs of those comprador bourgeoisie. In the oppressed nation areas of the United $tates, most lumpen organizations might just be small-scale collectives of hustlers, pimps, and drug peddlers who claim blocks and corners and can't afford to have the country's military under their thumbs; in the Third World, they are war lords who control swaths of land and political power. This difference should stay in the minds of revolutionaries and communists who intend to organize not only the first world lumpen, but also the migrant proletariat who come from the third world oftentimes to escape from war lord tyranny.
The Campaign Against ShotSpotter
Several months after Adam was murdered, his family and activists gathered on the site of his death to protest the ShotSpotter technology used to detect gunshots in areas where lumpen activities heavily occur. On the Thursday of July 29th when that rally was held, activists demanded the cancellation of ShotSpotter's surveillance presence in their neighborhoods as the contract the company had with the city of Chicago only had one month left.(6)
In response to the protests held by the people, ShotSpotter issued this response:
"All residents who live in communities experiencing persistent gunfire deserve a rapid police response, which gunshot detection enables regardless of race or geographic location. Because cities lack sufficient funds to cover an entire city with gunshot detection technology, they deploy sensors in neighborhoods suffering the highest levels of gun violence."(7)
In classic Amerikan fashion, ShotSpotter disguised its surveillance and monitoring of the empire's problem population (the oppressed nation of urban centers) as a gift and a right that the said population "deserves." Maoists recognize that gunshot detectors in ghettos and barrios aren't a safety measure. These technologies enable pigs to be deployed faster to occupy these regions in a more efficient and fruitful manner. The company also claimed that the technology detects "gunshots regardless of race or geographic location." Any sane person should be able to recognize that this claim means nothing since humyn beings (in this case Amerikan corporations profiting off of militarized police occupation) put these technologies in to monitor New Afrikans and Mexicans/Chican@s geographically located in ghettos and barrios. Like Mao Zedong taught us, man is principal over machine and weaponry in warfare.
Adam's Place
On August 11th, Adam Toledo's family spoke about the plan of creating "Adam's Place"; a non-profit shelter for at risk boys trying to escape inner-city conditions and lumpen violence. The shelter would be built on a 70 acre farm in Potosi, Wisconsin and was chosen by the family's attorney Joel Hirschorn. The location is 3.5 hours away from Chicago and 2.5 hours away from Milwaukee.(9) The non-profit is claimed to be modeled after the Christian ministry program "Boys' Farm." In a town hall meeting in Potosi, Wisconsin, Joel Hirschorn announced that the home will not take in boys already in a lumpen organization. We are not sure how Adam's Place will define a child to be "in a gang" (whether affiliates or individual hustlers will be classified as belonging to a "gang"); however, we see the fact that Adam Toledo himself would not be allowed in Adam's Place as a prime example of liberal NGO tactics.(10) We hope for stable and safe path for all children who will enter Adam's Place, and wish the family members of Adam Toledo for a peace of mind from the nightmare they must be facing. For attacking the problem at the root, and for real rehabilitation of lumpen youth, we point our directions away from NGOism to our readers and towards socialism and revolution.
Bibliography
1. Laura Rodriguez Pesa, "Little Village Quietly Mourns as Video of Adam Toledo's Fatal Shooting by a Chicago Police Officer Emerges," The Chicago Tribune.
2. [Nader Issa, April 22, 2021, "Adam Toledo shooting reinforces CPS students' views on school police," The Chicago Sun Times.(https://chicago.suntimes.com/education/2021/4/22/22398200/adam-toledo-shooting-cps-police-schools-voyce-public)
3. Ibid.
4. Laura Rodriguez Pesa, "Chicago's Latino Community Contends with Police Killing of Adam Toledo: As Many Push for Police Accountability, some Fear Gang Violence and Prefer to Stay Silent,' The Chicago Tribune.
5. Ibid.
6. Patrick Elwood, July 29, 2021, "Community groups demand city oust ShotSpotter gunshot detection system," Chicago WGN9.
7. Ibid.
8. Nichole Shaw, August 13, 2021, "Adam Toledo's family picks Wisconsin farm for Adam's Place, rural refuge for inner-city kids," The Chicago Sun Times.
9. Ibid.
10. Ibid.