Amerika Declared War on New Afrika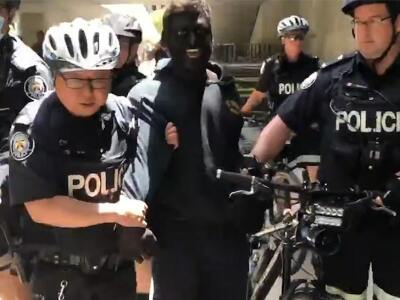 Amerika declared war on New Afrika, first and foremost by the murdering of New Afrikan men, women and children and then imprisonment. Amerika made movies and television shows (the news) to publicly show other fellow white supremacists in and outside this country her kills and trophies. This was also to instill fear into the so-called blacks to not defend oneself from these eminent attacks on us.
Whether we are in these concentration camps or in the free society, Amerika is murdering us and are using us to Blackface this evil nation to try and gain freedom, justice, and equality with the Black Lives Matter movement. But they don't give no credit to the originators of the phrase "Freedom, Justice and Equality", who are those who come from the Moorish Science and the Nation of Islam.
Black Facing of Amerika is also the browning of Amerika… By the sexualization of our brothers' phallus or Mandingo and our sisters' big breast and booties, both sexes of the white nation exploit our reproductive organs for their own survival and our own destruction. Despite improvements in recent years, New Afrikan males are still more than 5 times likely to serve long prison terms than white males, and New Afrikan infants are still 3 times as likely to die than white ones. The prison is a major location of the control of New Afrikan sexuality and reproduction, which once took place on the slave plantation.
In The Man-Not, Tommy J. Curry explains,
"Enslaved Blacks were denied manhood and womanhood, they were defined as beasts of burden whose bodies were used at the discretion of whites. Violence against the enslaved took no gendered form. It was unbridled violence against Black bodies where rape was enacted against both sexes." (p. 158)
"The prison subsumes the Black male self only as penis and flesh. In Soul on Ice, Cleaver notes that"the penis, virility, is of the Body. It is not of the Brain… [I]n the deal which the white man forced upon the [B]lack man, the [B]lack man was given the Body as his domain." Toward the end of the 1960s, Cleaver had already worked out the role white administrators (in both society and prison) determined for the Black penis: It was the symbol of pure animalistic brute sexual force, the criminal rapist beast." (p. 86)
This imperialist/capitalist nation white-washes us so they can be able to Black face in a whole new level. We must fight to defend our minds, our souls, and our bodies; fight to defend our elders, our children, our men and our women. It's time to police our own neighborhoods as the rapper G Herbo said. It's time to separate from the United $tates and become New Afrika. It's time to depend on ourselves and ourselves only! Stand for what you know is truth or die for the lie$!
Remain Consciously Conscience
The Black petty bourgeoisie are in all areas of the socially oppressed and economically oppressed communities; from churches, schools, boards of directors, your city councilmen/women and especially the entertainment business. They've taken in these capitalist and imperialists' potion (lies) and love the brief ecstasy it brings them. As a drug addict, you're induced into a temporary high, and once the high is gone, you notice that you either need more or you could stop, but why should these talented Tenth, or house negroes want to become rehabilitated? They see and hear the truth but being conscious makes them believe they are in control. So unconscious becomes their mind state chemically-induced coma, while walking. It becomes almost as dangerous as their masters' frame of work!
What is Blackface? It was originally a form of racist comedy put on by the Europeans in this country. They paint their faces and act as an ignorant black person. Then they transmutated that ideal and inserted its ideological substance there in our ancestors' minds. In which, they begin to put on the Black face paint and act as ignorant as our captors did, believing it to be the only way to take back the "joke" from our oppressors. Sad to say it only amplified their criterion for a stronger potion (lies) for Us to take! Alchemy at its best.
Now that the chemical has arrived, it is slowly being administered to our children, or the "colorized people." The black petty bourgeoisie begin to release statements such as: 'You must work hard and not think about the environment you're in! That is in order to succeed in life!' Yet, I see the working class and many are still being feasted on by the ruling class parasitic capitalism!
We need to weed out these conscious but unconscious in our communities! For they are the potion of lies waiting to be administered to our present Brothers of Struggle and Sisters of Struggle (BOS and SOS) within the United Struggle from Within (USW). We must begin to insert our truth, the original truth(s) of our ancestors. It is the first vaccine, so to say, that will cause a chemical reaction to their lies. Next is where we sit at in these institutions of slavery. We must re-educate not only oneself, but our Brothers and Sisters of struggle, where you are currently held captive. Then call out those in our communities that wear this Black face.
Capitalism and imperialism was born by racism and colonialism, that's why socialists and internationalists must be self-determined and head strong. Words are the deaf, dumb, and blind poison! Its transmutation becomes one's actions, habits and then your way to death, self genocide! Remain consciously conscience.
Black Face of America
It has come to the attention of We, the politically intelligent mason prisoners of amerika in California, the sudden changes of opinion by U.S. society and its exploiter nation's status quo to no longer look favorably on the social construct of cross dressing, make-up drag or Halloween costumes done in the fashion of Black face. This narrative goes to draw a connection to the false information campaigns led by the bourgeois pop culture executives in order to keep the population of exploiter nations like the U.S. in a state of false security and economical privilege as underdeveloped nations around it suffers.
No white man, woman, or child should be caught painting their face Black - especially those who hope to have a career in social politics. Question is, when Blackness is not only a state of mind, but also the substance of which all things are manifested from, including the outer orbits of space called the Universe, is Blackface really that wrong?
When being Blackface isn't at all that easily escapable for the darker shades of humanity, and is actually necessary in the national suicide process of neo-Nazi defectors and Euro-amerikan/white supporters of New Afrikan liberation by reparations, repatriation and total autonomy for all things indigenous to Afrika. And really, who of us doesn't want to claim a little Afrika, aka Blackness for ourself?
Facts are that people have been tanning since the beginning of Egyptian/Summarian civilizations. So why is it currently being blasted all over capitalist news media broadcasting stations that this Black facing is a national catastrophe in need of most attention and immediate gratification?
It's just that; immediate gratification, something that has very little to do with solving long-term conflicts in any given phenomenon, but instead is a diversion in interest of the long-term imperialist agenda to bourgeoisify the entire world with the capitalist systems of greed, ignorance and destruction.
Anyway, Halloween and its costume parties aren't the subject in need of discussion. What is most needed for the politically inclined to wake their game up in is the why questions posed by brothers and sisters of the African National Prisoners Organization (ANPO) and New Afrikan Shamaan (NAS). Why does the devil call our people black? Or even African for that matter?
This is a subject that has begun to resurface in prisons, in such a way that it has been the reason for violent group altercations and segregated populations, resembling the Jim Crow south. (Jim Crow was a famous Black face character performed by a white entertainer.)
When Black Face Goes Bad
In California prisons, the segregation issue is at an all time high because it is a culture that is integrated so deeply amongst the population that Blacks segregate themselves into groups amongst themselves. There are those who consider themselves to be African-American, those who consider themselves Negroes, those who say they are Black and those who struggle for national independence under a variety of terms, for example the Asiatic Free Moors and the New Afrikan.
There is a very real divide between these populations that needs to be consolidated if it is to be that prisoners as a whole will ever come together in peace to face the exploiters. Where prisoners as a whole are made up of several nationalities, that will play a powerful role in a united effort to overthrow the current prison structures. Every national population must seriously organize itself in a Community Social Accountability Regiment to draw the lines between the political divides within We the oppressed internal semi-colonies of the oppressor nation, Amerika, if We are to ever get beyond failed hunger strikes and commissary boycotts. Though the immediate gratifications offer a temporary relief from the pressures of confinement. We escape to Walt Disney's World of mystic illusions, the state department is still subjecting We all to toxic prison conditions. And as long as We are a divide between who isn't Black and the argument that this whole entire damn planet is Black, We shall remain a population of social rejects, ignorant to the science of self.