Da Struggle Continues: We Still Charge GENOCIDE!!!
Down with Imperialism! And Power to New Afrika!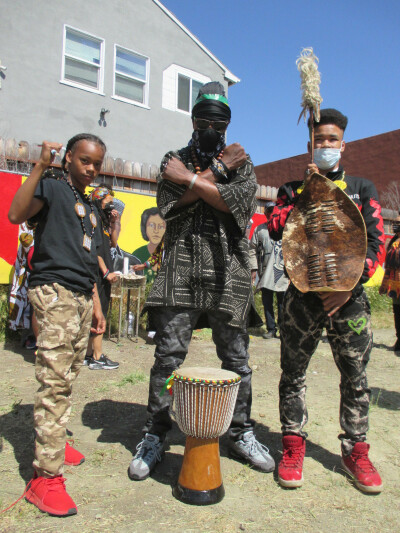 Clenched fist salute to all revolutionary New Afrikans! This coming October 2021, the United Nations(U.N.) will host the 2021 International Tribunal. At this tribunal many of Our countrymen/wimmin along with supporters will AGAIN charge the United Snakes government with committing genocide against Our New Afrikan nation before the world 'court' and denouncing them for their treatment of political prisoners and prisoners of war(PP/POWs).
This action comes on the 70th anniversary of the petition presented to the U.N. General Assembly in 1951 charging the U.S. with genocide against Our people. William L. Patterson, one of the original petitioners, also wrote a book based on the experience entitled, We Charge Genocide. Subsequently, in 1977, the New Afrikan Prisoner Organization wrote an essay entitled, "We still Charge Genocide," to illustrate, among other things, that the genocide still continues.
We did not choose to scribe this brief piece as a news brief, to merely inform comrades of what other comrades are up to. Rather, We scribe this piece to discuss the significance of this tribunal and to also pinpoint the direction Our nation is going.
Significance: In any and all forms of struggle the effectiveness and significance of one's tactics and strategies are dependent upon the conditions or circumstances therein. The current direction of the mass front of the 'Movement for Black Lives', and 'Black Lives Matter' and the like, has the nationalist tendency of Our people in a very subordinate position. As such it is paramount that a wide variety of movement media cover and disseminate the Tribunal and the events and discourse around it. It is extremely significant that representatives of Our Nation are expounding upon Our national reality on an international arena, and furthermore, it is important that younger activists witness a new form or avenue in struggle in this democratic stage of our liberation movement.
Some, in fact, have not witnessed us as a people claim and expound upon Our national identity as New Afrikans and the treatment We receive when captured as political prisoners and prisoners of war, and while acting in the capacity as politicized prisoners once in captivity. Some youths haven't witnessed revolutionary nationalism take a center stage or act in what many deem as significant capacity, and thus we've been seen by many of the current generation activist as insignificant. This Tribunal CAN begin to shift those perceptions, as more of our people begin to view Our struggle in the light of the colonized nation struggling for its independence, and when those among us act in accord with the mandate to FREE THE LAND!!! We're subsequently treated as any 'enemy combatant' of imperialism is around the globe. The difference being, that this is all hidden from the mass majority of the public within the empire and abroad.
Direction: As we struggle ahead it is a must that We, the revolutionary New Afrikans, understand and propagate the just cause of our liberation struggle in a way that links the genocidal acts of the empire, which we've resisted, fought, and will continue to wage war against until our goal is met, along with the reality that the carrying out of genocide is a prerequisite for occupation and imperialism. By this We mean that imperialism IS genocide!
Many incorrectly picture genocide as a single event; that a genocide must require a machivallian individual orchestrating the industrial murders of human beings for a delusional/cynical end goal. Rather, genocide is a process that evolves and moves and intensifies. Genocide is like all other social and natural phenomena in this regard. As such, genocide is one word that encapsulates the many symptoms of OUR national subjugation under U.S. imperialism. Furthermore, as articulated by the Spear & Shield Collective, We must COMBAT GENOCIDE! And this slogan encapsulates the direction we all must take collectively as conscious New Afrikan nationals.
We can/must combat this genocide in a multi-faceted manner. Creating community watch squads that can hamper police terrorism is one way of combating genocide. Building revolutionary base areas within and without the national territory is combating genocide. Establishing Black squads within those base areas supplanting the old parasitic lumpen orgs with them is combating genocide. In terms of Us behind the walls, mitigating acts of street organization warfare amongst different lumpen organizations within Our one nation is combating genocide. Practicing and promoting a New revolutionary way of doing and saying everything, as to go about breaking the cycle. Educating on health and nutrition practices is a way to combat genocide. Convert your 'gang' into a revolutionary vehicle.
As u can imagine there are many ways to combat the genocide of our nations. We are to keep this in mind as we go about our duties, that in all we do we do it to combat genocide, which is combating imperialism. CLENCH FIST