Disabilities and Anti-Imperialism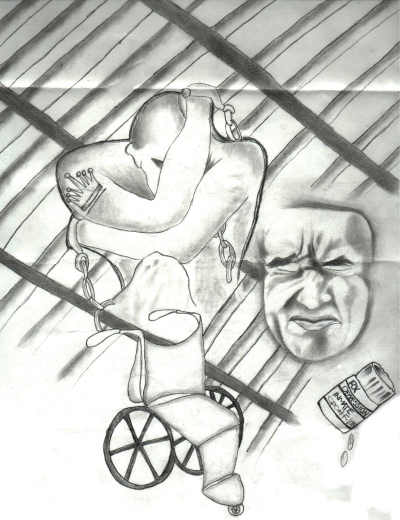 [Co-authored with PTT of MIM(Prisons)]
Nowhere is the necessity for the societal advancement to communism more apparent than in the realm of disability considerations. No segment of society, imprisoned or otherwise, is in greater need of the guiding communist ethos proclaimed by Marx: "From each according to their ability, to each according to their need." This humynist principle applies to no demographic more than the disabled.
When communist society is realized, the intrinsic worth of each and every persyn and their potential to contribute to society will be realized as well. In return, communist society will reward the disabled population by adequately providing their essentials and rendering all aspects of society open and accessible for their full utilization. In a phrase, communism will respect the disabled persyn's humyn right to a humane existence. We communists strive for the elimination of power structures that allow the oppression of people by people. The disabled population, as well as all peoples that have hystorically been subjugated by the oppressive bourgeois system of capitalism/imperialism, can then work toward the implementation of a truly democratic society.
Considering MIM(Prisons) recognizes only three strands of oppression in the world today (nation, class and gender), able-bodiedness is a cause and consequence of class, and in countries with more leisure-time it is intimately tied up in the gender strand of oppression. This essay intends to analyze disability as it relates to class, gender, and the prison environment.
Disability and Class
In the United $tates the greatest source of persynal wealth is inheritance. It can be said the ability to create and maintain able-bodiedness may be inherited also. For the most part, class station is determined by birth. By virtue of to whom and where a persyn is born, their access, or lack thereof, to material resources is ascribed. The bourgeoisie and labor aristocracy have access to nutrition and healthcare the First World lumpen and international proletariat and peasantry do not. The likelihood of a positive health background renders the labor aristocracy and other bourgeois classes attractive prospects to potential employers, lenders, etc. This allows them to continue to enjoy nutrition and healthcare not common to the lumpen, proletariat, and peasantry.
It would be extremely uncommon to find a First World lumpen, an international proletarian, or a peasant with a membership to a health and fitness club. This privilege is reserved for the bourgeois classes, including the petty-bourgeoisie and its subclass the labor aristocracy. This, of course, further enhances the prospect of maintaining good health, and compounded with employer-supplied healthcare, does act as prophylaxis against the onset of debilitating and degenerative physical ailments.
It would be unreasonable to ignore the possibility that a member of the bourgeoisie might be genetically infirm, or a labor aristocrat debilitated by an accident. But, due to their class position, these classes are better prepared and equipped to minimize the adversities resulting from such an unfortunate occurrence.
Able-bodiedness may also affect upward class mobility. An able-bodied First World lumpen that can find employment might enter the ranks of the labor aristocracy. A blue collar labor aristocrat may be promoted to a managerial position, and so forth. Of course other factors, such as national background, do play a role in one's mobility (or stagnation for that matter), but disability also plays a significant role.
Disability and Gender
Gender only comes to the fore after life's essentials are secured, thereby standing out in relief on its own aside from class/nation. In the First World leisure-time plays a major role in gender analysis. MIM(Prisons) defines "gender" as:
"One of three strands of oppression, the other two being class and nation. Gender can be thought of as socially-defined attributes related to one's sex organs and physiology. Patriarchy has led to the splitting of society into an oppressed (wimmin) and oppressor gender (men).
"Historically reproductive status was very important to gender, but today the dynamics of leisure-time and humyn biological development are the material basis of gender. For example, children are the oppressed gender regardless of genitalia, as they face the bulk of sexual oppression independent of class and national oppression.
"People of biologically superior health-status are better workers, and that's a class thing, but if they have leisure-time, they are also better sexually privileged. We might think of models or prostitutes, but professional athletes of any kind also walk this fine line. ... Older and disabled people as well as the very sick are at a disadvantage, not just at work but in leisure-time. ..." - MIM(Prisons) Glossary
This system of gender oppression is commonly referred to as "patriarchy," which MIM(Prisons) defines as:
"the manifestation and institutionalization of male dominance over wimmin and children in the family and the extension of male dominance over wimmin in society in general; it implies that men hold power in all the important institutions of society and that wimmin are deprived of access to such power."(1)
Professor bell hooks's description of patriarchy in eir work The Will to Change: Men, Masculinity, and Love has also contributed to this author's understanding of gender oppression:
"Patriarchy is a political-social system that insists that males are inherently dominating, superior to everything and everyone deemed weak, especially females, and endowed with the right to dominate and rule over the weak and to maintain that dominance through various forms of psychological terrorism and violence."(2)
Professor hooks's definition of patriarchy not only recognizes terrorism as a patriarchal mechanism, but that patriarchal forces do not intend only to oppress, dominate, and subjugate females or even just females and children, but patriarchy's pathology is to hold down anything it regards as weaker than itself. Patriarchy is a bully.
Children are one of the most stigmatized and oppressed groups of people in the world. Patriarchal society considers children physically disabled due to their undeveloped bodies and therefore susceptible to patriarchal oppression — regardless of the biology of the child. This firmly places children in the gender oppressed stratum. Due to disabled people's diminished bodies (and/or cognizance), disabled people can be categorized similar to children subjected to patriarchy, ergo, disability falls into the gender oppression stratum as well as class.
Patriarchy and Prisons
U.$. prisons are, from top to bottom, patriarchal structures. Prisons are institutions where the police, the judiciary, and militarization have crystalized as paternalistic enforcer of bureaucracies of patriarchy; prisons, the system of political, social, cultural and economic restraint and control, are fundamentally patriarchal institutions implemented to enforce the status quo — including patriarchal domination. Disabled prisoners in Texas have long been labeled "broke dicks," illustrative of their "less-than-a-man" status in the prison pecking order.

There are laws mandating disabled prisoners not be precluded from recreational activities, or any other prison activity for that matter. Yet enforcement of these laws are prohibitively difficult for disabled prisoners, especially prisoners with vision or hearing disabilities, or cognitive impairments. The disabled have few advocates in bourgeois society; they have virtually none in prison.

The likelihood that prison officials discriminate against and abuse disabled prisoners is readily apparent. What is most disheartening is able-bodied prisoners are often the perpetrators of mistreatment against disabled prisoners, frequently at the behest of prison administrators so as to procure favorable treatment. In fact, the most telling aspect of the conditions of confinement imposed on disabled prisoners is the abuse of the disabled prisoners at the hands of able-bodied prisoners. The able-bodied prisoners are quick to manhandle and overrun disabled prisoners in obtaining essential prison services which are commonly inadequate and limited. When queued up for meals, showers, commissary, etc. the able-bodied prisoners will shove and elbow aside disabled prisoners; will threaten to assult disabled prisoners; and have in fact assaulted disabled prisoners should they complain or protest being accosted in such a fashion. All this invariably with the knowledge and/or before the very eyes of prison administrators and personnel.

It is far too common for the victims of sexual harassment and assault in prisons to be gay, transgendered, and/or disabled. Whether the perpetrator be prison officials or fellow prisoners, this practice is condoned by the culture of patriarchy and the hyper-masculine prison environment.

In the Prison Justice League's (PJL) report to the U.$. Department of Justice titled "Cruel and Unusual Punishment: The Use of Excessive Force at Estelle Unit" the PJL outlined the routine and systematic abuse of disabled prisoners by prison personnel at the Texas Department of Criminal Justice (TDCJ) Regional Medical Facility for the Southern Region, Estelle Unit.(3) Prisoners assigned to the Estelle Unit per their disabilities are regularly and habitually denied medical treatment for their disabilities, ergo oftentimes exacerbating the causes and effects of the disabilities which brought them to Estelle initially; are denied auxiliary aids so as to accommodate their disabilities as required by law; are physically assaulted by prison administrators and staff, or their inmate henchmen; and with egregious frequency are murdered at the hands of state officials.

Since the PJL's report and subsequent Department of Justice investigation, there has been a bit of a detente in the abuse visited upon disabled Estelle prisoners by prison personnel. But the pigz are barely restrained. Threats of physical violence directed at disabled prisoners are still a regular daily occurrence, and prison personnel assaults on disabled prisoners are still far too common.

Another recent example of the persistent difficulties disabled prisoners face, even with the courts on their side, can be seen in the American Civil Liberties Union's (ACLU) recent settlement negotiated with the Montana Department of Corrections (MDC), after it neglected to fulfill Americans with Disabilities Act (ADA) requirements from a 1995 settlement, Langford v. Bullock. In 2005, the ADA requirements were still not met, and despite the Circuit Court's order requiring Montana to comply with the 1995 settlement, it is not until 2017, and much advocacy later, that negotiations are being finalized between the ACLU and MDC. We can't dismantle systems of gender oppression one quarter-century-long lawsuit at a time. That's why MIM(Prisons) advocates for a complete overthrow of patriarchal capitalism-imperialism as soon as possible.

Another patriarchal aspect to be observed in prisons is ageism. As children are included in the gender-oppressed stratum, so should the aged. As the able-bodied prisoners' ability to work subsides due to age in the First World, especially in the United $tates where the welfare state is minuscule and the social safety net set very low, the propensity for a once able-bodied persyn to be relegated to the ranks of the lumpen is intensified. As the once able-bodied persyn becomes aged and disabled, their physical, as well as mental, health becomes more and more jeopardized, accelerating the degeneration of existing disabilities as well as increasing the likelihood of creating the onset of new ones (e.g. the First World lumpen are notorious for developing diabetes due to poor diet and lifestyle issues).
Disability as a Means of Castration
Holding people in locked cages is an acute form of social control. Solitary confinement creates long-lasting psychological damage. And prison conditions in general are designed (by omission) to create long-lasting physical damage to oppressed populations. Prisons are a tool of social control, and exacerbating/creating disabilities is a way prisons carry this through in a long-term and multi-generational fashion.
Prisoners, who are a majority lumpen population, are likely to already have unmet medical needs before entering prison, as described above in the section on class. Then when in prison, these medical needs are exacerbated because of the bad environment (toxic water, exposed asbestos, run down facilities, etc.); brutality from guards and fellow prisoners; poor medical care including untreated physical traumas, improper timing for medications (see article on diabetes), and just straight up neglect.
Mumia Abu-Jamal's battle to receive treatment for hepatitis C, which ey contracted from a tainted blood transfusion ey received after being shot by police in 1981, is a case in point. Mumia belongs to an oppressed nation, is conscious of this oppression, has fought against this oppression, and thus is last on the priority list for who the state of Pennsylvania will give resources to. And medical care under capitalism is sold to the highest bidder, with new drugs which are 90% effective in curing hepatitis C coming with a price tag of $1,000 per day. In a communist society these life-saving drugs will be free to all who need them.
Disability in the Anti-Imperialist Movement
The fact that people with disabilities will be treated better after we take down capitalism is obvious. Our stance on discrimination against people with disabilities in our society today is obvious. What is less obvious is the question of how we can incorporate people with disabilities into the anti-imperialist movement today, while we are so small and relatively weak compared to the enemy that surrounds us. This is an ongoing question for revolutionaries, who are always pushing themselves to be stronger, better, and more productive. After all, there is an urgency to our work.
Our militancy tends to be inherently ableist. With all the distractions and requirements of living in this bourgeois society, we have precious little time to devote to revolutionary work. We are always on the lookout for things and people that are holding us back and wasting our time, and we work diligently to weed these things and people from our lives and movement. Often when people aren't productive enough, due to mental or physical consequences of capitalism and national oppression, we can't do anything to help them — especially through the mail. No matter how sympathetic people are to our politics, and how much they want to contribute, we just don't have the resources to provide care that would help these folks give more to overthrowing imperialism. Often times all we can do is use these anecdotes to add fuel to our fire.
Disabilities amongst oppressed people are intentionally created by the state, and a natural consequence of capitalism. If we don't take any time to work with and around our allies' disabilities, then we are excluding a population of people who, like the introduction says above, are in the greatest need of a shift toward communism. We aim to have independent institutions of the oppressed which can help people overcome some of these barriers to political work. At this time, however, the state is doing more to weaken our movement in this regard than we are able to do to strengthen it.
[Of note, the primary author of this article has devoted eir life to revolutionary organizing in spite of being imprisoned and with multiple physical disabilities. Even though it is extremely difficult to contribute, it is possible!]