Beyonce's "Formation" and Super Bowl 50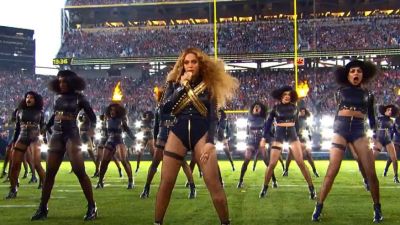 Beyonce is the Queen of pop in the United $tates, so this review isn't meant to uphold em as a revolutionary force. Eir ties to Empire and the lack of internationalism in eir recent series of publicity stunts is a reminder of Beyonce's attachment to U.$. institutions. Instead this article is meant to analyze eir performance at Super Bowl 50, and eir recently released song and music video, "Formation", from a revolutionary Maoist perspective.
The "Formation" video is the most interesting thing in pop culture in a long time, and the Super Bowl performance was likely the most interesting thing in all football history. Beyonce's dancers donned afros and berets (yet, not pants), and performed eir new song "Formation." Like Nina Simone, Beyonce is being compelled by the struggle of eir nation to take an explicit political position. Simone correctly stated that "desegregation is a joke" and Beyonce is suggesting that cultural integration is not worthwhile. After Martin Luther King was assassinated, Simone performed a poem which called for violent uprising against "white things", imploring New Afrikans to "kill if necessary" and to "build black things" and "do what you have to do to create life."(1) Simone was a reflection of eir nation at the time. While Beyonce's twirling of albino alligators is a weak replacement for Simone's poetic diatribe, we hope today's New Afrikans will keep pushing cultural icons in more militant and separatist directions.
The Song
Let's start with what holds this whole phenomena together. The lyrics for "Formation" are not revolutionary.(2) They promote consumerism, making billions, drinking alcohol, being light-skinned, and fucking. They primarily promote cultural nationalism and economic integration with Empire. What comment the lyrics make on the international relationship between New Afrika and the Third World is more promotion of Black capitalism, on the backs of the most oppressed people in the world – those who are slaving over eir Givenchy dress and dying to mine the diamonds in the Roc necklaces ey is rocking.
Alicia Garza, co-founder of Black Lives Matter, correctly calls out Beyonce's bad economic recommendations in this song, "her celebration of capitalism – an economic system that is largely killing black people, even if some black people, like her, achieve success within it – [has] also been a source of important critique."(3) Although Garza's comment is tame, it's an important generalization to be made. Considering Garza's following, it's an important persyn to be making it.
On a positive note, the song celebrates New Afrikan culture that is still under so much attack in the United $tates. While we prefer the revolutionary content and gender relations contained in Dead Prez's "The Beauty Within", "Formation" is still an exercise of Black pride. Whether that pride is then mobilized into a revolutionary internationalist direction is up to the New Afrikan masses, who aren't getting a whole lot of clarity from Beyonce on that tip.
"Formation" calls for New Afrikan unity of the sexes, and of females as a group (not unusual for Beyonce's typical pseudo-feminist fare). In the lyrics about going to Red Lobster, or going on a flight on eir chopper, or going to the mall to shop up, Beyonce advocates a reward-based system for harmonious sexual relations. Beyonce also brings in gay and trans New Afrikan culture, from the use of the word "slay" over and over, to the voice samples and New Orleans Bounce style of music used for the song.(4) Resolution of gender antagonisms within New Afrika are a good thing. But if the goal is Black capitalism, that's bad for the international proletariat and just an extension of the gender aristocracy phenomenon into the relatively privileged New Afrikan internal semi-colony.
MIM(Prisons) upholds the line that all sex under patriarchy has elements of coercion(5), and offering perks for enjoyable sex is still an expression of patriarchal gender relations even if Beyonce is not a typical male father figure. Within the predominantly white Amerikkkan nation, rewards for compliance with patriarchy help to unite Amerika against the oppressed nations.(6) But within the oppressed internal semi-colonies, these lyrics are more interesting, especially considering the long tradition of the Amerikkkan-male-dominated recording industry's use of divide-and-conquer tactics in selecting which music to record and promote. Beyonce isn't promoting sexual entitlement or sexual passivity – patriarchal values that do more to divide New Afrika in practice, and which are heavily promoted in mainstream culture. Assuming whoever is fucking Beyonce could still feed emself without relying on that trade, it's not a matter of life and death, and so these lyrics are less of a threat of starvation than a promotion of national unity. When united against a common oppressor, subsuming the gender struggle to the fight for national liberation, gender harmony in the oppressed nations can be a revolutionary force.
The best part about the song is the separatism and militancy. If the song were to get stuck in your head, it could be a mantra for working hard and uniting. It even gets into who the unity is directed against – Beyonce twirls on them haters, albino alligators. Ey twirls them, as in alligator rolls them, as in kills them. The haters are albino alligators, as in they're white. Ey calls on others to slay these enemies, or get eliminated. In other words, choose a side.
The Video




The "Formation" music video, which was released as a surprise the day before the Super Bowl, is a celebration of New Afrikan national culture and a condemnation of oppression of New Afrikans. It is thick with important and unmistakably New Afrikan cultural references. Beyonce sings, poses, raises a Black fist, and drowns on top of a New Orleans Police car, sinking in floodwaters. A little Black kid hypnotizes a line of cops with eir incredible dancing, and the cops raise their hands in surrender. Beyonce raises two middle fingers on a plantation. There are references to the Moorish Science Temple, gay and trans New Afrikan culture, hand signs, a Black church service, and more, more, more...(7) "Stop Shooting Us" is spraypainted in the background. The subjects of the video look directly into the camera, confidently, and say "take what's mine," including Beyonce's kid Blue Ivy, complete with eir baby hair and afro.
This video doesn't clearly distinguish between integration and secession. Should New Afrikans just keep trying to make peace with Amerikkka, but while asserting a Black cultural identity? Should New Afrika honor its culture, and lives, by separating itself from Amerikkka and forming its own nation-state? Should this nation-state be capitalist or communist? Outside of a revolutionary context, much of the cultural markers that are present in this video could be taken as integrationist. Hopefully the militance and anti-white sentiment of the video will push New Afrika to get in formation to study up and push for actual (not just cultural) liberation from the many forms of oppression highlighted in the video.

The Super Bowl Halftime
That Beyonce was permitted to perform with dancers dressed up like the former Black Panther Party members is somewhat of a mystery. Is it because, ignoring any political content, one would still witness a show of tits and ass, so for the average ignoramus watching the biggest football event of the year, it's no different? Maybe it's because this year is the semi-centennial anniversary of the Black Panther Party, so it's gonna come up in mainstream culture sometime, might as well come up with lots of distraction from the political content. Or maybe the growth of the Black Lives Matter movement has made room for this performance to be possible, and perhaps even necessary to quell uprisings by helping New Afrika feel included in such a paragon cultural event. For whatever reason(s), it's obvious this half-time show would not have happened a few years ago. In fact, Beyonce led the entire halftime show in 2013 and while ey avoided any mention of patriorism, ey didn't reference police brutality or New Afrikan nationlism either. It's a milestone, and one that shows Black pride is definitely resurfacing country-wide.
Not surprisingly, the Super Bowl has a long history of promoting white nationalism.(8) Some overt examples include in 2002 when U2 helped the country mourn 9/11, with Bono wearing a jean jacket lined with an Amerikkkan flag which ey flashed at the audience, with the names of people who died in the "terrorist" attacks projected in the background. In 2004, Kid Rock wore an Amerikan flag as a poncho, and when ey sang "I'm proud to be living in the U.S.A." over and over, two blondes waved Amerikan flags behind em. When necessary, the Super Bowl even has a tradition of promoting integration and "world peace," some of which we explore below. At this year's performance, Coldplay upheld these decidedly white traditions. Where there was one Amerikan flag, it was during Coldplay's portion of the performance. When there was feel-good bouncing and rainbow-colored multiculturalism, Coldplay was leading it. When the audience was told "wherever you are, we're in this together," the singer of Coldplay was saying it. It's not surprising that the white Coldplay frontman would be the one to promote this misguided statement of unity. As explored in the review of Macklemore's "White Privilege II" project, no, we're not in this together. And we don't need white do-gooders playing leadership roles that distract from national divisions, and thus, the potency for national liberation struggles.
At the end of the Coldplay-led halftime show, the stadium audience made a huge sign that said "Believe in Love." On the other hand, some of Beyonce's dancers were off-stage holding a sign that said "Justice 4 Mario Woods" for cameras. One is a call to just have faith that our problems will go away. Another is a call for a change in material reality: an end to murders by police. (Side note: Someone who was allegedly stabbed by Mario Woods just prior to Woods's 20-bullet execution has come out to tell eir story. Whether ey mean to or not, this "revelation" is being wielded in an attempt to discredit Beyonce as a competent political participant, and to lend more justification to the unnecessary police murder of Woods. Whatever Woods did just prior to eir execution, that ey is dead now is wholly unjustified. The demand for "Justice 4 Mario Woods" is correct, and underlines how New Afrikan people are gunned down in the streets without due process, which is supposedly guaranteed by the U.$. Constitution.)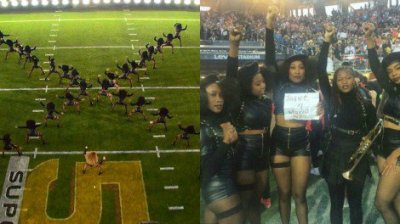 While Beyonce's performance didn't break new ground by bringing up politics or social problems, it was done in a different way than in the past, that may be a marker for how our society has changed. The costume Beyonce wore, which was adorned with many shotgun shells, was a reference to the costume Michael Jackson wore during eir Super Bowl 1993 performance. Where Michael Jackson had banners of a Black hand shaking a white hand, Beyonce had Black Panther dancers, so touchdown for Beyonce. But where Beyonce sings "you might be a Black Bill Gates in the making", Jackson advocated for the children of the world because "no one should have to suffer." Beyonce's individualist capitalism is devoid of any awareness that today's New Afrikan wealth, especially of Gates proportions, is stolen by the United $tates military from exploited nations across the globe. Yet Jackson's multiculturalism invites unity with oppressor nation chauvinism, which historically usurps oppressed nation struggles and drives them into the ground.
In Janet Jackson's performance in 2004 (you know, the one where Justin Timberlake stalked em around the stage and then exposed Jackson's breast to the world), ey performed the song "Rhythm Nation." The video for "Rhythm Nation" features militant outfits, with pants. In the video, Jackson and eir dancers intrigue a few Black people who are wandering around what appears to be the Rhythm Nation's underground headquarters, another reference to the enchanting powers of dance. "Rhythm Nation" is about unity and brotherhood, "break the color lines", but it's not about Blackness.(9) At the Super Bowl, Jackson called out various injustices faced by oppressed nations (prejudice, bigotry, ignorance, and illiteracy) and called out "No!" to each one, but didn't make it about New Afrikan struggle. That Beyonce clearly delineates eir struggle from the struggle of whites with this performance is an advancement off of Jackson's.
On the topic of organizing females and combating New Afrikan female internalized racism, Beyonce's performance is a step above other performances. A few examples: Nelly and P. Diddy's dancers in 2004 were dark-skinned but were straight-haired compared with Beyonce's backups. In 2004 they also wore straight hair, as in Madonna's performance in 2012 as well. Even though Madonna called on "ladies" like Beyonce does, Madonna called on them to cure their troubles on the dance floor. Beyonce calls on ladies to get organized (in formation). It should be obvious which message MIM(Prisons) prefers.
During Madonna's performance, MIA gave a middle finger to the camera during the lyric "I'ma say this once, yeah, I don't give a shit." But then MIA and Nikki Minaj joined a tribe of dark-skinned, straight-haired cheerleaders revering Madonna as their blonde, white idol. Beyonce's Panther dance-off with Bruno Mars is a step in a better direction. We also prefer Beyonce's dancers forming a letter "X" on the field (likely another New Afrikan reference), as opposed to Madonna's self-aggrandizing "M".
Whether it's dancing at the Super Bowl or dancing in front of a line of pigs, impressive dancing isn't what's going to get the New Afrikan nation out of the scope of Amerikkkan guns. Beyonce is a culture worker, so that's eir most valuable weapon at this time. As long as she keeps shaking her ass, white Amerikkka might stay hypnotized and let Beyonce continue to promote New Afrikan pride. Hopefully many people in New Afrika who watched the Super Bowl will study up on history, as Beyonce hints at, and revolutionary internationalism of the Black Panther Party can be injected tenfold into the growing Black Lives Matter movement.(10)