Global Recession Threatens the Global Proletariat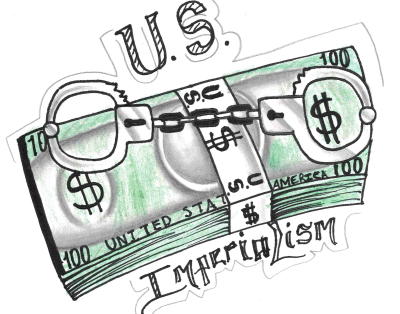 It seems unanimous that 2023 will be a year of recession. A recent report from the United Nations Committee on Trade And Development (UNCTAD) opens up with:
"The world is headed towards a global recession and prolonged stagnation unless we quickly change the current policy course of monetary and fiscal tightening in advanced economies.
"Supply-side shocks, waning consumer and investor confidence and the war in Ukraine have provoked a global slowdown and triggered inflationary pressures."(1)
Before talking more about the report, let's start with some basics. Recession is something that is unique to capitalism. It is a product of capitalism's inherent contradictions. In previous economic systems, problems of getting resources to people were caused by things like plagues, floods, droughts and war. All things that we are still familiar with today. But there is no other economics system where people go hungry because of "market forces" preventing adequate production and distribution. This happens at all times in capitalism, but it will be affecting broader swaths of the population as we go into recession.
While the pandemic was not the cause of current imbalances, it certainly helped exacerbate them. Because we live in a service economy, Amerikans had a hard time spending all their money when things were shut down. They're used to regular entertainment, movies, costly sporting events and clubs, having people prepare food for them and the infamous getting their hair done which they cried for during the early lockdowns. Having all that cash on hand, they turned to purchasing goods, which were harder to get due to supply chains slowing down. As the U.$. government continued to roll out benefits to Amerikans they wanted to buy more things and there were less things available to buy. Companies selling things increased prices, and the pressure for inflation began.
The ability to keep printing dollars (in the forms of COVID relief money and low interest loans) is backed by the fact that the dollar is the dominant currency for international trade. And this is backed by U.$. dominance of international monetary organizations and U.$. militarism shaping the world economy in its image.
Increasing Dollar Power
In 2022, the U.$. Federal Reserve got serious about addressing inflation as it began to surpass 8% year-over-year (when they'd like it closer to 2%). In recent months, the Fed has continued to increase the interest rates by .75% at each meeting they have every 4 to 6 weeks. They have indicated that they plan to continue to do so to bring down wages and inflation. One of the goals of the Fed here is to increase unemployment and cool down the job market by making it more expensive for companies to borrow money. Recently Amerikans have had their pick of jobs with many opportunities to increase their incomes. Under capitalism, this is somehow a bad thing. Contrast this with the MIM Platform for a socialist dictatorship of the proletariat, which guarantees employment (as well as free day care, medical care, public transport and college education).
The UNCTAD report highlights the even greater negative impacts of raising interest rates in the United $tates on the Third World proletariat. Yet, UNCTAD's calls for, "Central banks in developed economies to revert course and avoid the temptation to try to bring down prices by relying on ever higher interest rates." seems to be a pipe dream at this point. As we discussed in our recent article on the war in Ukraine, the U.$. dollar is the reserve currency, which means what the U.$. Fed does has huge implications for money everywhere.(2) And other imperialist countries have filed suit by increasing interest rates to protect their own currencies from more extreme devaluation. The British pound just hit it's all-time low exchange rate to the dollar, putting them almost at 1-to-1.
While Amerikans complain about oil prices rising from inflation, war and supply chain issues, OPEC has announced it is cutting production, which will increase global oil prices. This is not helping the cause of the Fed and the U.$. government trying to mitigate inflation for Amerikans.
Relatedly, Saudi Arabia is one of the few countries the UNCTAD forecasts to exceed "normal" pre-COVID GDP trends next year. However, President Biden is striking back at Saudi Arabia threatening to cut off arms sales to the country saying their leadership role in OPEC is aiding Russia, who has been engaged in a proxy war with the United $tates for more than half a year now. Again, we are seeing increasing divisions among the global powers. Similar to the divisions that precluded WWI and WWII as discussed by author Richard Krooth.
In our review of Arms & Empire in ULK 78 we quoted Krooth's explanation of the role of the strong dollar in bringing on the Great Depression:
"…making it the hardest currency in the world, pushing up its value vis-a-vis other currencies, but also making it inaccessible to nations that otherwise would have purchased from America. When other nations could not obtain dollars by exports to the U.S., obviously they could import nothing at all. And so U.S. exports tended to fall and had to be replaced with bilateral trade agreements. Up went U.S. unemployment when markets fell away and bilateral trade could not replace them. Then down came the dollar, the U.S. devaluing in 1933 in an attempt to stimulate the exports again. But, alas, it was too late. The depression was on, production was down, America was spreading crisis to Europe!" (p.119)
While Europe is not quite in the rough shape it was at that time, de-industrialization has been the trend, as Amerikan's have had more and more say in how their economies are structured. As we discussed in our recent article on Ukraine, the Amerikans have been conspiring to prevent a close relationship between Germany and Russia. Now it seems that the sabotage attack on the Nordstream 2 pipeline that was built to pipe gas from Russia to Germany is a continuation of those efforts by the Amerikans.
Economic Policy and Economic Systems
The UNCTAD report makes a number of recommendations to mitigate the impacts of the coming recession on the exploited Third World nations of the world, who of course will suffer the most. Again, these problems are inherent to capitalism and cannot ultimately be avoided without replacing it with a socialist economy. However, there are economic policies that can improve, or even save, the lives of millions of people today under capitalism. But they would need to be a bit more radical than those suggested by UNCTAD.
The MIM Platform includes two policies to be enforced by international banking authorities under capitalism:
Elimination of international currency exchange rate fixing by governments.
Tying of exchange rates to a standard basket of goods.
The UNCTAD report points out exchange rate depreciation in just six months this year for a number of exploited countries:
| | |
| --- | --- |
| Sri Lanka | 77.8% |
| Ghana | 32.1% |
| Sudan | 29.7% |
| Egypt | 19.8% |
| Haiti | 15.6% |
In the current system, when the currency in Sri Lanka depreciates by 77.8% that means that day-to-day expenses for the proletariat of Sri Lanka are probably about doubled. If exchange rates were tied to a standard basket of goods, then this would no longer be the case. Prices of things like food and fuel would be stabilized across the globe in local prices. The impact on the imperialist system on the people of Ghana is explained in more depth in our accompanying article.
Importantly, the above two demands by the MIM Platform would affect the ability to pay off foreign debts as well. The UNCTAD report lists the percent of government revenues spent on external debt in a number of countries:
| | |
| --- | --- |
| Somalia | 96.8% |
| Sri Lanka | 58.8% |
| Dominican Republic | 20.4% |
| Ghana | 28% |
| Jamaica | 26.4% |
How the heck can a state spend 97% of its revenue on debts to finance capital (or even 25% for that matter) and ever be able to provide for and serve the people of that country? Exchange rates cannot fix these huge problems, which require debt forgiveness. But the current system of exchange rates does make these debt payments increase as exchange rates worsen as is happening now with a strengthening dollar (as most debts are held in dollars). Overall, the percentage of state revenue spent on servicing debts across the Third World has doubled over the last decade according to this UNCTAD report. As surplus value extraction becomes more difficult, interest payments on debt becomes a larger part of the net flow of wealth from the exploited nations to the imperialist countries.
There seems to be no momentum for MIM's proposed radical changes among the international bourgeoisie at this time, which means the economy will continue to tighten and shrink. And under capitalism that means people will suffer and die. The system is madness. If production of goods ceases to be profitable, production ceases, it does not matter how many people are in need of those goods. But one of the inherent contradictions within capitalism is that the tendency to compete and increase production constantly undercuts the rate of surplus value extraction. As a result profits are always (generally) becoming harder to come by. The introduction of the Chinese proletariat back into the imperialist economy after 1976, but especially in the 1990s, by the capitalists who run that country brought a breath of fresh air to imperialism with a huge, new source of surplus value. By 2008, the rates of profit had once again become harder to maintain, and today those contradictions are playing out in the form of hot wars, trade wars, currency wars and realignments of major powers.
Notes: 1. United Nations Trade and Development Report 2022.
2. MIM(Prisons), April 2022, Ukraine: Imperialism in Crisis, Under Lock & Key 77.