Hundreds on Hunger Strike in Washington ICE Detention Center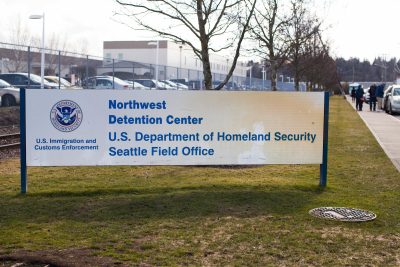 More than 200 detainees began a hunger strike on October 18 at the ICE Northwest Detention Center (NWDC) in Tacoma, Washington. The NWDC is a private prison run by the Geo Group. The facility can hold over 1500 people and houses those swept up in immigration raids, transfers from the U.$-Mexico border, and other migrants caught in the Amerikkan system. This is one of the largest immigration prisons in the country.
Since 2014 detainees have launched 19 hunger strikes to protest their detention and conditions behind bars. This latest protest is demanding edible food and humane treatment, with many also demanding a complete shut down of NWDC. Prisoners find maggots, blood, hair and other things in the food. Kitchen workers report rats running around the food prep area. Guards abuse the prisoners. And Geo group ignores these complaints.(1)
U.$. Immigration and Customs Enforcement (ICE) detention centers mirror conditions in other prisons in the United $tates. In fact, prisoners at Clallam Bay Correctional Facility in Washington also went on food and work strike earlier in October to demand better conditions, focusing on food quality.
ICE officials issued a statement denying the existence of a hunger strike: "Failure to eat the facility provided meal is not a stand-alone factor in the determination of a detainee's suspected or announced hunger strike action. Commissary food items remain available for purchase by detainees." They followed up this statement with a press tour of the NWDC, featuring spotless conditions, a well stocked urgent care room, and nice library. It appears that no prisoners were interviewed or even filmed up close in the tour.(2)
A majority of the 54,000 ICE detainees in the United $tates are held in privately run prisons. And migrant detention makes up the majority of the private prison population in this country. But this isn't about the difference in conditions between private and state or federally run prisons. Conditions across the criminal injustice system are abusive, dangerous, and inhumane. We're not fighting for a different face on the abuse.(3)
While federal arrests overall have gone up over the past 20 years, between 1998 and 2018 federal arrests rose 10% for U.$. citizens and 234% for non-citizens. The most dramatic increase was between 2017 and 2018, a 71% rise in arrests of non-citizens. In 1998 63% of all federal arrests were U.$. citizens while in 2018 that number flipped and 64% of all federal arrests were of non-U.$. citizens. The portion of federal arrests increasingly focused along the U.$-Mexico border increased from 33% in 1998 to 65% in 2018. 95% of this increase was due to immigration detainees.(4)
The ICE detention centers make clear the purpose of prisons in the United $tates. This is national oppression. These non-citizen detainees are mostly being prosecuted for the "crime" of being in the United $tates without permission of the imperialists. This "crime" represents 78% of the cases.(4) Closed borders are a requirement of imperialism. The wealth is kept within these borders for the lucky few who are born to this privilege. That wealth is stolen from outside the borders; exploitation of labor and theft of natural resources brings great profit to the imperialists. And the imperialists share that profit with the citizens of their countries to keep them passive and supportive. This wealth differential is obvious, even between the poorest within U.$. borders and average people living in the Third World. Those living outside those borders are desperate to get in to access this wealth stolen from their homeland. The role of ICE and the Department of Homeland Security is clear: keep this wealth within u.$. borders exclusively for Amerikan citizens.
We support the just demands of prisoners in NWDC and throughout the criminal injustice system. This system has sunk so low that people are forced to starve themselves to fight the dangerous and inhuman conditions. It will not be fixed by improving the condition in one prison, or even by shutting down one facility. But these demands fit in with the anti-imperialist struggle as we fight for open borders and an end to a system where one nation has the power to lock up others just for the crime of crossing an invisible line.

Related Articles: