Inflation: Commissary Prices and Bank Failures
For many months we've been hearing some grumblings from our readers about sky-rocketing commissary prices. Last issue we put out a call for more reports on this price inflation. But this inflation is not unique to prisons, and in recent weeks we've seen its impacts on the imperialists with a number of banks in the United $tates and Switzerland failing.
The cycles of boom and bust, which lead to instability, are inherent to capitalism and how it works. While the imperialists have adapted in many ways to keep things going, they can never solve these problems or prevent these cycles.
Commissary prices
One comrade wrote in to report on the different pay rates in Pennsylvania prisons ranging from 19 cents to 51 cents per hour. Ey wrote to say,
"since the prices of commissary has gone up due to inflation I think that all prisoners with jobs should be given pay rate raises to help with the new higher costs of living in the prison population. It is much harder to keep up with the financial strain. …I know that out in society whenever the cost of living goes up due to inflation so does our income and of course I am referring to low-income people – people on Social Security Income (SSI) or Social Security(SS) or struggling on Welfare. Well in prisons we don't make anywhere near what is made on SSI or SS or even Welfare for that matter."
A comrade from Utah wrote:
"At the beginning of the Covid-19 crisis President Trump warned us against price gouging but that never stopped the jail system. The criminal injustice system put people in jail for stealing but then they turn around and steal from the same people they accuse of stealing. County jails are full of homeless people, drug addicts and indigent people who have limited means or no family or friend to help provide those means, yet the canteen prices for commissary are outrageous. These same products can be bought at the Dollar store.
"For example, items such as V05 shampoo, which you can purchase at the dollar store for $1.25, commissary price is $3.99. One ramen noodle can be purchased for $0.25 at the store, will cost you $1.19 in commissary. Also a 10 pack of SweetNLow costs $0.99. For generic denture glue it's $7 in commissary compared to $1.25 at the Dollar store. The list goes on and on. Is that not price gouging?
"Prisoners are forced to accept it. They have no choice. They have to pay it or go without. Hygiene and medications they desperately need. My question to you – how do we change this and stop jails from stealing from prisoners?"
Price gouging or extortion is common in U.$. prisons where the state allows private companies to come in and prey on prisoners and their families with legally enforce monopoly pricing systems.
A comrade in New York responded to our call with some of the price increases seen there since July 2022.
| item | July price | new price |
| --- | --- | --- |
| syrup | $2.45 | $2.75 |
| cold cuts | $0.75 | $0.85 |
| chips | $1.02 | $1.18 |
| onions | $1.45 | $1.85 |
| graham crackers | $1.96 | $2.33 |
Most price increases in New York seemed to be in the 10 to 20% range. As a member of the Incarcerated Individual Liaison Committee, this comrade wrote the Deputy Superintendent about the troubles they were having with getting items on the commissary list. They responded in September 2022,
"The commissary contract allows the vendor to bid items and the price is allowed to rise (or fall) based on the real world. They are not required to lose money. Our stocking situation reflects the real world supply chain issues and inflation."
The comrade told us,
"the New York Department of Corrections and Community Supervision has raised the commissary buy limit from $75.00 to $90.00 to compensate for the inflation and changes to the package from home/vendor program that was implemented last year (2022)."
Unlike in the free world, not only do prisoners face limits on how much they can earn but also on how much they can spend.
Inflation is Real
Above, the NYSDOCS refers to the "real world" as being the cause of the rising prices in commissary. The fact of the matter is that inflation rates in the United $tates have been higher than we've seen in many decades for everyone. The Consumer Price Index (CPI) in December 2021 had increased 7% year-over-year, and in December 2022 it was 6.5%. That means over two years the inflation rate is around 15% for all consumer goods. In this context, the price increases in New York commissaries look pretty typical for the economy overall. That does not mean that this is inevitable, it is only inevitable in the type of economy we live in.
And it is only if we are slaves to the capitalist market forces that we must accept these price increases on necessities for some of the poorest people in this country. Even capitalist countries use subsidies to alter the market.
Socialist China had no inflation
The Communist Party of China seized state power in 1949 after over two decades of people's war waged against the imperialists and their Chinese lackies among the comprador bourgeoisie and landlord classes. Immediately following liberation there were speculators
"still trying to manipulate prices and stirring up waves in the economy… who ignored the repeated warnings of the People's Government, gold and silver prices kept soaring, pushing up all other prices. So on 10 June 1949 the Stock Exchange – that centre of crime located in downtown Shanghai – was ordered to close down and 238 leading speculators were arrested and indicted. The 1,800 gold and silver coin peddlers were released on the spot after being enjoined to lead a more honest life. At one stroke, the headquarters of speculation vanished forever from Shanghai."(1)
Unfortunately that last statement proved untrue, as the Shanghai Stock Exchange was re-established on 26 November 1990, following over a decade of capitalist restoration in China.(2) This is why China has it's own economic woes today. But for a quarter century, China had no inflation.
During the socialist period of 1949-1976, the Communist Party never resorted to bank-note issue as a solution for fiscal problems, relying on raising production and practicing economy instead.(3) This remained true through the Korean War and periods of famine in the 1950s.(4) During the Covid-19 lockdown period the capitalist economy suffered greatly because it cannot adapt to decreases in production. The solution in the imperialist countries was for central banks to print a lot of money and give it to the capitalists as well as their labor aristocracy, to keep consumption up and prevent economic collapse. The solution to the bank collapses in recent weeks has been similar, providing more liquidity from the U.$. Federal Reserve on loan to banks that can't cover their balance sheets.
The communist approach in China was the opposite. Rather than putting as much money out into the world as needed, and encouraging banks to loan more than they have, the Communist Party forced banks to hold most of their currency, forced agencies to keep most of their money in the banks and prohibited securities, bonds, precious metal trade and foreign currency. Remember, mortgage-backed securities were at the center of the last recession in 2008. Today we are seeing a similar crisis in high-risk loans for automobiles in the United $tates that happened for home loans in 2008.
Bond prices are at the heart of the collapse of Silicon Valley Bank and others. Socialist China didn't issue bonds, because they didn't take on federal debt.
Prior to liberation, in 1935-37, the Chinese currency was pegged to the USD. As a result, when inflation spiked in the United $tates, that inflation was amplified in China. In ULK 79 we discussed the current inflation crisis in Ghana. Because Ghana does not control its currency and does not keep out foreign currency and speculators, their currency (the Cedi) is manipulated by the imperialists. This is true across the Third World, where inflation will continue to be felt much more harshly than it is for us here in the belly of the beast.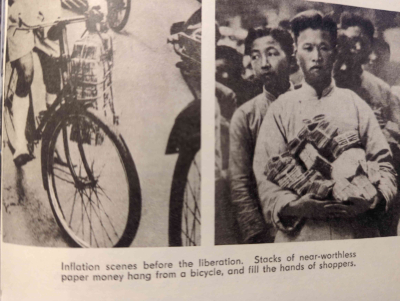 The other problem in countries like Ghana is the foreign debt. Inflation is playing a big role here, as the USD becomes more expensive compared to local currencies, larger and larger portions of the money supplies in exploited countries are going to pay the same interest rates on loans from the imperialists. Debt forgiveness in these countries needs to occur to protect the lives of millions threatened with starvation today.
According to the World Food Program, "An expected 345.2 million people [are] projected to be food insecure in 2023 – more than double the number in 2020."(5) The recent increase in famine is mainly in the poorest, exploited countries, and triggered by a combination of inflation, war and climate change.
We know there is enough food in the world to feed everyone. The problem is capitalism cannot be efficient enough to distribute it to places where super-exploitation occurs. And super-exploitation is necessary to maintain profit rates. Without positive profit rates, capitalism grinds to a halt.
When socialist China had actual shortages in essentials, they would ration them instead of increasing prices and making the problem worse. Then they would focus on increasing production of those essentials (rather than decreasing production like the capitalists do when there's no profits to be had).(6) Contrast this with prisoners (and everyone else) in the United $tates who are now paying higher prices for food and other essentials because the commissary is operated on the capitalist market. The anarchy of production under capitalism means we constantly have too much or too little of various goods as individuals decide what to produce based on their own profit interests. And this is particularly noticeable when the economy starts to slow down or shows volatility as it has been lately.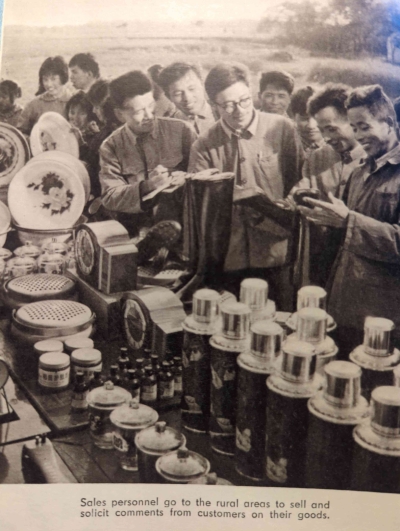 Socialist China focused on production to manage and drive the economy, whereas imperialist United $tates focuses on money supply to do so. In socialist China the banks were merely a tool to manage and allocate resources to manage production for the people's needs.
Why Banks are failing
As mentioned above, Silicon Valley Bank (SVB) had a big problem due to the value of its federal bonds dropping in value. They had bought the bonds when interest rates were much lower, so as the Fed continues to increase interest rates these old bonds drop in value. They cannot cash in the bonds until their term is due and they can only sell them at a loss. Some big players began pulling their money out of the bank, perhaps related to this knowledge. Soon SVB could not cover the deposits they owed people. The U.$. government has stepped in to cover it, and now the FDIC is covering infinite deposits if your bank fails, instead of the previous limit of $250,000. This is another sign of the willingness of the imperialists to throw newly printed cash at the problem.
One interesting point here is that federal bonds are a "safe" investment. SVB didn't fail because of garbage mortgage-backed securities as happened in 2008. So the financial system is failing firms that play it safe this time around. In addition, according to the FDIC, SVB was not in the worst situation.(7) In other words, other banks in the United $tates have worse balance sheets than SVB and will fail if there is a run on their money. "The total unrealised losses sitting on the books of all banks is currently $620bn, or 2.7% of US GDP."(7)
The biggest failure this year, at the time of this writing, was the 165 year-old bank Credit Suisse. Meanwhile the market is jittery around many large imperialist banks with stock prices seeing big dips and credit default swaps (CDS) spiking in price. CDSs going up means other institutions are not confident these banks can pay off their debts and are charging more to insure bonds from these banks. The differing interests of these major financial institutions are beginning to show on the markets as they bet against each other.
Conclusion
Prisoners are on some of the most fixed budgets of any population in this country. In order to get their basic needs related to nutrition, hygiene and outside contact, prisons need to increase pay rates and limits on how much money prisoners can spend and receive from the outside. In some states these reforms have already occurred, and this is in the interests of the commissary companies, which the prison systems want to keep satisfied.
The solution to the bigger economic contradictions playing out now is obviously replacing capitalism with socialism. The report from socialist China cited above succinctly explains why this is the case. Capitalism doesn't just put profit over the need of people and life on this planet, capitalism actually requires profit to function. When profits dry up, as we're seeing some evidence of right now, capitalism can't produce what people need. Of course, we're also seeing various forms of state intervention to ensure that this does not happen by providing more money and creating profitable situations using the central banks. But these contradictions continue to exist, and different interests are acting in anarchic ways, so that state intervention cannot always work as it does in a socialist economy.
Notes:
1. Peng Kuang-hsi, 1976, Why China Has No Inflation, Foreign Languages Press:Peking, p.23-24.
2. https://en.wikipedia.org/wiki/Shanghai_Stock_Exchange
3. Peng, p.28.
4. Peng, p.30.
5. World Food Programme, "2023: Another Year of Extreme Jeopardy for those Struggling to Feed their Families."
6. Peng, p.37
7. Michael Roberts, 21 March 2023, "Bank Busts and Regulation", The Next Recession.