Islam as Liberation Theology
In the 20th century New Afrikans reached out to Islam in an attempt to find identity outside of Amerikkkan culture. In Islam they found history, identity, independence, integrity and a connection to the larger world, in particular the Third World. Today, revolutionary Islam is reaching out to New Afrikans and the First World lumpen. Just this month, an Al Shabaab-affiliated video was released featuring the stories of young men recruited from Minnesota who were martyred in Somalia fighting the African Union troops who serve their U.$. imperialist master. The first five minutes of this video is a pointed critique of the history of national oppression in the United $tates and the idea of race. It features footage from Rodney King to Michael Brown and uprisings in Ferguson, Missouri, prisoners from Georgia to California, and sound bites from Malcolm X to Anwar al Awlaki. It is an agitational piece that clearly promotes the national interests of New Afrika.(1)
In the video, Islam is presented as the answer to the racism and social hierarchy based on pseudo-biology that is inherent to Amerika. The conception of Islam as a liberation theology is not difficult to make given the prominence of the concepts of jihad, or Holy Struggle, and shahada, translated as witness or martyrdom. The Holy Struggle is to be one with Allah and to represent righteousness, truth and goodness as determined by Allah's divine wisdom. While jihad and shahada do not require armed struggle, martyrdom in battle for Allah's will is one way that Muslims can reach shahada according to the Qur'an.(2)
Throughout the stories of the Minnesota martyrs there is a theme of not fearing death, but rather running towards it. In regions where revolutionary struggle and political dissent of any form has been brutally crushed, Islam might fulfill a need in providing this basis for courage in the face of imminent death. There are many examples in history of the oppressed finding courage in a belief in their own immortality, but they generally did not end well for the oppressed. Ultimately, the myth of immortality may be good at recruiting cannon fodder, but it leads to recklessness and a lack of a scientific approach that is required for victory. We see the brazen unscientific approach to battle playing out in the Islamic State, which is now losing ground after a couple years of impressing the world with their successes.
"You can kill the revolutionary, but you can't kill the revolution." - Fred Hampton, National Deputy Chairpersyn of the Black Panther Party
Like the Muslim in jihad, the communist struggles to discover truth and goodness. But the communist serves the people, not Allah, so that goodness is relative to the real lives of humyn beings, and truth is that which changes the conditions of that reality. Whether we can serve the people better in life or in giving our lives will depend on the situation. But as most Muslims will agree, serving truth and goodness does not come in seeking death. Rather than finding our strength and resolve in myths, we look to this world to find strategic confidence in our victory. The vast majority of the world's people suffer under the current imperialist system. Yet that system depends on those same people to derive the profits that keep the system moving. So there is an inherent contradiction that will continue to play out in the form of class and national conflict until the exploitative system is destroyed and replaced with one that serves humynkind.
Islam is Growing
If there were to be a religion of the Third World proletariat, it would be Islam, just by the numbers. As of 2010, only 3% of Muslims lived in the imperialist countries, yet Muslims made up 23.4% of the world's population.(3) The Muslim-majority countries are dominated by young people, with over 60% of their citizens being under 30 years old today.(3) Thus the Muslim population is projected to increase, as Muslims will have birth rates twice the rest of the population for the next couple decades. The contradiction between youth and adults has always been an important one, with youthful populations being more open to change.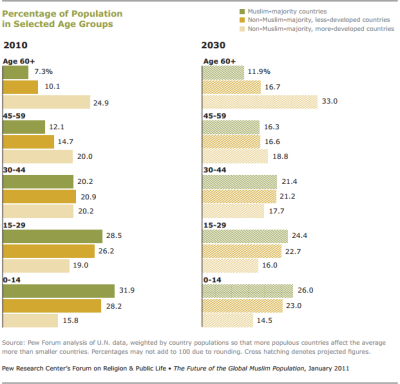 Of course, Islam has almost no influence in Central and South America and significant chunks of Africa and Asia. So Islam does not represent the Third World as a whole. But First Worldist chauvinism is just as likely to come in anti-Muslim rhetoric as it is to come in the form of racism these days. And it is interesting how its role among the internal semi-colonies of the United $tates has also emerged from the oppressor nation vs. oppressed contradiction, as we will examine in more depth.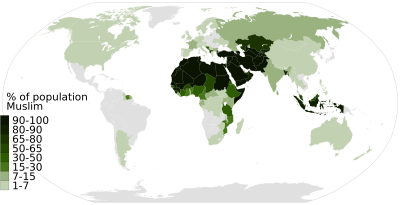 It is of note that France, Belgium and Russia are the only imperialist countries that are predicted to have more than 10% of their populations Muslim by 2030.(3) In November 2015, France and Belgium were put under the equivalent of Martial Law in a search for radical Muslims in their countries. Paris remains under this oppressive police state months later. Following the attacks in Paris, there have been attacks in Russia and the downing of a Russian plane. Anti-Muslim nationalism is also rife in Russia, which has recently joined the war against the Islamic State in full force.
In the United $tates, Muslims make up a mere 0.9% of the population.(4) For this reason there is great ignorance of Islam, but Amerikkkans still share the anti-Muslim sentiments of other imperialist countries. 2015 saw the greatest number of attacks on Mosques in the United $tates on record, with a surge following the attacks by Muslims in Paris, France and San Bernardino, California.(5)
The imperialists have succeeded in creating a new race, that is Muslims, for the oppressor nation peoples to focus their hate on. Without this racism, there could be no bombings or occupations in Palestine, Syria, Iraq, Afghanistan and Libya. Yet the white nationalists, in their own twisted logic, can claim Islamophobia is not racism because its based in religion and not "biology." Academia and the media have jumped on this opportunity, presenting Islamophobic papers as legitimate research and reporting, in a form of modern-day phrenology. There have even been discussions online, no doubt dominated by Euro-Amerikans, about how being anti-Jewish is racist but anti-Muslim is not. It is amazing that in 2016, politricks still trumps science, and most people still believe in race. Racist has become such a powerful word due to a combination of the righteous struggles of the oppressed and the promotion of identity politics, that First Worldists are now convinced that Islamophobic chauvinism is not as bad as racist chauvinism.
Islam as Philosophy
When you study philosophy you will inevitably study many religious thinkers. To this day, you will find those who are very deeply involved in religions to be thinkers and philosophers who are trying to understand and use that understanding to interact with the world. As communists, we do the same. So it is no surprise that we often find ourselves in deep dialogue with those of different religious leanings. As we'll get into below, the underlying class makeup of different religions has more to do with how those religions engage with communism than anything else.
So what are we talking about then when we talk about religion? Religion is idealism with organized rituals. The organized rituals part is pretty straight forward. It implies that there is a group of people who adhere to the religion in order to participate in the rituals. And the rituals include all sorts of things from regular meetings, prayer, fasting, philanthropy, dressing up, studying texts, marriage, etc.
Idealism is a broader category of philosophy that includes religions. And there are different versions of idealism, as we might expect. What is common between the different versions is that idealism puts the mind as primary and matter as secondary or non-existent in terms of understanding the "real world." Prior to Hegel, who introduced the radical method of dialectics, idealism was generally metaphysical. Metaphysical idealism is the belief in predefined, static things-in-themselves. For example, for those who believe in one god as the creator, everything that exists is defined by an ideal image from that god. For idealists, there is a barrier between what we perceive through our five senses, and this pre-defined ideal. Philosophers like Kant, who Engels called an agnostic, falling between idealism and materialism, believed that the real ideal was unknowable, or knowable only through faith. For many religions, it is the task of the individual to attempt to know that ideal or absolute truth by following the rituals of their religion. In Islam, this is called jihad. The passing from the material world to the world of ideas is also called transcendence. Transcendence is a major theme of many religions.
For materialists there is no such thing as transcendence. We see that truth is obtained through our five senses in a constant process of gaining knowledge and understanding as a species through practice and the scientific method. There is no ancient scroll or secret key that will open our third eye allowing us to suddenly see and understand all the secrets of the world that are hidden from us by our senses. Or, as Engels puts it in describing why Hegel marked the end of philosophy:
"As soon as we have once realised — and in the long run no one has helped us to realize it more than Hegel himself — that the task of philosophy thus stated means nothing but the task that a single philosopher should accomplish that which can only be accomplished by the entire human race in its progressive development — as soon as we realise that, there is an end to all philosophy in the hitherto accepted sense of the word. One leaves alone 'absolute truth', which is unattainable along this path or by any single individual; instead, one pursues attainable relative truths along the path of the positive sciences, and the summation of their results by means of dialectical thinking."(6)
Why Do We Still Have Religion?
The United $tates is exceptional in the First World in often defining itself through religion (Christianity). One recent book describes this as a fairly recent development, starting from a campaign by industrial capitalists with libertarian interests opposed to the New Deal.(7) The author points out, however, that Franklin D. Roosevelt used a lot of Christian language in his promotion of the New Deal and criticism of the evils of the capitalist class. Roosevelt used that language to capture the populist interests of the majority in the United $tates who were suffering from the Great Depression. The Christian language was an alternative to the communist language in the Soviet Union, which FDR was trying to save the United $tates from. Since the Bolshevik revolution, religious language has been openly used to combat the materialist language of communists.
The capitalist class took up the religious lingo as a marketing scheme after they realized that campaigning honestly for their own interests against the New Deal was not going to get popular support.(7) They backed the election of Dwight Eisenhower in 1954 who brought "In God We Trust" to our currency and put "One Nation Under God" into the pledge of allegience. While Eisenhower did not undo the New Deal as they'd hoped, this trajectory continued with it's pinnacle in 1980 with Ronald Reagon backed by groups like the Moral Majority. It was Reagan who introduced the tradition of U.$. presidents ending speeches with "God Bless America." To this day these evangelical Christian groups have played a strong roll in U.$. politics.
This is just one example of how religion can be used to mobilize people behind a political cause. It also demonstrates how religion can be a very deceptive tool in politics because the politicians avoid talking about the real issues. While in the realm of philosophy we can talk about religion as idealism, in the realm of sociology we see it as culture. And culture is part of the superstructure in that it reflects the economic substructure; in our world that would be (imperialist) capitalism. And within capitalism the fundamental contradiction that defines that system is that between the proletariat and the bourgeoisie. So, we will see how as the proletarian forces become stronger religion will reflect the proletarian world view, such as in Central America when socialism/communism had captured the interests of the masses in those Catholic countries. Religion must adopt a proletarian worldview to stay relevant as the scientific method begins to provide the masses with answers that the religions had failed to. In the status quo under capitalism religion most often reflects the interests of the bourgeoisie.
It has been popular in recent decades to talk about the clash of civilizations between the Muslim and Christian worlds. Some even look to history to show a long pattern of these clashes along religious lines. But these lazy historians cherry pick instances in history when religion is used to further the economic interests of different groups, as it often is. Yet a study of the causes of the most brutal wars in in our modern industrial society demonstrate that it was all about trade, markets and national interests. The two world wars were inter-imperialist rivalries over these things.(8) Then as communism threatened to remove vast segments of the world from the capitalist market economy, the imperialists took aim at countries building socialism. The focus on religion in the the last couple decades is a direct result of the victory of the imperialists in crushing socialist aspirations around the world. This repression, combined with some of the negative experiences countries in regions like the Middle East had interacting with revisionists and social-imperialists claiming to be communists, has led to a significant turning away from the socialist path in many parts of the Third World.
Islam and New Afrikans
Just as religion is today an outlet for many radical youth in the Third World, religion has been influenced by revolutionary politics in the context of New Afrika. In the 20th century we see a turn towards Islam by a number of New Afrikans who are searching for identity and liberation from oppression by Amerika. The great migration from the Black Belt to the industrial centers of the north was a time of great change for the nation, that left many searching for identity and culture. In fact, Noble Drew Ali, Elijah Muhammed and Father Allah all came from the south to face unmet promises of freedom and the American Dream.(9)

The appeal of Islam for people like Noble Drew Ali seemed to be in that it was exotic and unknown in North America, yet well-established elsewhere in the world. New Afrikans have spent much time trying to create a new identity by linking their history to lost histories of other peoples, and this was the tradition that Ali worked in. At this time, it seems that many would-be leaders presented themselves as actually being from more exotic places in order to inspire awe and respect from their would-be followers. But it wasn't just novelty that New Afrikans were looking for, it was something that spoke to their national aspirations, and not the same old Christian doctrines that had been used to keep their progenitors down.
There is a direct lineage from Ali's Moorish Science Temple of America (MSTA) to Elijah Muhammad's Nation of Islam (NOI) to Father Allah's Five Percenters, later the Nation of Gods and Earths (NGE). Even today people move from one organization to the other, building on the common mythologies between them. And all three organizations have had important relationships with various lumpen street organizations.
While loosely based on Islam with their founders basing their studies on religious texts, these groups represent a unique New Afrikan theology and culture. The NGE is the most eclectic of the groups because of its open nature. It had a more direct relationship to street life in New York City, and had influences from practices such as Rastafari, making it again a unique New Afrikan culture.(10)
While the NGE has generally shunned being called a religion, its primary purpose was in the realm of thought and philosophy. Father Allah focused on teaching, not on organizing people for any political goals aside from building opportunity for New Afrikan youth. Elsewhere we discuss the Almighty Latin King Queen Nation and its openness to representing religious ideas, while primarily being a lumpen mass organization. In contrast, the NGE, while rejecting religion ideologically, functioned primarily as a religious or spiritual organization, at least at first. It did evolve to take on more characteristics of a lumpen organization after The Father was killed leaving the youth to organize themselves.
In 1966, a couple years after the Five Percenters began, the New York City Police Department reported that they saw the decline of 200 street gangs, and the rise of one — the Five Percenters.(11) While they often found themselves in violent conflict with the armed wings of other New Afrikan religious sects, in 1971 the NYPD believed the Five Percenters worked with Muslims and Rastafarians in a vigilante killing of ten suspected drug dealers. Around that same time, in the 1970s, the Five Percenters played a leadership role in inspiring gangs to come together to obtain anti-poverty funds, parallel to what groups like the Vice Lords and Black P. Stone Nation were doing in Chicago.(12) In the later 1970s the Five Percenters recruited whole street gangs into their fold whose members accounted for a significant portion of the arrests in Brooklyn during those years.(13)
In another article on the MSTA, a comrade explains the dual roles of the organization, which began as a civic organization and later became a religion. This duality is another thing that MSTA has in common with the NOI, NGE and other New Afrikan organizations that are just as concerned with the nation as with spirituality. This role is also seen in leaders of Christian-based churches, as well as lumpen organizations in the New Afrikan community. While this is a manifestation of the continued national interests of New Afrikans separate from Amerika, it has unfortunately been used against their national interests as well. Some revolutionary theorists have pointed out that it is the most scientific revolutionary leadership that has been targeted for complete annihilation by the state, leaving those with idealist and profit-motivated views to fill the leadership vacuum.
Back in 1996, MIM Notes criticized the Nation of Islam's Louis Farrakhan for stating that an earthquake would strike California in response to federal agents' harassment of NOI officials. MIM wrote, "While Farrakhan's statement appears on the surface to be an extreme example of religious metaphysics, Farrakhan was in fact skillfully using metaphysics as a cover for a crypto-pacifist line directed at his followers."(14) Farrakhan followed in Elijah Muhammad's footsteps, who predicted many major events that never materialized. The mythology of Fard (who is considered a prophet by the NOI) and Elijah Muhammad promoted the idea that the Black man was god and created the white man over 600 years of grafting by the scientist Yacub. Muhammad, and his follower Clarence 13X (later Father Allah), believed that after 6000 years the Black man would return to power, which happened to be in 1966. Muhammad predicted the "Fall of America" to occur that year. The early years of the Five Percenters focused on preparation for this event.
While Father Allah was close to Malcolm X even after both had left/been forced out of the NOI, ey did not join up with Malcolm because Malcolm had rejected the story of Yacub after eir trip to Mecca.(15) Later, Father Allah would take up the line that devilishment was a state of mind and not a genetically distinct white man that was bred by Yacub.(16)
It was Malcolm X who had developed the most scientific theory of liberation coming out of the NOI, which ey seemed to be separating from eir religious beliefs before ey was assassinated, by setting up two separate organizations. Malcolm X inspired many, but it was the Black Panther Party, a Maoist, and therefore atheist, organization that best claims to be the direct descendents of Malcolm's ideas.
The religious side of Malcolm's evolution was carried on by Elijah Muhammad's son, Wallace, who took leadership of the NOI after Elijah's death. Wallace had been shunned for siding with Malcolm in the past, so it was not too surprising when ey took the NOI and transformed it into a group based in traditional Sunni Islam, rejecting the mythology of Yacub and the focus on race. But once again, the appeal of that mythology had not died, and many traditional NOI members left. After originally following (and praising) Wallace's leadership, Louis Farrakhan restarted the Nation of Islam a few years later under the original teachings of Elijah Muhammad. Ey courted the Five Percenters as part of eir efforts to rebuild the NOI.(17)
It is MIM(Prisons)'s line that the principal contradiction within the internal semi-colonies is that between integration with Amerika and independence from Amerika. The continued interest in the mythology of Yacub indicates an unscientific rejection of integration by many New Afrikans. The organizations discussed here all have a significant base in the New Afrikan lumpen, and have ideologies that reflect a kernel of the drive for national independence. While some people from MSTA and NGE have recently distanced themselves from Third World Islam, we shall see whether this becomes the dominant tendency, indicating a further move towards integration with Amerikkka for New Afrikans.
"You know back in the day, some of y'all
Would shout out Allah's name like he was hostin yo' mixtape
Then after 9/11 you got scared and shut the fuck up
Didn't talk about the demonization of a culture, immigrants, nothin
Now you show up, talk about we takin it too far
Die slow! MOTHERFUCKER!"
—Immortal Technique, Watchout (3rd World Remix) from the album The 3rd World (2008)
Addendum: Islam Still Small in the U.$.

After publishing this article, we thought it instructive to add some data we came across on the numbers of people, in particular New Afrikans, who represent some strand of Islam within U.$. borders. That number is quite small, representing less than 1% of the people in the country.(1) Even within the New Afrikan nation the percentage is about the same. Yet, that hides the fact that New Afrikans are disproportionately represented in the U.$. Muslim because virtually all other Muslims are recent immigrants (63%) or descendents of recent immigrants from major Muslim countries.(1) In other words, 0.9% of New Afrikans is much greater than the almost negligible number of Muslim Euro-Amerikans. This leads us to the third pie chart above, showing 59% of Muslims born in the United $tates being New Afrikan. Again, this is why we stress the connection to the national question in the article above.
Finally, it should be noted that even among the small percentage of New Afrikans that do identify as Muslim, most practice a more traditional form of Islam than the groups discussed in the last section above.(2) While we didn't find good numbers on Nation of Islam membership, estimates put it at in the neighborhood of 10% of New Afrikan Muslims. The various sects of the Moorish Science Temple of America represent a much smaller group, though we know that among imprisoned New Afrikans the percentage is higher and we have gotten many letters of interest from prisoners in response to this issue of Under Lock & Key. We do not have numbers on the Five Percenters.