U.$. AFRICOM Drone Bombings Surge in Somalia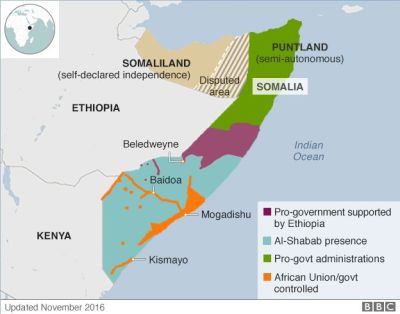 The United $tates has been waging a low-intensity war in Somalia for over a decade, and it's only getting worse. U.$. bombings in Somalia have tripled since Trump took office. These bombings generally go unreported in the Amerikan press, but investigative journalist Amanda Sperber has helped bring what little information there is to light. According to her report, the administration has refused to explain to Congress its reasoning for the increased bombing campaign. The United States's Africa Command (AFRICOM) reports claim only terrorists have been killed in these "targeted attacks," while Sperger has spoken with victims on the ground who list young children and civilians as being killed. This has become the common result of the U.$. drone wars.
In 2017, President Trump issued a directive allowing AFRICOM to assassinate anyone it identified as a member of Al Shabaab. The new president of Somalia, Mohamed Abdullahi Mohamed, is an Amerikan-trained puppet who has allowed AFRICOM to operate freely within the country. It is little wonder that Al Shabaab garners support with calls for national liberation in a country that has no free will independent of U.$. imperialism.
In addition to AFRICOM, it has been reported that the CIA is also assassinating people in Somalia, and their requirements for transparency are even more limited. While there are reportedly 500 Amerikan troops in Somalia these days, almost all operations, including the CIA, are run from the safety of the "Green Zone." They use drones to do the killing, and then claim that everyone killed was a terrorist.
Southern Somalia is just one hotspot for AFRICOM-operated warfare on the continent of Africa. It is these secret imperial wars that comrades in United Struggle from Within are standing up against by joining the campaign to Shut Down AFRICOM. We must work to lift the veil of secrecy around these wars, and build an anti-imperialist movement that is capable of challenging these unnecessary deaths from within the belly of the beast.
As this issue of Under Lock & Key goes to print we will be tallying up the final count of petition signatures from our readers. These petitions will be submitted to the Congressional Black Caucus by the Black Alliance for Peace in April.