Long Live Comrade Sanyika Shakur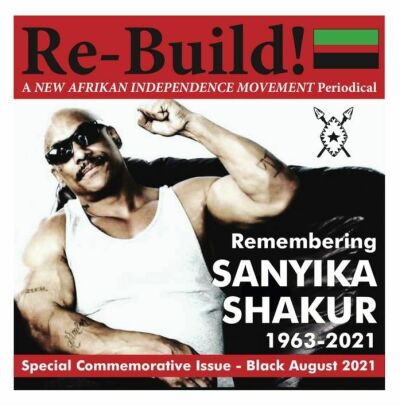 Sanyika Shakur, formerly known as 'Monster' Kody Scott, author of three books and numerous articles, legendary street gang figure, self-transformed New Afrikan revolutionary and communist, passed over to meet the ancestors, Black August 2021. Sanyika was only 57 years of age.
Sanyika is most known for his auto-biography, Monster, which also was produced as a film. What most don't know is that even at the time of writing that book, Sanyika had begun what would become a life-long struggle to evolve not only his thinking but to have his social practice match his level of theoretical prowess.
Sanyika's story is a testimonial to what a lot of us, lumpen, go through. He battled drug addiction, he struggled to navigate between his evolving socio-political awareness and the loyalties embedded within him during decades of hard-core gang-bangin'. In the end he stands as both an inspirational, as well as a cautionary example, for those of us lumpen who seek self-evolution, and revolutionary transformation. He is an inspiration, showing how far We can bring ourselves with Our sheer will power. When the brother entered prison in 1985, he was functionally illiterate. A handful of years later he would author the first of three books. This in itself is quite a feat.
However, Sanyika's greatest feat was his determination to unify, and organize gang members, and former gang members into revolutionary formations. These formations he founded or took part in included, C.C.O. (Consolidated Crip Organization), C.R.I.P.(s) (Clandestine Revolutionary Internationalist Party (of Soldiers)), August Third Communist Organization, and the New Afrikan People's Liberation Army.
Sanyika obviously wished to be remembered, not as a gang bangin' Crip, but as a New Afrikan revolutionary nationalist and communist who sought to unify his people, New Afrikan lumpen, and he was thankful for the 'overstanding' (as he would say) he was able to grasp due to the knowledge and wisdom passed down by his/ Our ancestors. For his chosen name, Sanyika, means 'Unifier of the people', while Shakur means 'most thankful' in Ki-Swahili and Arabic respectfully.
In including the memory of this comrade-brother in Our newsletter, Power Moves, We wish to call Our readers to dedicate self to self-transformation, and more specifically to transform the criminal mentality into a revolutionary mentality. In order to 'Re-Build To Win', We must first Re-Build Ourselves. By this We mean, We must rectify and re-orientate Ourselves with new and improved values, social circles, and social habits. Without these traits of evolution, there will be no revolution, if We think otherwise We're merely kidding Ourselves.
REST IN POWER COUSIN
Sources: 1)Re-Build!: A New Afrikan Independence Movement Periodical, Special Commemorative Issue, Black August 2021.
[This is re-printed with the author's permission, from the internal prison newsletter Power Moves, a publication of Black Independence Taking Root (BITR), an organization taking root in Texas Koncentration Kamps.]
---
MIM(Prisons) adds: You can read our reviews of Shakur's other two books: T.H.U.G. L.I.F.E. published in Under Lock & Key No. 10, and Stand Up, Struggle Forward: New Afrikan Revolutionary Writings on Nation, Class and Patriarchy on our website, or ask us to mail you a copy.
For over a decade MIM(Prisons) has offered correspondence study courses to help those trying to transform themselves inside the belly of the beast. Yet, we struggle to keep these Serve the People Programs running and ask those on the outside to contact us to help out. This winter we will be releasing a Revolutionary 12 Step program that is focused on transforming yourself from the lumpen/criminal lifestyle, to the committed revolutionary. The first printing will go out to USW leaders across the country to help implement self-transformation programs in prisons and on the street.