The Hate U Gave Lil' Infants Fucks Everyone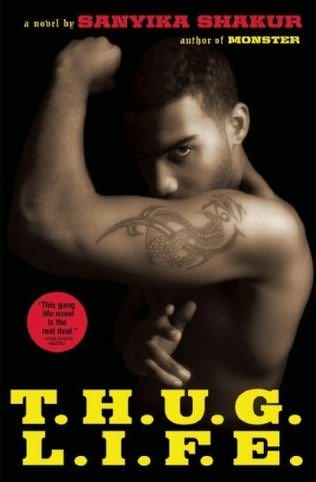 T.H.U.G. L.I.F.E.
Sanyika Shakur
Grove Press, 2008.
This novel by former Eight Tray Gangsta Crip, current New Afrikan Revolutionary and captive of California's Security Housing Units promotes peace, unity and discipline among the lumpen of the oppressed nations. As such, we rate this book positively as a cultural work. The story weaves the THUG LIFE code promoted by Tupac and Mutulu Shakur throughout. In this reviewer's limited exposure to the collection of fiction branded as "street lit" and marketed mostly to younger New Afrikans, we see this as a superior example. A thorough analysis of this genre might parallel our discussion of hip hop music in a lot of ways.
The bulk of the story is gangster, but lessons and gems are peppered throughout. In the context of the ongoing conflict between the gangs of Los Angeles, the author introduces principles of dialectical development, though he doesn't develop them very extensively. Cultural references to revolutionary music and movies are also dropped in the story in a way that may promote further investigation by readers who are attracted to the overall gangster story. A comrade and obvious admirer of Tupac Shakur, Sanyika seems to take a similar approach in his writing that Pac took in his music.
In one of the tensest moments of the book, Shakur paints a picture of a disciplined unit of gangsters awaiting a raid, "These bangers had grown fed up with police tactics of intimidation, false arrests, no-knock raids, and summary executions that always seemed to accompany their public 'protect and serve' image. They had made a pact to stand and fight when confronted without an escape route."
Following another police raid, this time of the main character Lapeace's apartment, we briefly meet Mrs. Delaney, founder of the Black Scouts Youth Brigade, who gives us a lesson in security: "what I do ain't no secret, it's just nobody's business but my own."
Later, Sekou, Lapeace's road dog, promotes scientific thinking and attacks identity politics, "I could care less who speaks the truth, I want to hear it." This is in reference to the Tupac character named Askari Shakur. Interestingly, characters in the book regularly listen to Tupac songs, while this character, Askari Shakur, is used as a stand in for Tupac in the Las Vegas beef that ends in his fatal shooting.
Throughout the book there is a theme of Lapeace searching for a family legacy of revolutionary resistance that he knows little about. Meeting Askari Shakur really encourages this desire for him, but the relationship is cut short by Askari's assassination. This story line is typical of New Afrikans as a whole who are very ignorant of the struggles lived by their parents just a generation before. In ULK 9, a comrade told a story very similar to Lapeace's. His mother was in the Black Panthers, resulting in their home being raided regularly as a child. But until her death, he thought she was just a criminal gangster.
The THUG LIFE code is a step. Gangsters living by the code aren't gonna get us free. Really, gangsters aren't gonna get us free, period. Not until they start transforming into something other than gangsters. Many lumpen organizations have a parallel analysis of the development of their members that start in the criminal mentality and transition to a more conscious one, in some cases the ultimate stage being promoted is of a revolutionary nationalist nature. To different degrees they promote trading in lumpen individualism for identifying with one's people, or the people. The problem with these programs is that they are usually presented in a way that is limited by individualism itself. As if each member must go thru these stages. If everyone's development is the same then we never advance. How we advance as a group is that each generation takes the lessons of the previous generations and builds on them, not making the same mistakes.
By erasing revolutionary history of the oppressed, the government has done much to set back progress. As the lumpen stand in a state of ignorance and criminality, they can only progress as a group through revolutionary nationalism and proletarian internationalism. The progression from nihilistic gang-banging to a code of conduct like THUG LIFE is just one small step, one that has not yet been taken up by the group.
One of the main roles of culture is to create idealized images that represent something that the people can relate to and emulate. Lapeace seems to be a character that merges the author's past with his present in a way that idealizes the best of the gangster culture. Recognizing the stage we are in is part of a materialist approach to change and to culture. Lapeace is a positive image at this stage of the struggle. And a code of conduct like THUG LIFE is an important stepping stone to where we ultimately need to get.