Movie Review: Straight Outta Compton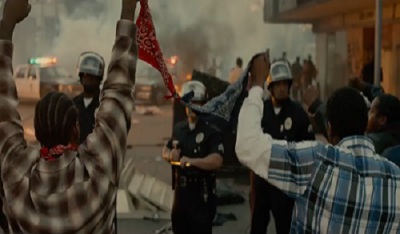 14 August 2015 — The long-awaited autobiographical story of NWA, Straight Outta Compton (2015), hit theaters tonight. The action-packed movie glorifies the evolution, and quick dispersal of what they billed as "the world's most dangerous group." While this was part of their hype, there was certainly some truth to the image NWA portrayed and the long-term impact that they had on music and culture in the United $tates. Produced by Ice Cube, with help from Dr. Dre and Tomica Woods-Wright (widow of Eazy-E), the film portrays the history of NWA through their eyes. While generally an accurate history, there are artistic liberties taken in the portrayal of certain events and what is left out.
A key theme of the film is the role of police brutality in shaping the experience of New Afrikans in Compton, particularly young males. There are multiple run-ins with police brutality depicted, and attention is given to the infamous beating of Rodney King by the Los Angeles Police Department (LAPD), and the subsequent riots in Los Angeles that deeply affected all members of NWA. The strong anti-cop message of the movie will resonate with audiences who have been unable to avoid discussion of police murders of New Afrikans over the last year or so. As such, the movie will have a positive impact of pushing forward the contradiction between oppressed nations and the armed forces that occupy their neighborhoods.
Every New Afrikan rebellion in the past year has been triggered by police murders. Murders and attacks on New Afrikans by whites and their police have always been the most common trigger of rebellions since Black ghettos have existed.(1) This was true in the 1960s when the Black Panthers rose to prominence, it was true in the early 1990s after NWA rose to fame, and it's true today when "Black Lives Matter" is a daily topic on corporate and other media. This national contradiction, and how it is experienced in the ghetto, is portrayed in the film by the fact that there are no positive roles played by white characters.
A secondary theme, that surrounded a number of high-profile groups/rappers of the time, was the question of freedom of speech. NWA was part of a musical trend that brought condemnation from the White House and the birth of the "Parental Advisory: Explicit Lyrics" warning sticker. Ice Cube does a good job of portraying his character as righteous and politically astute, though he self-admittedly embellished from how events truly occurred.(2) We see the strong political stances Ice Cube took in his music after he left NWA, yet, only a glimpse. They do a montage of the 1992 Los Angeles riots, but don't touch on Cube's extensive commentary before and after the riots through his music.
They also curiously leave out any mention of Dre's public feud with Eazy-E after Dre left Ruthless Records, though they do spend time on Ice Cube's feuds with Ruthless.
The movie concludes by glamorizing Dre's rise to fame and independence, after being screwed by Jerry Heller (and Eazy-E) while with NWA, and then by Suge Knight for The Chronic album. They portray his success in guiding new artists like Eminem and 50 Cent to successful careers and his marketing of Beats headphones, which were purchased by Apple, Inc. Ice Cube's great success as an actor and producer are also featured, as are a memorializing of Eazy-E and updates on DJ Yella and MC Ren.
While this ending is a logical wrap up of the story of these five artists and where they are today, the focus on the individuals leaves out much of their real legacy. NWA was part of a cultural shift. Like all historical events, what they did represented much bigger forces in society. The character of Ice Cube recognizes this in a press interview in the film when he says they didn't start a riot at a Detroit show, they were just representing the feelings of the youth of the day. As was stressed in that interview, and throughout their careers, NWA members were just reporters speaking on what they were experiencing. And it was an experience that until then was unknown to a majority of Amerikans. Today that experience has become popularized. It is both glamorized and feared, but it has become a prominent part of the Amerikan consciousness thanks to voices like NWA.
While reality rap has been used (and misconstrued) to reinforce racism by many, the real transformatative impact it has had is in bringing this reality to the forefront so that it could no longer be ignored by Amerikans. Again, this pushed the national contradiction in the United $tates, by making all people face reality and take positions on it.
One problem with the movie is the way it leaves the rebelliousness of NWA as something from the past, that has evolved into successful business sense. NWA was one of a number of greatly influential artists at the time that shaped the future of hip hop. When gangsta rap was breaking out, you had real voices leading the charge. Since then it has been reeled in, and there is generally a dichotomy between the studio garbage that gets corporate play and the countless popular artists who have taken rap to higher levels both artistically and ideologically. Today there is a greater breadth of politically astute artists who are quite influential, despite lacking access to the corporate outlets. A montage of the countless "fuck da police"-inspired songs that have been produced since NWA would be a better recognition of their legacy today, than the focus on mainstream success and lives of some of the individual members.
While being a longer movie, Straight Outta Compton seemed to end quickly. There are plenty of exciting musical moments to make NWA fans nod their heads, plenty of fight scenes, if you're into that, and many rebellious statements made by members of NWA that should make you smile. We look forward to the even longer director's cut, which promises to get deeper into some points that are only hinted at in the theatrical release.(3)