On the Passing of Comrade Prairie Fire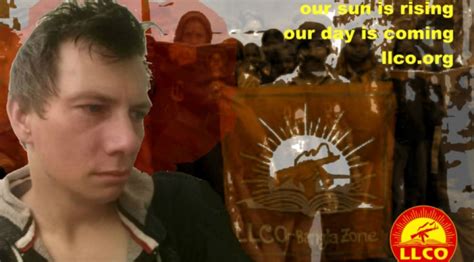 In a New Year's statement for 2020, llco.org stated:
"While we have much to celebrate, we also mourn the loss of a once dear comrade, who passed away earlier this year. Prairie Fire, who was integral to crafting our theory and authored many of our earlier articles, lost his battle with drug addiction this past April. Although he was expelled from our ranks in 2016, we still recognize and honor the important role he played in the formative years of our Organization."
2019 was certainly a year of loss and transformation for the Maoist movement in the United $tates.(1) While the Leading Light Communist Organization abandoned Maoism as such for its own self-aggrandizing brand shortly after forming, comrade Prairie Fire was someone who we had great unity with over the years. While our knowledge of eir work is somewhat limited, ey was someone who dedicated eir life to building a revolutionary movement.
Prairie Fire spent some time working with the Revolutionary Communist Party (USA) before being won over by the MIM critiques of the RCP=U$A brand of revisionism. Prairie Fire, having been a student of Avakian's work, wrote some biting critiques of Avakian's writings for MIM.(2) In its later years, MIM came to promote the It's Right to Rebel (IRTR) online discussion forum as a place for Revolutionary Anti-Imperialist League comrades to organize. Prairie Fire was a lead figure in the IRTR project ideologically and work-wise. MC5, later revealed as Henry Park, would come to consider the IRTR a failure and proof that you cannot out-number the fascists and cops on a public internet forum.
Not long after the IRTR experiment had begun, the original MIM Comrades cell dissolved and the etext.org MIM website was left in the hands of lead theoretician Henry Park. By this time MIM had dropped most of the infrastructure related to the prison ministry into the hands of comrades who would come to form MIM(Prisons). One of those founding comrades came from IRTR.
Once Henry Park was on eir own, eir writings became more erratic, accusatory and difficult to decipher. It was at this time that Prairie Fire began leading the call to disassociate from MIM. Another key point of struggle was MC5's continued promotion of Mousnonya as the MIM Art Minister. MC5's failure to denounce Mousnonya, who participated in IRTR, was very concerning for the core membership of IRTR. Comrades could not understand the free reign of creative license that seemed to be allowed to Mousnonya, whose content was inconsistent in its political message. While IRTR was condemned as a failure, swimming with fascists, MC5 hinted at other reasons for the Mousnonya relationship, but we don't know what those were. Unfortunately, Mousnonya videos are still prominent on YouTube's search when looking for MIM content.
Most of IRTR's core membership followed Prairie Fire in denouncing Henry Park as having lost it and went off to form Monkey Smashes Heaven (MSH) and associated projects. These projects eventually put out the Sunrise Statement declaring "Maoism Third-Worldism" as a new, higher stage of historical materialism, intentionally distancing themselves from MIM Thought. Comrades who formed MIM(Prisons) at that same time stood by the MIM legacy and the writings of Henry Park until eir early death in 2011.(3) We put online and continue to host the latest version of the MIM etext.org site that we had a copy of before it was shut down.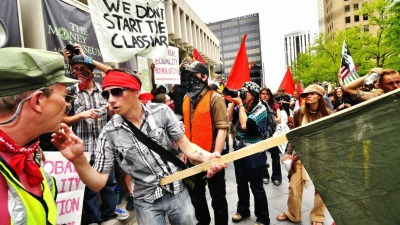 At the same time that IRTR was operating, the Revolutionary Anti-Imperialist Movement arose in Denver, organizing in alliance with MIM around support for Ward Churchill in eir fight for academic freedom, and anti-war and anti-militarism. As MSH wanted to to go beyond online media and art projects, it morphed into an aspiring vanguard organization called the Leading Light Communist Organization. This group was active in Denver and included 2 comrades from RAIM-Denver on the central committee, with the intent of using the RAIM name and formation as the LLCO-led mass organization.
While MIM(Prisons) criticized the idea that there was a new stage of revolutionary science beyond Maoism, we saw the MSH alliance (and later LLCO) to generally uphold the MIM cardinal principles, even as they continued to find more aspects of MIM Thought and writings that they disagreed with. As the primary theoretician behind LLCO, we know Prairie Fire was a lead force in this continuous distancing from MIM.
Some time after forming LLCO, Prairie Fire decided that eir ideas had again become so distinct that they constituted a new ideology, called "Leading Light Communism." Without discussion with other central committee members, LLCO abandoned "Maoism Third-Worldism" for "Leading Light Communism" as it continued to move its rhetoric in a direction that MIM(Prisons) found to be sectarian and dogmatic.(4) RAIM comrades in LLCO made a similar assessment, and soon split with LLCO, which in turn denounced RAIM as wreckers. At this point RAIM became a collective focused on a news blog at anti-imperialism.com without a clearly defined ideology. Over the years RAIM would go back to the "Maoist Third-Worldism" identity.
As membership changed, RAIM began to come around to the MIM(Prisons) position on a new stage of revolutionary science. In its last years, RAIM was in regular discussions with MIM(Prisons), regarding plans to launch joint projects under the MIM name. As RAIM has since been dissolved, comrades who have followed the MIM(Prisons) and RAIM legacies continue to work towards a reconsolidation of the MIM.
After a struggle with LLCO over its gender analysis in 2014,(5) MIM(Prisons) paid little attention to LLCO as practical alliance had reached an impasse. While the nature of its activity was unclear to us, it seemed focused on leading struggles in the Third World. Essentially, it had gone full circle due to seeing the center of world revolution in the Third World, and it had taken up a Trotskyist strategy of leading Third World organizing from the First World. Prairie Fire had gone back to the ways of Bob Avakian.
According to the recent statement from LLCO, Prairie Fire was expelled from the organization in 2016 for drug use. It was around this time that Prairie Fire reached out to us to notify us that LLCO had been usurped by enemies, and ey was regrouping around a formation called "the Founders." That was the last we heard from Prairie Fire.
As our movement is in a period of great transition and transformation, we wanted to take this opportunity to document some of this history now that people have passed and organizations have dissolved.
We also wanted to comment on Prairie Fire's passing because we saw em as a fellow traveler, despite our differences over the years. While eir practice was not really known to us in much detail, we had respect for eir ideas and eir efforts. Certainly more than most organizations out there. So it is sad that we learn of eir passing.
It is also sad when we hear that a comrade had succumbed to drug addiction. Developing healthy lives in this sick system is a challenge, to say the least. That is why we have comrades currently developing a program for those dealing with addiction and other challenges related to being healthy in an imperialist society that we are struggling against. And we welcome help and input from comrades on this project, as we strive to Serve the People in addressing the effects of this society on the individual. The transformation of the individual is only actualized in the individual contributing to the transformation of society.
We post the images of Prairie Fire above to commemorate and remember em. Yet it is not because of eir appearance or life story that we are writing on eir death. We are critical of eir efforts to build a cult of persynality around emself. Promoting eir image and eir persynal history is promoting pre-scientific thinking. We must be real with the people. We must strike a balance between those who see themselves as great, and make great statements, and those who shy from the vanguard role and deny revolutionary truths. We must be clear and honest about what we know, and what we are doing, and what we don't know, and what we are not accomplishing.
At times it seemed that Prairie Fire was always striving to distinguish emself as having done something new and different, falling into the trap of post-modernism that ey emself condemned. We are not in revolutionary times. We can not have the impact or discover the truths that Mao or Lenin did in our current conditions. We mustn't strive to be the next Mao or Lenin. We must strive to be humble, dedicated servants of the people; always struggling and striving in the direction of revolutionary transformation of society, as so many millions of people who came before us have done. We are a part of something great. We are doing great things. There is nothing great about us as individuals.
Prairie Fire was a leader. Overall ey led people in the right direction, though at times ey led people away from MIM Thought. We should strive to unite with all who are in agreement with MIM's three cardinal principles. These are what distinguish us as Maoists, that are moving in the overall direction toward a world without oppression.
Notes:
1. Wiawimawo of MIM(Prisons), February 2020, MIM Line on Labor Aristocracy: Liberating Truth or Depressing Reality?
2. Prairie Fire critique's Conquer the World, also see our RCP study pack
3. Soso of MIM(Prisons), September 2011, Henry Park Obituary: MIM Comrade and Devoted Revolutionary, Under Lock & Key issue 22.
4. MIM(Prisons), March 2012, Review: Monkey Smashes Heaven 1 & 2.
5. Wiawimawo of MIM(Prisons), November 2014, A Scientific Definition of Rape and Why the Gender Aristocracy is Important, Under Lock & Key issue 41.