A Scientific Definition of Rape and Why the Gender Aristocracy is Important
The Maoist Internationalist Movement (MIM) needs more activists focused on gender. MIM had a rich history in work around gender. Today a gender-focused MIM cell could do a lot to advance the struggle in the First World. For the majority of people in the richest countries, class is not an issue that will gain us much traction. But these leisure societies, dominated by gender oppressors, are concerned with the realm of leisure time where there are battles to be fought. Yet almost no one is drawing hard lines in the gender struggle today. Even some who give lip service to the need to divide the oppressor nations maintain a class reductionist line that prevents them from taking up revolutionary positions on gender.
Importance of the Gender Aristocracy
MIM sketched out the gender hierarchy as shown in the diagram below, with biological males above biological females, but with the whole First World far above the whole Third World. The line between men (gender oppressors) and wimmin (gender oppressed) is between Third World biological males (bio-males) and Third World bio-females. In this simplified model, the Third World is majority wimmin and the whole world is majority men.(1)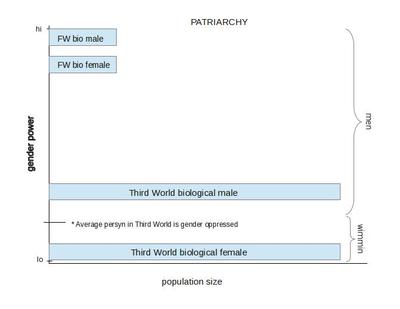 Near the top we see a small portion of the bio-females in the world are men of relatively high gender privilege. The term gender aristocracy was coined to account for this group of people who are often viewed as part of the gender oppressed, but are actually allied with the patriarchy.
MIM line distinguishes class and gender as class being defined by the relations of production and distribution, and gender defined as relations during leisure time. Largely due to their class position, the petty bourgeoisie, which makes up the vast majority in the First World, have a lot of leisure time and our culture in the United $tates is therefore very leisure oriented. Many of the things that are prominent and important in the lives of the gender aristocracy are not so for the majority of the world.
While MIM got a lot of push back on the labor aristocracy line, this came mostly from the dogmatic white nationalist left. The average Amerikan didn't get upset until MIM criticized their video games and explained how all sex is rape. These are things that are very important to the lives and pleasure of the imperialist country petty bourgeoisie. Knowing this is helpful in our agitational work. Our principal task overall is to create public opinion and independent institutions of the oppressed to seize power. In the First World, dominated by the oppressor nations and oppressor gender, this requires dividing the oppressor in an effort to break off allies. Even if we can't recruit whole segments of the oppressor groups, dividing them over issues of importance to the proletariat is a useful strategy.
While we say First World people are men in the gender hierarchy, unlike economic exploitation, anyone can be the target of gender oppression. Even First World bio-males are raped or killed for reasons related to gender and leisure time. This does not make them of the oppressed gender, but it does make such extreme forms of gender oppression a reality in the lives of the First World. In addition, the exploiter classes can benefit from the labor of others without ever having to use force themselves to extract that value, yet gender relations are something we all experience. As a result, even in the First World some people come to see the negative aspects of the patriarchy, with or without first-hand experience of extreme gender oppression, because of the very persynal and alienating emotional experiences they have.
A small minority in the First World will join the proletarian forces due to their own experiences with gender oppression. So it is important for there to be an alternative to the pro-patriarchy Liberalism of the gender aristocracy as a way to split off sections of the gender-obsessed leisure class. Below we take on one example of the gender aristocracy line in an effort to reassert an alternative.
Comments on the LLCO
We are using an article posted by the Leading Light Communist Organization (LLCO) as an example below. But before getting into the theoretical debate, we feel compelled to address the unprincipled approach of this organization. The article in question demonstrates a pattern of nihilism and bad-mouthing by LLCO that is akin to wrecking work.
LLCO was born in a struggle to separate itself from MIM, which had recently dissolved. Two of the main ways they did this was by bad-mouthing MIM and dividing on gender. The gender divide amounts to nihilism because they tear down the advances MIM made in building a materialist line on gender, but put nothing in its place but the Liberal pseudo-feminism of the past. Humyn knowledge and theory is always advancing; to tear down advanced ideas without replacing them with better ones is reactionary.
In the piece in question one of the logical fallacies they use is ad hominem attacks on people who acknowledge that all sex is rape by using meaningless buzzwords. Even worse, they go on to claim that those that take this position might be crazy and out of touch. This is a common attack used by the imperialists to ostracize radical thinkers. It is not a productive way to engage a developed political line that has been clearly spelled out for over two decades.
"All Sex is Rape" Needs a Comeback
Where LLCO actually engages the theory of whether all sex is rape under the patriarchy, we get a typical critique:
"Setting the bar for what counts as consent impossibly high obliterates the distinction between, for example, a wife initiating sex on her husband's birthday and the case of a masked man with a knife at a girl's throat forcing sex. To set the bar so high is completely at odds with what most people think, including rape victims themselves. Most victims themselves intuitively recognize the difference between consensual sex and rape."(2)
This is completely backwards. We do not have a problem of the masses confusing a womyn being compelled to have sex with a man because the patriarchal society tells her that is her duty on his birthday, and a womyn being compelled to have sex with a man because he is holding a knife to her throat and threatening to kill her. Rather, we have a problem of people not understanding that we need a revolutionary overthrow of patriarchy and a subsequent upheaval and reeducation of current humyn relations in order to end rape in both cases.
Furthermore, it is Liberalism to rely on the subjective "i'll know it when i see it" argument to define rape. This is exactly what MIM argued against when developing their line on gender. When an Amerikan judge hears a case of rape charged against a New Afrikan male by a white female, we can accurately predict the outcome of the judge's "intuition." When the roles are reversed, so is the verdict. And we only pick that as an easy example; we don't have to involve nation at all. It is quite common for Amerikan females to admit to themselves that they had been raped, months or years after the incident. What it takes is a social process, where rape is defined in a way that matches her experience. This social definition changes through time and space. And those who recognize this tend to gravitate towards the MIM line on rape.
The gender aristocracy is very concerned with distinguishing between rape and good sex, because good sex is the premise of their very existence as gender oppressors. For the gender aristocracy the bio-male provides safe/respectful good sex and the bio-female provides good sex in the form of a respectable/chaste partner. "Good sex" helps to distinguish and justify the existence of the gender aristocracy. Good sex is also a central source of pleasure for the gender aristocracy, to which they have very strong emotional attachments.
But the opponents to the MIM line on rape cannot explain away power differentials that are inherent in the patriarchy. They have no appropriate label for the sex that a womyn has with a man because she feels trapped in her marriage and unable to leave because of financial dependence. Or for the sex a womyn has with her girlfriend who is also her professor and in control of her grade at University. Or for the sex that a prisoner has with another prisoner because he needs the protection he knows he will get from someone who is physically stronger and respected. There are clear elements of power in all of these relationships. These are pretty obvious examples, but it's impossible to have a sexual relationship in capitalism under the patriarchy that does not have power differences, whether they be economic, physical, social, work, academic or some other aspect of power. This is not something we can just work around to create perfectly equal relationships, because our relationships don't exist outside of a social context.
One assumption of our critics is that rape cannot be pleasurable to both parties. We disagree with this definition of rape, and believe that power play is very tied up with pleasure in leisure time, to the point that a coercive sex act can be pleasurable to all involved. We expect this is more common among the gender privileged.
Punishing Rapists
Another theme throughout the LLCO piece is the question of how we are going to determine who the "rapists" are that need to be punished if we are all rapists? This is combined with taking offense at being implicitly called a rapist.
The gender aristocracy cares about labeling and punishing rapists, again, because it distinguishes their good sex from others' bad sex. It is an exertion of their gender privilege. That is why most people in prison for rape in the United $tates are bio-males from the oppressed nations, and the dominant discussions about rape in the imperialist media are about places like India, Iraq, Mali or Nigeria.
LLCO accuses our line of discrediting anti-rape activists. MIM has been discrediting pseudo-feminism in the form of rape crisis centers for decades. Amerikan anti-rape activists take up the very line that we are critiquing, so this is almost a tautological critique by LLCO. Even in regards to struggles initiated by Third World wimmin, they are often corralled into a Liberal approach to gender oppression when not in the context of a strong proletarian movement. The imperialist media and those pseudo-feminists pushing an agenda of "international sisterhood" help make sure of this. This is an example of gender oppression and enforcing the patriarchy across borders using the gender aristocracy to sell it to the oppressed.
In general, we are not interested in finding the "real rapists" as we don't believe there is such a thing. Rape is a product of patriarchy — that is the essence of our line that all sex is rape. Imprisoning, beating or killing rapists will not reduce gender oppression in the context of a patriarchal society. Yet this is the only solution that is even vaguely implied in LLCO's critique.
Of course there are those who take the logic of the patriarchy to the extreme, just as there are those who take the logic of capitalism to the extreme. And we agree that under the dictatorship of the proletariat the masses will pick out these unreformable enemies for serious punishment. Yet, the majority of people who took up practices of capitalism or of the patriarchy will be reformed. This does not mean these people never exploited, stole from or sexually coerced another persyn before.
Today is another story. We adamantly oppose the criminal injustice system as a tool for policing sexual practices, just as we oppose it in general as a tool of social control to protect imperialism and the patriarchy. Therefore we find this desire to identify rapists to be a reactionary one.
Pushing for Gender Suicide
The problem with the ideology of the gender aristocracy is that their attachment to "happy sex" and the importance that most of them put on it will put them at odds with revolutionary attacks on the patriarchy. This is the practical side of "all sex is rape" as a tool to defang the gender aristocracy who will side with the imperialists on gender alone. If our critics get sad when we question the consensualness of their sex that is a good thing, because it challenges their attachments to the status quo. Truly radical changes must take place in our sex lives, our gender relations and our leisure time in general. The less resistance there is to this the better.
The Liberal argument is that by policing individual behaviors you can avoid being raped or raping someone else. This is just factually untrue. Yes, we need to transform the way people interact as part of the overthrow of patriarchy, but because gender relations operate at a group level, policing individual behaviors alone is just another form of lifestyle politics.
Just as all Amerikans must come to terms with their status as exploiters, and must view themselves as reforming criminals, gender oppressors must come to terms with the ever-presence of rape in the behaviors that they get much subjective pleasure from. Until they do, they will not be able to take on or genuinely interact with a proletarian line on gender.