Review: Monkey Smashes Heaven 1 & 2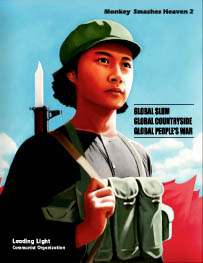 Monkey Smashes Heaven 1 & 2
Leading Light Communist Organization
MIM(Prisons) has six cardinal principles, all of which we believe the Leading Light Communist Organization (LLCO) upholds to the degree that we consider them fraternal. As such, we distribute some of their better work, which is likely why you are reading this review. LLCO is one of very few who work within the legacy of the MIM to a significant degree.
This is our first review of the Leading Light Communist Organization by that name, but the theoretical journal Monkey Smashes Heaven predates the LLCO. We reviewed them in 2009 in Maoism Around Us and addressed them later that year in What is sectarianism?
The latter article criticized MSH's nihilist approach to the struggles that comrades from the Maoist Internationalist Party - Amerika went through in their last days. Unfortunately, their sectarianism has only increased since forming LLCO. In their 10 criteria set forth in the beginning of MSH 1 for who they consider to be a communist, the number one point is you must uphold their ideology called "Maoism-Third Worldism", now "Leading Light Communism." This amounts to saying, "we see you as fraternal if you think exactly like us." Cardinal principles should be a handful of the most important issues of the day that define the communist movement. The expectation that the only correct political organizations are those that share identical ideologies leads quickly to the Trotskyist requirement that revolution must be led by a single global organization imposing its will on all countries.
As we addressed already in "Maoism Around Us", we do not recognize an advancement of revolutionary science beyond Maoism as MSH claims Leading Light Communism is. After reviewing MSH 1 and MSH 2, MIM(Prisons) still fails to see the unique contributions that MSH/LLCO claim to have made to constitute a new stage of revolutionary science. They state this repeatedly in their journals, without explaining what exactly distinguishes Leading Light Communism from Maoism.
The one partial explanation they do provide on p. 51 of MSH 1 is that they were the first to scientifically explain that there "is no significant revolutionary class or socioeconomic group in the First World." MIM was the first to put together a lot of the theories on the labor aristocracy into a coherent class analysis of the First World. Yet even they acknowledged that the main points were not new to Lenin, and even Engels had talked about the buying off of whole nations. LLCO has written some interesting new articles on the subject, but has not advanced the theoretical concepts in any way. Where LLCO disagrees with MIM is on the question of internal semi-colonies being potentially revolutionary in the First World. The buying off of internal semi-colonies was most thoroughly addressed in MIM's "On the Internal Class Structure of the Internal Semi-Colonies" and recognized as early as 1992 in MIM Theory 1. We have yet to see LLCO address this issue in any detail. We have yet to see them explain the revolutionary nationalism of just a couple generations ago and why it could not happen again, or even surpass previous experiences. They simply dismiss the possibility with no analysis or explanation.
While opportunistically presenting as the heir apparent to MIM on Wikipedia, they almost never cite MIM or use MIM language except to criticize MIM. In reading the first two print editions of their journal LLCO takes similar approaches to the theoretical contributions of Marx, Lenin and Mao. This takes their sectarianism to another level of knocking down all of their predecessors as inadequate in the face of their supposedly advanced analysis.
Finally, their sectarian thinking leads to a cultish approach to organizing, rather than teaching people how to think and solve problems. While always being sure to hype LLCO as the most advanced, they rarely explain why. It is the job of the vanguard to raise the scientific understanding of others through struggle, not to simply encourage them to follow the leading light.
We won't list all the things we agree with in the first two issues of MSH here. The articles from MSH that we choose to distribute in our own study packs can speak for themselves in how correct they are. We generally agree with the content of those articles except for the points above, and we distribute them because they add new insight into the topics of study.

Related Articles: