Private Prisons Exposed, and Same as Public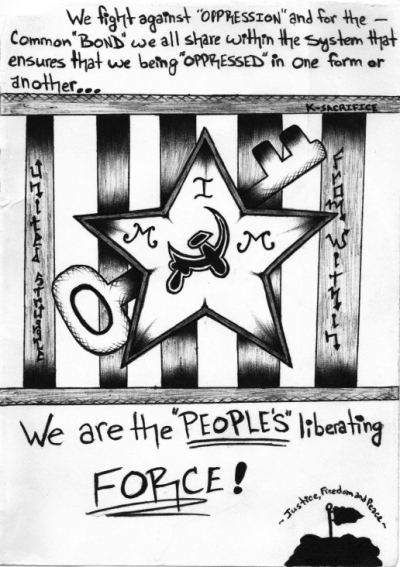 Recently an exposé of the private prison Winn Correctional Center in Winnfield, Lousiana, run by Corrections Corporation of America (CCA), was published in Mother Jones.(1) The article explains conditions which are completely inhumane, and many of the atrocities are linked to the CCA's drive for profit.
In the section about the mailroom, the author Shane Bauer mentions Under Lock & Key:
"Around the mail room, there are bulletins posted of things to look out for: an anti-imperialist newsletter called Under Lock and Key, an issue of Forbes that comes with a miniature wireless internet router, a CD from a Chicano gangster rapper with a track titled 'Death on a CO.'"
Curiously, Winn mailroom staff consider political education just as dangerous to the prison environment as electronics and death threats. This blatant censorship is not unique to this facility, and is not unique to private prisons. There are many state-run facilities all across the country where we know our mail is censored in a similar manner. Unfortunately we don't have an investigative reporter inside, and, only being able to communicate with our comrades through the mail, we are not able to combat this censorship or expose it. We post known censorship incidents on our website, but the reality is that we will never know what happens to approximately two-thirds of the mail we send in.
In reading the exposé, one might start to believe this private prison is different from public prisons. That's one of the major downsides of this piece: it leaves the reader wondering, assuming that state-run facilities are inherently better. Yet we post many articles from our correspondents inside showing that state-run facilities can be just as bad as Winn Correctional Center: lack of appropriate medical care leading to long-term health problems, lack of programming, arbitrary lockdowns, excessive use of force, lack of discretion in hiring personnel, and the list goes on.
To campaign against private prisons is to assert that state-run prisons are acceptable. It legitimizes the United $tates government as an impartial arbiter. It says that it isn't the prison that's bad, but instead just the aspect of private ownership. Yet MIM(Prisons) sees the prison struggle in the United $tates as one against social control generally — whether private or state-run.
We thank Shane Bauer for writing this horrific piece for the benefit of our fight against inhumane prison conditions. And we must look at the bigger picture, how state-run facilities fit in, and how the prison reform movement interacts with the struggle for self-determination of the internal semi-colonies and the liberation of the Third World from imperialism's death grip. Certainly imprisonment for profit must be abolished. But this phenomena could only develop inside a capitalist economy. If not this atrocity of capitalism, then there will be another one, and there certainly are. If our struggle is limited to simply abolishing private ownership of prisons, we will have wasted much time and energy that could have been spent on a broader struggle.(2)

Related Articles: