Resistance to Killer Cops Tireless in Minnesota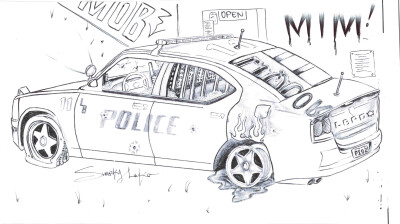 Weeks into the Derek Chauvin trial, protests in Brooklyn City, Minnesota were set off by the shooting of 20-year-old New Afrikan Daunte Wright during a traffic stop. The pig who shot him claims she thought she had pulled her taser. People braved the snow and freezing temperatures night after night, resisting the curfew that was put in place by the fascist pigs. They chanted "fuck the police!" and "fuck your curfew!" as cops shot tear gas and rubber bullets into the crowds of hundreds to thousands of people.
As we go to press, the pig who killed George Floyd has been charged with 2nd degree murder. Derek Chauvin assassinated Floyd on 25 May 2020 by kneeling on his neck for 8 minutes and 46 seconds.
This verdict doesn't change the fact that over 1,100 people were killed by pigs outside of prison in 2020, and that that is consistent with previous years. Of those, 121 were pulled over for mere traffic violations like Daunte Wright. New Afrikans were 28% of those killed in 2020, despite being only 13% of the population. In cities like Chicago and Minneapolis, New Afrikans were killed by cops at over 20 times the rate of whites for 2013-2020. In that same period, no cops were charged in 98.3% of killings.(1) While this data may be incomplete, behind prison walls this information is even more hidden. United Struggle from Within reminds our readers that Prisoners' Lives Matter too, despite being excluded from these statistics on murders by so-called "peace" officers.
In May 2020, George Floyd's murder righteously struck a nerve in many people both in the United $tates and internationally. This lead to a great awakening in international consciousness and exposed some heavy contradictions concerning capitalism-imperialism and its facade of democracy and human rights. We were shown that it is a dictatorship, and just like all other political systems, its state representatives are only there to uphold and enforce its class interests.
One of the most inspiring consequences of the killing of George Floyd is how this is so relatable to so much of the world's oppressed communities and how so many of them not only showed their support for New Afrikans in North America but used this as a catalyst to confront their own bourgeois dictatorships. Just last month, Victoria Salazar of El Salvador was killed by Mexican police by a knee pressing her neck into the ground similar to George Floyd. In response, wimmin across the country took to the streets, marching, performing street theatre and sometimes clashing with police. Feminists protested both the rate of femicide in the region as well as the militarized border patrols and policing that create the conditions for killings like Salazar's; tracing it back to U.$. imperialism.
Even the bourgeoisie in China criticized how the United $tates polices its Black population, saying, "Many people within the United States actually have little confidence in the democracy of the United States."(2)
Despite these connections, the death of Mr. Floyd had little chance of galvanizing itself to confront the U.$. bourgeois dictatorship or threaten its rule. A few officers were scapegoated. One will be doing prison time. And all Democrats and Republicans unanimously joined to denounce the officer's actions. Western imperialism was quick to send out its talking heads and the Democratic Party to corral the people back into bourgeois confines and to let the system administer the appropriate "justice" through its judicial process. Then $27 million was given to the family in a very public and biased way which could be a sign and another way to placate the people. Sadly, Biden and the Democrats have largely won over much of the "allies" of the oppressed and New Afrikans in particular. A recent poll said that immediately after the uprising 60% said at least one pig "murdered" George, now it's only 36%, which is just a sign of how fickle and amorphous even "talk" of discontent for how capitalism-imperialism treats the "other," and how quick much of Amerikkka wants to get back to business, ie. back to normal.(3)
The trial of Derek Chauvin was captivating. Many people, from many backgrounds actually cared and tried to help George Floyd. Sadly, even in the rare occasion when they are given prison time, none of the pigs will be reformed. We know this because our own comrades who do want to serve the people are not given any resources to reform in the current prison system. This should only add to the list of reasons why capitalism-imperialism must go not why we need to give it yet one more chance, or worst still "push Biden further to the left."
All comrades should be using their voice to build the anti-imperialist united front and demanding class suicide from all oppressed communities and justice-loving people in this country. It is real in the field, fascism is no longer a misnomer. There are very large swaths of the country who would love nothing more. The kid who murdered the two protestors in Kenosha received $2 million in donations, which just shows you what Amerikkkans think of the cries of its oppressed citizens, and also what it thinks of its right-wing vigilantes. Meanwhile Florida just passed a fascist bill that allows felony charges for protestors for "rioting," including up to 15 years for those who damage or desecrate an historical monument. Meanwhile it protects Amerikans who assault or kill protestors with a deadly weapon (an automobile), a form of fascist vigilantism that has grown in recent years. Then you have the recent voting rights bills, such as in Georgia, to stop people from voting. This is a real crisis within the bourgeois empire itself on how to rule; whether oppressed nations are allowed to vote, or even to exist.
Mao said the basic law of dialectical-materialism is the unity of opposites. The primary contradiction in imperialism is the oppressed nations against the oppressor nations. Mao also said two cannot combine into one. Only revolution and a seizure of the state apparatus by the oppressed will ultimately transform this contradiction, yet we can and should be working to transform all aspects of the contradiction short of revolution we can in preparation for that time.
Amerikkka, or any First World nation, has no right to deny anyone a share of its ill-gotten spoils. We should not get caught up in the "lock-him-up" hysteria of this trial and instead demand and support a true united front against this system and expose it as an utter failure. We should be supporting the First Nations call of welcome to their cousins from South and Central America and those from the global south. The imperialists should not have undermined their governments and resources. We should be uniting with the Asian and Pacific Islander peoples' struggles against national oppression, especially now, and welcoming them to the table (we've sure missed them and need them).
Studying Marxism-Leninism-Maoism, applying dialectical materialism and historical materialism, building a new culture using the method of analysis and synthesis to critique and transform this gangster culture and "bourgeois" criminal mentality into a revolutionary one, building independent institutions to protect ourselves and avoid state repression and even exposure as much as possible and effecting both the quality and quantity of these contradictions amongst the people and the enemy.
There is nothing in the world but matter in motion and our current social contradictions must be exploited by real materialists. We are living through an historic moment, things are certainly in motion, and we must affect the direction they move in. If we dare recognize our collective enemy and transform our petty bourgeois "wanna-be" gangsta mentality into one that is at least sympathetic to the revolutionary process we can really change and exploit these contradictions so they are more favorable to us.
notes: 1. mappingpoliceviolence.org
2. China's Warning to Biden, 21 March 2021, The Wall Street Journal.
3. Jordan Williams, 5 March 2021, Poll:Number who think George Floyd's death was murder down more than 20 percent, The Hill.