Soulja Boy Dissed by Amerikan Rappers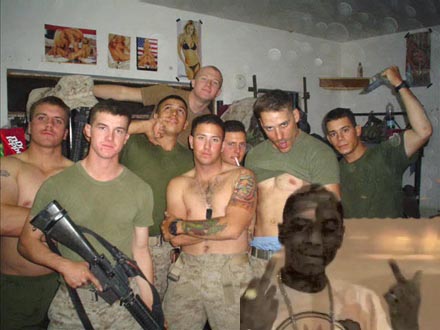 Millionaire popstar/rapper Soulja Boy stepped out of line in his latest video, and was reprimanded by Amerikan hip hop fans this week for his lack of patriotism. Under pressure he quickly apologized and took up the Demoncratic Party line claiming that he was only criticizing the two long wars, implying that the U.$. economy would somehow be better if the U.$. wasn't exerting control over the economies of the Middle East thru military occupation. This is what he originally said in the song Let's Be Real:
Fuck the FBI and the Army troops
fighting for what?
Bitch, be your own man.
While this was just a couple lines out of tons of bullshit he's spit, they're pretty strong words. Not known for being politically outspoken, there's no doubt his inspiration comes from the countless radical/nationalist MCs who came before him and influenced his thoughts and rhymes. He even outdid his adversary Ice-T who said "fuck the FBI," but never fuck the troops. The troops ain't nothing but the police for oppressed people in other countries; the CIA abroad is the FBI at home. Fuck oppression! Fuck 'em all!
While it was good to hear someone like Soulja Boy put out such strong anti-imperialist words, especially with all the 9/11 talk these days, it was discouraging to see the response and who's responding. There have been multiple diss songs and videos made in response to Soulja Boy, by hip hop artists in the military, at least some of which are from oppressed nations. The response wasn't just strong and swift, it came from his own fans and more generally from fans of hip hop music. In Under Lock & Key issue 10 we questioned whether hip hop was still a culture that represented the oppressed, and when you see these videos you really have to doubt it.
One Black male MC sports a shirt reading "America the Beautiful." His politics echo those of the white militias made up of ex-military people that are very critical of the government, but have much love for the country and respect for the troops and the privileges they fight for us to have. All of the artists seem to find that requisite "hardness," that is so integral to the gangsta rap persona, in their identity as U.$. soldiers. One threatens to waterboard Soulja Boy and pull out his finger nails.
The fact is, the pro-U.$. troops lyrics aren't that far from a typical gangsta rap song. The United $tates is the biggest gangster in the world, so that makes sense. The boys in blue are the biggest gang on U.$. streets. So we see gangsta rap too often reflecting and reinforcing the ideology of the oppressor, rather than challenging it.
In other Soulja Boy news, he is supposedly working on a remake of the film Juice, where he will play the role of Bishop, originally played by Tupac Shakur. On September 13, we commemorate not just the fallen soldiers of the Attica uprising 40 years ago, but it is also the 15th anniversary of the death of self-proclaimed thug and rapper 2pac. Pac was unique in keeping his music both gangsta and for the people; a fine line most can't seem to walk, and perhaps impossible today when gangsta rap is mostly a caricature. Unlike Soulja Boy, Tupac never apologized for shit, and he said some things that got people riled up. There is little doubt that his real connection to oppressed people in Amerikkka lead to his untimely death.(1)
While Soulja Boy's three lines don't compare to Tupac's legacy, in those lines we may have seen him connecting to the oppressive conditions he grew up in — a glimmer of truth. While the U.$. military is disproportionately Black (18% of military vs. 11% of general population), it is also disproportionately middle income.(2) The poorest 20% of the U.$. population was the most under-represented income group in the U.$. military in 1999 and 2003.(3)
Since the Vietnam war, Blacks have increased their over-representation in the U.$. military from a factor of 1.14 to 1.40.(2) This shows the effects of integration without providing Black youth with quite the same opportunities as their white counterparts. The increase in Black military recruits seems to correspond with an overall bourgeoisification of the Black nation. Not only were there fewer Blacks (per capita) in Vietnam than Iraq and Afghanistan, but Black power and linking it to the struggle of the Vietnamese against U.$. imperialism was widespread, and fragging of white officers and even all out fighting between Blacks and whites on bases was not uncommon.
As the Black nation becomes more bourgeois, the pressure to Amerikanize increases for Blacks of all socio-economic standings. To the poor and oppressed who see no hope in U.$. imperialism, we echo Soulja Boy's words, "Bitch, be your own man!"

Related Articles: