Strike Against Arbitrary Group Punishment at MDF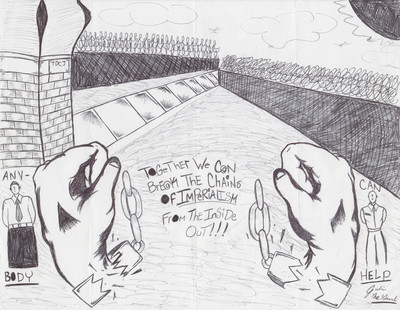 Contra Costa County Martinez Detention Facility (A) module is a General Population (GP) setting that houses northern Hispanics and African American prisoners. The prejudiced treatment of hispanics who are classified on (A) is a continuous issue and the rules seem to bend for us. As a result of an incident in 2011, we were separated from all other GP races. This continues today although we can program in all other GP modules. In 2012, we were subject to lockdown style program of 3 hours free time a week, no bible study, etc. This lasted up until 2015. Note that none of us were even involved in violating Title 15 §1083, yet were treated as we if we were in fights even straight from intake.
We on (A) live amongst GP African American prisoners, as well as others, and other hispanics. Yet we are still "Administrative Separation"(Ad-Sep). We seek an integration process to all other GP units, including the other jail (Contra Costa County - West Detention (WCDF)), which is for less serious offenders and offers more opportunities, programs and privileges. We acknowledge current overcrowding issues. However, there is no reason why us GP prisoners are deprived of those same opportunities: vocational, parenting, etc. Especially those who qualify for such housing. Being deprived of such opportunities is a punishment, which is the underlying issue here. We've been battling administration through verbal and written remedies to no avail. Our valid requests and grievances go nowhere, don't reach the chain of command, are ignored, we are given inadequate responses, and denied appeal rights. Even when attempting to follow policy regarding grievances it falls on deaf ears.
Another thing we seek to battle is the biased intake process, where we are left on (2) intake/disciplinary mod for unreasonable amounts of time without write-up, hearing, or a procedural due process.
As of 4 August 2017, approximately 72 inmates are on hunger strike due to these injustices. The following are the demands turned in to the administration:
We've been seeking just treatment through verbal and written remedies to no avail. This does not get us nowhere. We will be boycotting such prejudicial treatment. Following are more than fair demands that are not out of reach to administration and just according to inmate rights:

1) Cease Ad-Sep label: Equal treatment to those who've not committed any infractions within the jail. Non-existent Ad-Sep label creates a negative aura which pursues us all the way to our cases. We're forced to leave (A) in shackles giving negative impressions in court, lobby visits, etc. Ad-Sep does not exist in Title 15 and inmate handbook. No one asked for Ad-Sep, Ad-Seg, or special housing during intake process. We are GP, should be treated and labeled as such. Just like (B) and (C) inmates who've not broken any rules. Cease punishment violating T.15 §1083(c) over 2011 incident, cease Ad-Sep label because of a bad environment created by classification affecting us in our case.

2) Start process of integration to all GP units including WCDF. If this is not immediately possible there is no reason why we can't receive access to all other programs available in those parts of the jail, such as vocational, parenting, etc. Those who qualify for WCDF should receive opportunities. To deny such opportunities is to bestow a punishment we don't have coming, which is the underlying issue here.

3) Create adequate grievance process, following policy, and chains of command when there is in fact a valid grievance. Provide appeal rights that are denied and give adequate responses.

4) Cease biased intake process where inmates destined for (A) are left on (Q) for unreasonable amounts of time deprived of GP setting and privileges without write-up, hearing, creating negligent meal service by having PCs serve food. You make room for those punished from other mods, you can make room for those without any type of infractions.

Note: We have set forth reasonable and realistic requests and grievances. In a nutshell we simply wish to cease biased treatment and be treated like all other GP inmates. We acknowledge overcrowding problems regarding housing circumstances. However, we should not be denied access to those programs and opportunities. We are separated/segregated from other races unnecessarily. As well as treated with prejudice from setting foot in intake to court.

References:

Title 15 §1083(c)4019.5 "Punishment to inmate/group over others actions" (2011 incident)
14th Amendment "equal protection of the law" - cannot treat inmates differently than others without reason (race is not a valid reason)
Title 15 §1053 Ad-Seg (not fitting criteria)
8th Amendment "Due process procedural rights" (violated)
---
MIM(Prisons) adds: In July 2013 prisoners at MDF staged a hunger strike from Ad-Seg. Some of the demands related to clear classification and adequate rec time echo those of the comrades on strike now. Despite the report of victories, we see similar problems continuing at the same jail in 2017. This is why winning some reforms should only be seen as the first step of a struggle and not the end. The imperialist system is based on national oppression after all.
We support these comrades' just demands, which ally with ongoing campaigns to end long-term isolation as well as to provide proper avenues for having grievances heard. As the comrades point out that this treatment based on supposed affiliation with people who did things before they were even in this jail is an obvious violation of basic civil rights and just treatment. We work to build the anti-imperialist movement so that we can replace the current system with a just one.