(Un)Due Process of Validation and Step Down Programs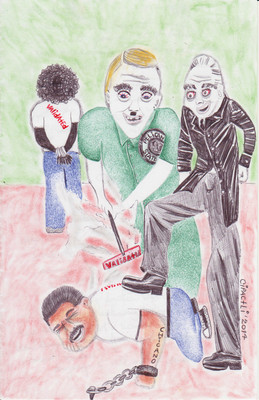 One of the most damaging aspects of U.S. prisons today is the control units. Control units and solitary confinement are the state's biggest guns in their torturous arsenal. Control units are called SHU, SMU, CMU and a variety of other names depending on what state one is in, but they all work to employ torture on the captives held therein.
When we look to the history of the U.S. prison system we find that the oppressed nations held within have always suffered greatly at the hands of Amerikkka. Prisoners in the United $tates have suffered unpaid labor, lynchings, beatings, floggings and assassinations to name a few. Although much of this still continues — at times more concealed and shrouded than in the past — there are other new methods of national oppression which are employed in this new era of United States domination. I suspect that post-Obama (so-called "post-racial Amerikkka") we will continue to see more of these concealed forms of oppression which inflict the same harm, but which slip through under the radar of the average First World citizen. This makes liberals feel warm and cozy and allows them to believe "progress" is obtainable in the imperialist center.
One such method employed on prisoners in dungeons within the United Snakes is the use of the control unit. The control unit is a modern-day torture chamber, but it cannot be advertised as a lethal killer of mostly Brown or Black minds because the liberals might even turn their noses up at such a revelation. Instead the public must be told that control units are only used on incorrigibles, savages, foreigners, gang members or the sensationalized terrorists.
Who is Locked in Control Units?
Like our ancestors who may have been asked what got the shackle around their ankle, what got them branded with their owner's name on their face, or what got that noose wrapped around their necks, our answer, like theirs, is that it is the nature of our oppressor to seek to eliminate all rebels and revolutionaries who oppose the oppressor nation. This is ultimately what places one in a control unit.
Of course we are up against a sophisticated oppressor nation and the placement of prisoners in control units is wrapped in flowery language. We are told it is for "gang activity" or a "threat to the safety and security of the institution." I am sometimes given a chrono stating I'm "actively engaged in a criminal conspiracy that threatens the institution, staff and other prisoners." This to the untrained mind may sound like justification for torture. Not only is this character assassination not true, but nothing justifies torture, absolutely nothing!
It was only after I began to write articles that spoke up for prisoners, and began filing appeals and lawsuits on behalf of all prisoners, that I was targeted for placement in the Secure Housing Unit (SHU). In short, when I began to resist state repression was when I was isolated in solitary confinement. I was allowed by the state to commit minor crimes and fight other prisoners, until I started to become politically conscious. I am not alone.
Most who work to advance and organize their nation, speak up on behalf of others, or engage in jailhouse lawyering will end up in a control unit. This is a common practice in colonized society: those who resist and who are politically influential are imprisoned under a colonial oppressor.
Why Does the State Have a Validation Process?
Our oppressor must devise ways of placing us in control units, and in California it uses the validation process. The validation process attempts to lend a legal aura to torture and national oppression by claiming to undergo a fair and unbiased process to validate someone as a "gang affiliate." This process is about as unbiased as asking the fox to guard the henhouse.
The fact that the validation process continues to use things as ridiculous as a birthday card, an Aztec drawing, or a book written by George Jackson as evidence of gang activity proves that there is nothing unbiased about this validation process. The kourt cases which supposedly stopped the prison from using these items show how much of a joke the injustice system is and how much it really is an extension of an oppressive state. Our victories will never come from massa's kourthouse.
The validation system helps pacify prisoners into thinking that there is a legitimate process they are undergoing to end the torture. That somehow if we are patient and do as we are told that we might get out of the SHU. This of course is ludicrous. We will stay in SHU until our oppressor feels we no longer resist, until they feel we are broken. Sometimes they want to train their agents and attempt to capture all who associate with us out on the mainline, as if we were live bait. But so long as we remain resistant to their oppression, we will not be allowed to freely associate with others. The validation process only works to uphold our national oppression.
The Step Down Program is More Repression
When we go to committee in California SHUs we are given a form called the "CDCR Advisement of Expectations." This form gives a list of supposed STG behavior which includes "participating in STG group exercise, using gestures, handshakes, possession of artwork with STG symbols." Note that we are not informed what STG symbols are.
We basically cannot socialize with anyone, or we might be accused of STG behavior. We are not told who is validated as part of a STG or given any information about STG behavior. We are simply told we better not associate with STGs or engage in their behavior. The state will decide if we are behaving properly and allowed to proceed in the Step Down Program. They claim they are the experts.
I have heard of some being put on this "Step Down" Program, but the state is picking and choosing who they put in the program. In my opinion it is a pacification program and I am not going to participate in it. Participation masks the oppression of the state while also allowing them to attempt to coerce me and any participants of being guilty, of confessing guilt, even if only guilty of what they deem to be incorrect thoughts.
Recent news of a federal class action lawsuit challenging policies and conditions at the Pelican Bay SHU is welcome and something we all should be following. Ashker et al. v. Governor of California et al., No. C 09-05796 claims that being held for more than ten years in SHU is cruel and unusual punishment and that the validation process is a violation of due process.(1) But here's the kicker: if you have joined the Step Down Program you are not included in this class action. So already we see how the new Step Down Program is serving the state by making it more difficult for prisoners to challenge their conditions.
My behavior is no more incorrect today than it was the first day I was captured and housed in the SHU. The state will not be let off the hook and I refuse to step down from resisting oppression. The Step Down Program continues the same oppression that the validation process started: it attempts to justify what the state is doing to the oppressed nations.
What will End the Validation/Step Down Program?
The Step Down Program is not only similar to the validation process, but here in California many prisons are still using both methods, so we need to end them both.
From the beginning I saw the need to struggle for closing the SHU. From the first hunger strike I knew that if we don't close the SHU altogether, the state will just have us fighting the same problem under new names for decades via strikes/lawsuits. This will never accomplish our goal. We need to keep all justifications for the use of solitary confinement in our scope. No matter why someone is held in solitary confinement, it is always torture and it should always be opposed.
At the same time we have made improvements in many prisoners' lives and some have gotten out of SHU, and I am happy for this. However validation and Step Down Programs will keep us locked in the SHUs until we can make resistance to oppression a hip and common thing. When hunger strikes occur more often than once every ten years, and peaceful protests are as frequent as spring cleaning, then maybe we will finally end validation/step down programs.
---
MIM(Prisons) adds: Most civilians would say that controlling gang violence is a good thing, and that perspective is exactly what the California Department of Corrections and Rehabilitation (CDCR) is relying on for its gang validation and Step Down Programs. The assumption is that all groups classified as gangs are engaged in criminal activity, and anyone in contact with the gang must be a member.
Let's put aside for now the reality that the U.$. military and police force is the biggest gang in world history. If anyone is organized in criminal activity and terrorism, it's them. That any U.$. government agency claims to be against gang activity without being critical of itself is just a joke.
The entities identified as gangs by the CDCR include correspondence study groups such as the William L. Nolen Mentorship Program. In Texas, Under Lock & Key is cited as a security threat group, despite actually being a newspaper. The National Gang Crime Research Center recently published a report which included the Maoist Internationalist Movement as a potential threat to prison security. It is obvious that the gang label is not used for criminal, but instead political, reasons.
Lumpen organizations that are not necessarily revolutionary are also targeted as gangs, whether or not they break U.$. laws. The real threat is not the activities that the lumpen are engaged in, but that they have any level of unity and organization. STG labels and Step Down Programs criminialize the association, not actual crime.
The U.$. government will do everything it can to protect its international hegemony. Controlling any potentially subversive population within its borders, especially the internal semi-colonies, is a high priority, no matter how much they dress it up with fancy titles and administrative process.