USW Rallies 100s of Prisoners Against Africom in a Couple Weeks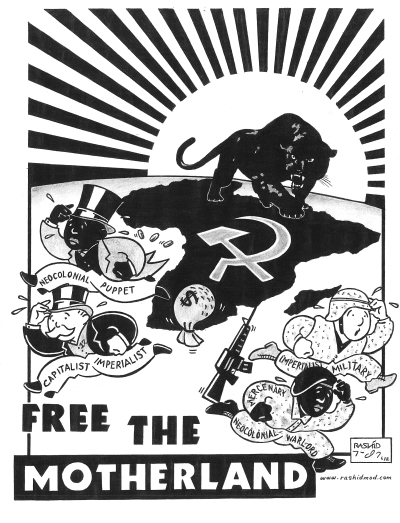 On 13 January 2019, MIM(Prisons) sent 230 signatures on the petition to shut down Africom to the Black Alliance for Peace (BAP) who will be presenting them to the Black Congressional Congress after the Martin Luther King Jr. holiday. This petition calls for the disbanding of Africom (a U.$. imperialist tool to control African militaries), the removal of all U.$. military bases on African soil and the end to U.$. invasions, bombings and other military operations on the continent.
So far we have received petitions from United Struggle from Within (USW) comrades in California, Texas, Louisiana and Georgia. BAP is accepting signatures until April 4 — the anniversary of the assassination of Martin Luther King, Jr. We encourage people to write to us for petitions ASAP and get your signatures in to us by April 1. And we encourage comrades to continue to spread information on this topic to build public opinion against U.$. imperialism in Africa.
USW comrades faced resistance in carrying out this campaign from staff and some prisoners. One USW cell lost 2 sheets of signatures in an altercation with a racist prisoner who opposed its work. Elsewhere in California, prison staff were ordered to target anti-Africom fliers for removal, and USW comrades were targeted for their leadership which forced signature gathering to end early. We have seen increased mail tampering and censorship with California comrades since this campaign began. If it weren't for repression, we would have had twice the number of signatures to submit before the deadline.
While our numbers weren't as high as the goal set by USW, comrades did a good job of turning this around on relatively short notice. Our slow lines of communication limit our ability to organize swiftly. So this was good experience for us in improving in that realm. One thing we need to do better next time is to have a larger list of USW members to forward campaign materials to. If you are a member of USW and did not get the Africom campaign packet, let us know and keep us updated on your organizing work so that you stay on our list of active USW members.
Below are some reports we received back with the completed petitions.
---
A USW cell in California: Here are 54 signatures we gathered. I hoped there'd be more but all our volunteers backed out on us at the last minute. At least one volunteer was reluctant to participate due to fear of repression. Besides that however it was a good campaign overall. The fliers with the timeline really came in handy. They helped us explain to people what the petition was about. In many instances me and another volunteer spoke at length to people about the nature of the campaign making it clear that our focus here was the oppressed & exploited people of Africa. In some situations, however, we found ourselves agitating for this campaign by talking about the fact that even Amerikan troops' lives were being needlessly sacrificed so that the U.$. government could secure the free flow of natural resources out of Africa. We did this keeping in mind how the Vietnamese National Liberation Front established relations with just about every and any Amerikan organization that was critical of U.$. involvement in Vietnam. The Vietnamese were smart in the respect that they were able to masterfully exploit every crack and division in the domestic U.$. anti-war movement.
A great many signatories were Mexican nationals and nationals from different Central American countries who didn't have to listen to more than the basics of our line before they signed. When agitating amongst this Spanish-speaking population we also found ourselves linking the plight of the Central American caravan to that of African refugees stranded at sea being denied entry into Europe.
Only three people refused to give us their signatures. Two of these people were skeptical from the gate and requested more information on Africom, which we happily handed over, whereas one refused to believe us and called us liars. All three were "brown proud patriots."
In closing, we'd like to thank the Black Alliance for Peace for letting us be a part of this campaign. While gathering signatures we found that prisoners were empathetic to the plight of Africans at the hands of U.$. imperialism in this new scramble for Africa. Surely the great African masses will successfully resist U.$. oppression, exploitation and domination, eject the colonizers and have a principal role in defeating U.$. imperialism once and for all. We hope we've made a difference. In Struggle!
Earlier these comrades had reported: We made copies of existing fliers and put them up in different buildings beforehand in an effort to build public opinion for the campaign. Unfortunately, we just received word a couple days ago that all the fliers we put up were taken down by officers on the orders of their superiors. When officers were asked why the fliers were removed they said they didn't know, they just received a call explaining to them what to look for and to remove them. This is highly suspect since our fliers were up along with a variety of other fliers on an informational board with over 30 fliers including religious propaganda. Yet the Africom campaign fliers were singled out and removed. All this follows an odd run-in with security squad about a month ago. We've since put the fliers back up.
---
A report from another USW cell in California: I have enclosed 1 sheet [30 signatures] for the petition to dissolve the Africom military command. There are two pages of missing signatures that we worked very hard to acquire here. The problems last week started over a rude racist comment about "nigger politics," which was dealt with promptly on the spot. [Two comrades from this USW cell ended up in the hole as a result of this conflict.]
---
MIM(Prisons) adds: One comrade who did not participate in the petition drive challenged the campaign to shut down Africom, and in particular questioned Ajamu Baraka as a former Vice Presidential candidate with the Green Party. While MIM(Prisons) did not endorse Baraka's electoral campaign, we whole-heartedly support this campaign to get U.$. imperialism out of Africa, and stand with Baraka on revolutionary nationalist positions such as the one ey took in a recent article responding to the Prosper Africa plan:
"Africans in the U.S. must make a choice. Malcolm said you cannot sit at the table and not have any food in front of you and call yourself a diner. Africans in the U.S. have been sitting at the table of U.S. citizenship and calling themselves 'Americans' while our people are murdered, confined to cages in prisons, die giving birth to our children, die disproportionately before the age of five, live in poverty, are disrespected and dehumanized. A choice must be made, do you throw in with this dying system or do you align with the working class and oppressed peoples of the world."(1)