Book Review: Tania La Guerrillera Y La Epopeya Suramericana Del Che
Tania La Guerrillera Y La Epopeya Suramericana Del Che
("Tania: Undercover with Che Guevara in Bolivia" is the title of the English translation)
Ulises Estrada
Ocean Press 2005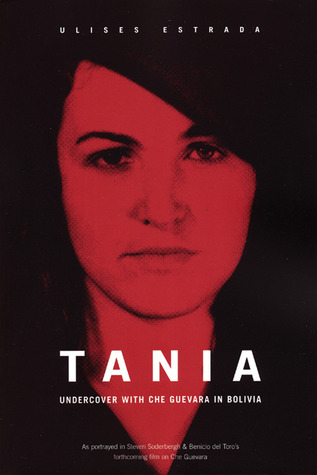 Mention the name Che Guevara virtually anywhere in the world and images of Cuba, Fidel Castro and armed struggle come to mind. Travel to places like Cuba, Peru, Bolivia and Uruguay and say the name Che and another image comes to mind; that of Haydée Tamaia Bunke Bider, better known as "Tania the guerrilla", the only womyn to live, fight and die as part of Che Guevara's Ejército de Liberación Nacional (ELN), National Liberation Army.
The first time i came across the figure of Tania the guerrilla was in reading the book Che Guevara: A Revolutionary Life by Jon Lee Anderson, which documents Che's extraordinary political life from childhood to his death. And while Jon Lee Anderson's book is unrivaled as far as political biographies goes, his emphasis was on Guevara, so his writing on Tania left much to be desired. In stark contrast, Ulises Estrada's present work casts much needed light on this figure little known here in the U.$.
Tania the guerrilla was born Haydée Tamara Bunke Bider on 19 November 1937 in Buenos Aires, Argentina to Erich Bider, a German communist, and Nadia Bunke Bider, a Russian Jew (pg 157). The Bider's fled Nazi Germany in 1935 and settled in Buenos Aires, promptly joining the banned Argentine Communist Party (ACP) (pg 143). Nadia Bider recounts how Haydée was exposed to politics early on as the Biders hosted ACP meetings, hid weapons, stashed communist literature in their home and helped Jewish refugees (pg 162). Besides joining the ACP, Nadia and Erich also belonged to various anti-fascist organizations (pg 144).
The Biders were to remain in Argentina for most of Haydée's young life and would not return to Germany until well after the Soviet Red Army smashed fascism there. Then in 1951, when Haydée was fourteen and after having spent two years in Uruguay, the Biders moved to the German Democratic Republic (GDR), also known as East Germany, part of the old Soviet bloc (pg 145). Haydée, having lived all her life in South America, did not want to leave her home and made her parents promise to let her return when she was older (pg 145).
After arriving in the GDR, Haydée felt as if she'd experienced a "revelation" (pg 145). She immediately incorporated herself into political life. Having attended her first Free German Youth meeting, Haydée returned home with "great enthusiasm." According to Nadia, Haydée confirmed that the socialist system was superior to capitalism, because, among other things, she was allowed to speak freely and express herself politically (pg 145). No doubt that having lived in Argentina, a "democracy" where the communist party was banned and poverty and exploitation were rampant helped her make this materialist comparison.
Apparently Haydée never forgot her beloved Argentina and, after having settled into German life, couldn't help but share with her new friends her preference for Argentinian folkloric music (pg 145). Like most girls raised in a capitalist democracy (Argentina, Uruguay), Haydée was socialized into dreaming of marriage and children. When she got older, however, even in adolescence, her priority was to one day join the revolutionary struggle in Latin America — this was to remain a focal point for Haydée (pg 145).
At age 18, Haydée was admitted into the United German Socialist Party in the city of Stalinstadt. Due to Haydée's high level of political education and commitment, she was admitted into the UGSP after only a one-year waiting period instead of the mandatory two. This would be the only time in its hystory that this exception would be made (pg 258). Haydée first became familiar with Fidel Castro, Che Guevara and the struggle in the Sierra Maestra while attending the 5th annual World Youth Festival in the Soviet Union in 1957 (pg 145). Shortly thereafter, she decided she had to go to Cuba and the next two years in Germany were spent organizing for the trip (pg 146). Haydée was confident that in Cuba she'd learn the revolutionary methods with which to liberate Argentina from the imperialist stranglehold (pg 146).
Haydée's participation in Che Guevara's ELN started sometime after arriving in Cuba. She was chosen from among two other Argentinian wimmin living on the island to take part in "Operation Fantasm", which was the code name given to the mission to infiltrate the Bolivian government at the highest levels, as well as to initiate a guerrilla insurgency there (pg 20). At the time Haydée was interviewed for this position, she was working as a German translator for the Cuban Ministry of Education (pg 22). She was also involved with the Cuban Institute of Friendship with the World and the steering committee for the Woman's Federation (pg 22). In addition, Haydée also worked with the Rebel Youth Association, the Young Communist Union, she volunteered in various other serve-the-people type programs and was a member of Cuban Popular Defense Militia (pg 25). The author of this book, who was working in Cuba's Ministry of the Interior at the time and was vice-minister of "political intelligence" as well as one of the people to recruit Haydée for Operation Fantasm after Che himself recommended her, remembers how she swelled with pride whenever she wore her olive green uniform and service weapon (pg 25). Among other useful academic accomplishments of Haydée was her fluency in Spanish, English, German and French (pg 145). She'd also just received a Journalism Degree from Havan University and, at the time of her departure from the GDR, she'd just completed her first year as a philosophy major at Humboldt University in East Berlin (pg 25). It was also around this time Haydée met Carlos Fonseca, the founder and leader of the Nicaraguan Sandinista Front for National Liberation (FSLN), to whom she'd confessed her wish to one day participate in the guerrilla struggle there (pg 25).
After being vetted and being given the role in Operation Fantasm, Haydée began training for her position, which included cryptography and learning how to use various types of communications equipment (pg 27). Haydée was not given any specifics as to her mission other than the fact that she'd be functioning mostly as a technician, but under no circumstances should she rule out the possibility of actively participating in armed struggle (pg 28). At this point, Haydée asked that she'd be allowed to choose her own pseudonym for her mission. She chose the name "Tania" in honor of Zoja Kosmodemjanskaja, a Soviet womyn guerrilla who was killed after being captured and tortured by the Nazis during the German invasion of the USSR (pg 28). Days after her training was complete, she was taken to the Ministry of Industry, where she was met, much to her surprise, by Che himself (pg 28)! After congratulating her on her decision to take up this task, Che informed her that it was not too late to back out, as he understood the gravity of what they were asking her to do. Without hesitation, Tania stated that as a communist, it was her revolutionary duty to carry out whatever task necessary to liberate Latin America from imperialist exploitation (pg 29). Che then gave her his assessment of the political, economic, social and military situation in South America. He condemned Amerikan imperialism for siphoning the region's wealth and for its subordination of Latin American governments who they bought off with only a pittance of what they themselves stole. He then concluded his assessment by telling Tania that you couldn't be a revolutionary unless you were an anti-imperialist (pg 30).
In preparing Tania for her mission, the author shared his views on guerrilla warfare with her. He said that according to his own experience in the Sierra Maestra, it would be very difficult for a guerrilla insurgency in the rural areas to maintain itself and succeed without the support of an organization in the city, especially during the insurgency's early states. Only after the revolutionary movement in the rural areas reached maturity could it then execute military and political operations with independence (pg 32). From a Maoist perspective, however, this political-military line is incorrect. Strategically speaking, it is completely backwards as the peasant masses make up the driving force of any revolutionary movement in agrarian societies. So before moving on with respect to this topic, let us be clear that as Maoists, we disagree with the Cuban political-military strategy known as Focoism. Focoism is defined as:
"The belief that small cells of armed revolutionaries can create the conditions for revolution through their actions. Demonstrated revolutionary victories, the success of the Foci, are supposed to lead the masses to revolution. Focoism often places great emphasis on armed struggle and the immediacy this brings to class warfare. Focoism is different from People's War in that it doesn't promote the mass line as part of guerrilla operations." -From the MIM(Prisons) Glossary
So while as anti-imperialists we have great unity with the national liberation movement that booted U.$. imperialism from Cuba, we also have a variety of criticisms of Focoism, in particular the line being espoused in this book. The line that says only the "urban population" (industrial proletariat & left-wing sections of the petty-bourgeoisie) in a Third World country are advanced enough to lead the revolution is crypto-Trotskyist. The Focoists, while claiming to be communist and claiming to follow in the footsteps of Marx, Engels, Lenin, Stalin, and Mao, in fact prove themselves to disagree with the philosophy of dialectical materialism in practice by attempting to prove external forces as principal both in general and in particular. By relegating the role of the masses as makers of hystory to mere spectators in hystory, the Focoists display a lack of faith in the masses and thereby uphold the bourgeoisie theory of hystory which they also claim to struggle against in their individualist attempts to bring about revolution. The Focoist political-military line upheld by the author is therefore anti-Marxist, anti-dialectical materialist, anti-communist and contradicts the entire hystorical process ever since the emergence of classes and class struggle. It is no wonder that Focoism has never succeeded in defeating imperialism anywhere in the world with the exception of Cuba. Indeed the Cuban example has been the exception and not the rule when it comes to the revolutionary transformation of society.

On the other hand, if we look at all three major stages of the Chinese Revolution: from the war of independence against Japan; to the revolutionary war that ousted the KMT from China, including Amerikan, British and French imperialism; to the struggle for New Democracy, we can see how the Chinese Communist Party (CCP) under the leadership of Mao Zedong struggled shoulder-to-shoulder with the masses in order to build dual power from inside the revolutionary base areas from which they were able to encroach upon, encircle and challenge the cities of China. This revolutionary war strategy is called People's War and it is the model for national liberation struggles all throughout the Third World in the era of dying imperialism.

Once her training was complete, Tania's handlers were confident she was more than prepared to fulfill her role. They believed that during the course of her training, she'd displayed many new character traits: hate for the enemy, firm ideological grasp of the revolutionary task at hand, discipline, vigilance, a disposition towards sacrifice in victory without any personal ambition or gain and satisfaction in completing her mission (pg 42). Tania soon departed for Prague under the alias "Maria Iriarte" from Argentina (pg 62).

Once in Prague, she was briefed on the next stage of her mission by Czech agents working in tandem with Cuban intelligence. Tania then travelled to Italy and then to the Federal Republic of Germany, also known as West Germany, which was split at the time between U.$., Briti$h and French imperialism. Tania's objective here was to deepen her cover as Maria Iriarte so that she may then establish herself as "Vittoria Pancini" of Italian origin (pg 62). It was in the course of these trips that Tania was finally confronted with the on-the-ground reality of capitalism and the class distinctions between the developed West and the under-developed Third World. Here Tania was able to witness the existence of poverty alongside the opulence that characterized the West; the egoism of western society and various other social ills she'd only learned about in school and her studies of Marxism. Whereas many people newly arrived in imperialist countries have swooned at the sight of such riches, Tania on the other hand found that her resolve was only strengthened (pg 63). After a few months in West Germany, Tania was sent to Italy to create another persona, that of "Laura Gutierrez Bauer", also from Argentina (pg 79).

On 5 November 1964, after returning to Italy from West Germany, Tania arrived in Peru by way of Argentina on her next stop to La Paz, Bolivia (pg 82). This is where Tania really proved her powers as a Cuban spy. Through her connections she'd established with the Argentine embassy as "Laura", she was able to infiltrate the Bolivian dictator, General Ramon Barrientos's inner circle. Near the end of 1964, Tania managed to get herself invited to a special banquet breakfast for Gen. Barrientos, where she had a conversation with him and even had pictures taken together (pg 84). Following this event, Tania abandoned her residence at Hotel La Paz and moved into the guest house belonging to Alicia Dupley Zamara, the wife of an important cement factory administrator. From here, Tania was able to stockpile connections deep within the Bolivian bourgeoisie as well as with various right-wing leaders and organizations, reactionary Christian social-democrats and pro-fascist organizations (pg 35). Next, Tania began to embed herself into various government agencies, such as the Office of Criminal Investigations, where she was able to collect information on the extent of Amerikan imperialism's penetration into the Bolivian penal and judicial system. She also gathered intelligence on the local jail in La Paz known simply as "the Panopticon" (pg 89).

Afterwards, Tania left Bolivia for Mexico City, where she was to meet a member of Cuban intelligence who informed her of her next mission and congratulated her for a job well-done. Tania had accomplished far more than anyone expected. She was also informed that she'd been voted in absentia into the Cuban "Communist" Party* (pg 76).

The next stage of Tania's mission was to gain Bolivian citizenship so as to better facilitate her cover and role in the Bolivian urban insurgency. She was to be Che's eyes and ears in the Bolivian government. Tania gained citizenship by marriage to a Bolivian university student, Mario Martinez (pg 105). On 31 December 1966, Tania met with Che in the ELN's base camp in the Bolivian mountains for the first time since leaving Cuba. By all accounts it was a joyous reunion and Tania celebrated the 9th anniversary of the Cuban Revolution with the ELN guerrillas. Two days later, Tania left camp with explicit orders from Che not to return to the camp and to refrain from any illegal activities that might blow her cover. However, on 19 March 1967, Che was angered to receive news that Tania had returned to camp. In Tania's defense, she stated there was no other member of the incipient urban insurgency she yet trusted enough to deliver fresh soldiers to the ELN, which was the task Tania was carrying out at the time. The timing, however, could not have been worse as the ELN had just suffered the desertion of two volunteers (pg 113). Che immediately ordered Tania to return to the city. Before she could leave, however, they received information that the Bolivian Army was aware of the ELN's location and were on the hunt. On 23 March 1967 combat operations began when, during the course of an ambush initiated by the Bolivian military, seven government soldiers were killed and 14 were taken prisoner. Four days later, news reached the camp that Tania's cover might have been blown when government officials announced over the radio that they were looking for someone matching Tania's description with links to the ELN. Around this same time the Bolivian police found identification belonging to a "Laura Gutierrez" inside of a jeep of a home they'd raided in search of possible connections to the ELN (pg 118).

On 31 August 1967 "Tania the guerrilla" was killed by government soldiers during an ambush along the edges of the Rio Grande. According to the only surviving member of the ELN, the group were trying to march out of the zone known as the Bella Vista mountain range where the military was attempting to confine Tania's unit, which had split off from Che's. As Tania knelt down to touch the water a single shot rang out. Tania had been shot through the arm. She immediately lifted her arm over her head to reach for the M1 slung over her back, when she suddenly collapsed. The single bullet traversed her arm and hit one of her lungs. Tania fell into the Rio Grande and was swept away by the current as shots raced back and forth between the ELN and the Bolivian Army (pg 124). Tania's body was found three days later by government troops (pg 125). On 8 October 1967, Che Guevara was taken prisoner and summarily executed the following day (pg 126). The bodies of all 33 fallen ELN guerrillas would then be disappeared by government troops and would not be found for nearly 30 years, when retired Bolivian general Mario Vargas Salinas confessed to Jon Lee Anderson the true location of Che Guevara's remains (pg 132).

As late as 2005, the people of Vallegrande, near the site where Tania was killed and where her remains were last seen, still held a special Mass every Sunday for Tania the guerrilla (pg 138). Until the dissolution of the GDR in 1990, there existed more than 200 juvenile brigades and "feminist" groups with the name Haydée Tamar Bunke Bider. Day care centers and elementary schools also bore her name in the GDR (pg 261). Today, with the temporary triumph of imperialism in Germany, none of these are still around. In Cuba, up until 1998, there were many collectives and various other institutions with either the name Tamara Bunke or Tania the guerrilla. And in Bolivia, the name Tania remains very popular for girls. In Nicaragua and Chile there also existed until 1998 many institutions and organizations with any variety of Tania's names and aliases (pg 261).

It was Tania's mother's last wish that Tania's remains be laid to rest alongside her fallen comrades whenever she was found. On 30 December 1998 Haydée Tamara Bunke Bider; alias Maria Iriarte; alias Vitorria Pancini; alias Laura Gutierrez Bauer; alias Tania the guerrilla finally arrived to the Ernesto Che Guevara Memorial in Santa Clara, Cuba, where she remains today (pg 273).

The role of wimmin in the annals of revolutionary struggle are not confined to a few noteworthy names such as Tania the guerrilla. From the Maoist struggle of the Naxalbari currently playing out outside the cities and urban areas of India, where guerrilla wimmin battalions and guerrilla units led by wimmin are some of the most feared by government troops, to the overwhelming amount of leadership positions held by wimmin in the Communist Party of Peru (aka "Shining Path") in the era of Gonzalo, to the national liberation struggles of the internal semi-colonies of the U.$. empire, wimmin will remain a vital component in the struggle for socialism-communism — this is what Mao meant when he said "wimmin hold up half the sky."

Indeed, the most effective road forward has already been paved. Revolutionary accomplishments should be viewed as the product of many peoples' collective labor and not just a select few. Anyone attracted to the Focoist theory of revolution need only look at the hystories of oppressed peoples' movements everywhere and learn from practice. What has been more successful – Maoism or Focoism? The relationship between mass movements and the individuals leading them is a dialectical one and neither can carry out the task of revolution without the other.

¡Hasta La Victoria Siempre!