Pulse of the People Sounds Like Revolution
dead prez
Hosted by DJ Green Lantern
Turn Off The Radio Vol. 3: Pulse of the People
June 2009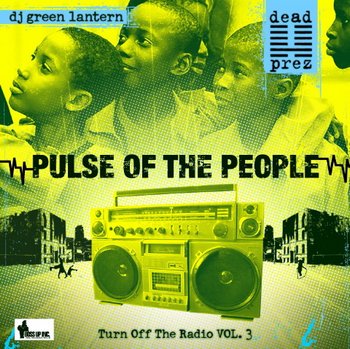 Almost everyone who wrote in complaining about the state of hip hop cited dead prez as the exception. Taking off where 2pac left off with Thug Life, dead prez has popularized a more consistent and developed code under their slogan of Revolutionary But Gangsta. The RBG mentality comes out on this tape in their refrain, "All the G's I know is part of the revolution." While not quite gaining the popularity of 2pac, the generation of rappers just coming up is full of youth who developed their consciousness listening to dead prez albums. We think that's a good thing for the future of hip hop culture.
MIM has thoroughly reviewed dpz's earlier work, and this mixtape follows in that tradition; strong revolutionary music. The sound of Pulse is a little different than the past, with more of a rock & roll element in a lot of the samples used. This brings us to one of the other elements of hip hop: DJing. The fact that DJ Green Lantern hosted this mixtape added to the anticipation for many.
The MC talks, so it is easy to analyze the content of what they say. Graffiti, while not as popular as rapping, is similarly easy to assess for content. But dancing and making beats are more abstract arts. Some argue that music with no lyrics, dancing and even many visual arts have no political content.
As MIM wrote in MIM Theory 13:

Mao explained that all classes in all class societies have both artistic and political criteria by which they judge art - and all classes put the political criteria first. This the bourgeoisie will never admit, but it is constantly shutting out, censoring and destroying proletarian art no matter how high the artistic merit or quality.(1)
Green Lantern is interesting as a DJ who put out this latest dpz mixtape as well as Immortal Technique's highly recommended record The Third World. Before that he put out the Bin Laden single with Tech and earlier this year released a track on the Oscar Grant shooting and riots. All of these works combined demonstrate that yes, a DJ's work is political. As an artistically superior DJ and producer, who worked with such popular MC's as Eminem, Jay-Z and Nas, Green Lantern adds the artistic quality to the political line, to create a superior revolutionary culture. Without DJ's like Green Lantern the "conscious" music never gains mass appeal.
The DJ has quietly become more and more prominent both alongside and independent from MC's. Green Lantern is a good example of this with his work on video games, which now have their own soundtracks, and his own radio show. While this reviewer isn't familiar with all of these works to speak on Green Lantern's career as a whole, he clearly doesn't work exclusively on revolutionary projects. While Nas's Nigger Tape was a confusing mix of reverence for both the Black Panthers and Barack Obama, Green also worked on a mixtape that was expressly dedicated to getting Obama elected.
On that note, we can say that dead prez is the vanguard here, pushing Green Lantern to do more revolutionary projects. To their credit, dpz has always got the principal contradiction correct, and never wavered. This tape is no exception with lyrics like:
"That's why ain't nothin' patriotic in me
For their system my heart is empty"
and
"I don't represent the red white and blue
I cut the head off the devil and I throw it at you."
The latter line is from Afrika Hot!, which is both the dance hit on this release and also one of the more revolutionary tracks lyrically. The overall message of Pan-Afrikanism and Third World unity in this song is right on. But when groups like the African People's Socialist Party, who Stic Man and M-1 used to work with, go so far as to build an African Socialist International, with leadership based in the united $tates, we think that contradicts the lessons we have learned from previous attempts at communist internationals. Despite their relative oppression, New Afrikans are a separate nation, with a much more privileged class position than the many nations of Africa and should not be guiding struggle on the continent.
For the most part we were ambivalent towards dead prez's dealing with gender and sex in the past, but gave them a much higher rating than the average hip hop artist. In the final track on Pulse, My Dirty Valentine, they get into their fantasies and desires that eroticize power and rape. While MIM(Prisons) opposes sexual liberalism, we also do not try to police people's bedrooms in our efforts to overthrow the patriarchy. But by rapping about these things, dead prez is telling their listeners what is sexy, and art does influence real life.
Overall, dead prez not only provides the critique, but they also provide a method for finding solutions, the dialectical materialist approach to the world. As they mature politically, these themes seem to have become more prominent in their music. The back to back songs Refuse To Lose and Life Goes On are good examples of their inspirational and educational approach, rather than just beating their listeners in the head with rhetoric.
"Many days didn't know what to do/ but we survive/ Every struggle is a test/ a lesson/ You just gotta figure out how to overcome and catch the blessing/ They want us to turn to dope and lose all hope/ spirit broke and confused/ But I refuse to lose/ Through fear/ through pain/ through loss/ I can't stop/ won't stop/ 'til we make it to the tip top/ This is hip hop"
"If you ain't happy make a change then/ If what you're doing ain't working/ it might be time to change plans/ You're looking at a changed man/ from where I used to be/ It's no fear/ I ain't going nowhere/ so get used to me."
"You can make a choice now how you wanna live/ You can be negative/ You can be positive/ But either one is up to you/ It's your prerogative/ It's not what happens to us/ It's how we handle what happens/ The ups and downs in life give us understanding and balance."
And remember, Turn off the Radio! Turn off that Bullshit!
Notes: (1) Chinese Art in Revolution. MIM Theory 13: Culture in Revolution. 1997. p.30.

Related Articles: