Re-Unify Aztlan!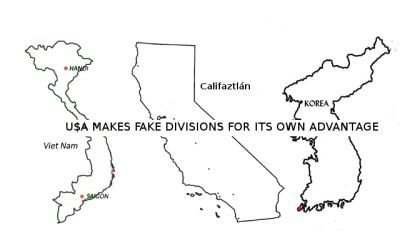 Learning the difference between our friends and enemies means we know that other prisoners share more in common with us than not. It also means that within one's own nation the formations within have even more in common than not. For imprisoned Aztlán the divisions were ultimately imperialist-inspired. The advanced wing of imprisoned Aztlán understands that it's time to Re-unify Aztlán.
In Califaztlán, norteno, sureno, Eme, NF, have been walls that separated. At times each formation was necessary for safety, and some formations may be more progressive than others. But these formations still separate imprisoned Aztlán. Separation for a nation is not good under any circumstances.* I believe the goal of all these lumpen organizations (LOs) is to unite at some point, but how could it be possible?
A future glimpse of a United Aztlán
It's a fact that much animosity and/or pride for one LO or the other has developed. At the same time we see the Agreement to End Hostilities has allowed us all to get to know and support one another. It's now OK to assist and be there for each other, which is great. We have gone back to before north/south feuds started, however what is needed now is a leap forward.
The truth is so long as the LOs (i.e. NF, Eme) still have north/south formations there will not be any unification between imprisoned Aztlán. This will take steps. The implementation of programs authorized at the highest levels. One such initial program would be formally dismantling the formations of Sur/Norte. By doing this, Raza will simply be Raza again.
Tattoos of Norte/Sur would have to be banned for the future. This would help alleviate conflict/tension.
A transition period would relax the Raza and then the next stage of the unification of Eme/NF would be necessary even if they maintained separate committees with the new political org. But a new org with a new name is necessary to provide a glimpse of a new future of a unified Aztlán. At some point, imprisoned Aztlán must move on and create a name that all can come to, otherwise no side will ever win over the other side.