Atlanta Criminalizes Protest Against Cop City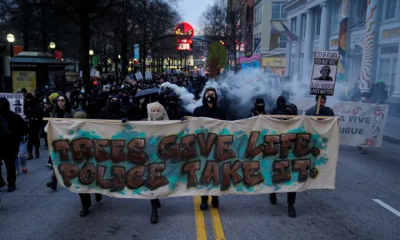 The Stop Cop City struggle is ongoing.
We explored some of the developments of the Cop City struggle in our article The Struggle Against Cop City in Atlanta in ULK 81. Cop City, or the "Atlanta Public Safety Training Center" as the state calls it, has recently begun construction in Weelaunee Forest in Southwest Atlanta. This effort is funded primarily by the City of Atlanta and is to be owned and operated by the Atlanta Police Foundation. This is a pig training center with a supposed construction cost of $90 million, which will include a fake cityscape for police to learn tactics for suppressing urban resistance. This pig training center is part of a larger assault by the Amerikan state on New Afrikan communities and neighborhoods, along with the rise in gentrification, mass surveillance, police brutality and imprisonment rates. Some readers may remember the establishment of the community-run Rayshard Brooks Peace Center in 2020 and the subsequent state repression. No one can doubt that New Afrikan oppression is intensifying as the police and prison apparatus of the state continues to wreck havoc for the interests of the Euro-Amerikan nation.
In response to these developments, many diverse groups have organized against Cop City. For a while construction in Cop City was stalled because of forest defender activists occupying the intended site of deforestation, resisting raids by police to move them off the site. In this struggle an indigenous anarchist who went by the name Tortuguita was viciously murdered by police agents in a final raid of the forest.
Ongoing Developments in the Struggle
As the Stop Cop City movement continues, dozens of forest defenders and other protesters have been arrested on various felonies, from "domestic terrorism" to "intimidation of an officer." For example, on 5 March 2023, Atlanta police arrested 23 protesters on "domestic terrorism" charges due to alleged property damage and trespassing, and that number has since risen to more than 40 over the last few months.(1, 2) These felonies are at least 20-year sentences in Georgia.
The state's repeated arrests were an obvious cause for concern. A non-profit, the Atlanta Solidarity Fund, organized funding to bail out these protesters who were the target of state repression. On 31 May 2023, the 3 organizers of that fund have also been arrested, charged with "money laundering" and "charity fraud."(3) This is yet another example of the state suppressing even the most legal forms of resistance.
While the DeKalb district attorney has declined to prosecute the arrests related to Cop City due to the unpopularity of Cop City, the Georgia attorney general has taken the cases and will still prosecute them.(4)
A "Stop Cop City" referendum petition has been filed (and approved on 21 June 2023) that will put Cop City on the Atlanta ballot if 75,000 signatures are produced in less than 60 days after the approval.(5) Many of the groups against Cop City have focused on this effort, which may have the unfortunate effect of completely legalizing the struggle (which is not a strategy for long-term political development).
Bigger than Cop City
As Maoists we always seek to develop a dialectical materialist perspective that correctly denotes the relations of nation, class, and gender at play. Cop City is no exception. One of the most critical weaknesses of the Stop Cop City movement is that an advanced politics (one that is revolutionary nationalist and aimed at the long-term struggle) is not yet a leading line. If this problem is not properly resolved, the movement will give way to movementism and the Stop Cop City struggle will fizzle out like the 2020 BLM struggle, becoming co-opted into liberal electioneering politics.
We must also look at the global nature of Cop City. The Atlanta Police Foundation is funded by Amerikan finance kapital, from the likes of Wells Fargo, JP Morgan, Amazon, Delta Airlines, and Waffle House.(6) Prisons and policing are not a struggle unique to the United $tates. The development of these bourgeois state organs are being rapidly replicated around the world. Cop City can and will be a test run for building pig facilities among the Third World nations as capitalism-imperialism decays. The struggle against Cop City will thus also play a part in the larger anti-imperialist struggle, and this is why developing a revolutionary nationalist line on Cop City is a must in this struggle.
Towards a preliminary analysis, we can say that Cop City is an intensification of New Afrikan oppression in Atlanta. The Euro-Amerikan nation – both Euro-Amerikan kapital and Euro-Amerikan communities – is united towards the policy of increased policing, gentrification, and imprisonment of New Afrikan and other oppressed nation communities. The Stop Cop City movement requires a united front, one that includes all those groups opposed to these methods of oppression, whether these groups be New Afrikan, Indigenous, Chicano, Euro-Amerikan, etc, but maintains some form of dialectical-materialist, revolutionary nationalist leadership in order to expand scientifically.
We have readers often tell us they want to start non-profits, but the Cop City arrests show that there are limitations to this type of organization: the state can and does retaliate against non-profits who pose a threat to the Amerikan state's interest. The Atlanta Solidarity Fund is one example, where the Amerikan state has no problem arresting protesters or even legal organizers under charges of money laundering if they pose enough of a threat to its expansionary interests.
Cop City reminds us of the need for independent institutions of the oppressed which are flexible and secure, and involve the masses at every step of operation. Campaigns like "Stop Cop City," or "Abolish Control Units," attack the war apparatus that is aimed at the population within U.$. borders, especially the internal semi-colonies. As the above recent events demonstrate, we must build organizations that are prepared for the repressive response of the state.
NOTES:
1. Sarah Taitz and Shaiba Rather, 24 March 2023, "How Officials in Georgia are Suppressing Political Protest as 'Domestic Terrorism'", ACLU News and Commentary.
2. Natasha Lennard and Akela Lacy, 2 May 2023, "Activists Face Felonies for Distributing Flyers on 'Cop City' Protester Killing", The Intercept.
3. Jeff Amy and Kate Brumback, 31 May 2023, "3 activists arrested after their fund bailed out protestors of Atlanta's 'Cop City'", ABC News.
4. Pamela Kirkland, 23 June 2023, "DeKalb County district attorney withdraws from prosecution related to proposed 'Cop City' training center near Atlanta", CNN.
5. Joi Dukes, 24 June 2023, "'Stop Cop City' organizers in race against time for petition signatures", FOX 5 Atlanta.
6. Margaret Kimberley, 25 Jan 2023, "Cop City Kills Before It Opens", Black Agenda Report.

Related Articles: