13th Documentary Shows Evolving Uses of Imprisonment by Amerika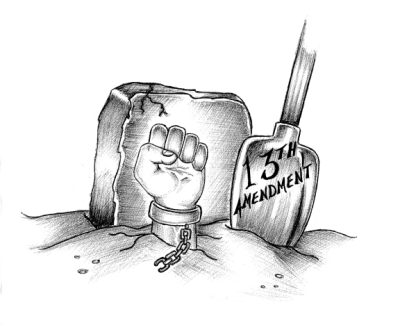 The film 13th was released on Netflix in October 2016, just prior to the U.S. presidential election. It is clearly an anti-Trump film, although it is not clearly pro-anyone else. In April 2020, Netflix released the film for free on YouTube. It has been abuzz lately as a "must watch" film in the wake of the George Floyd uprisings.
The title 13th gives the impression that the film will focus on the 13th Amendment, and we assumed it would push the narrative that modern-day prison expansion is motivated by profiting from prisoner labor. We also thought it would be a film pushing people to focus on reforming the 13th Amendment of the U.S. Constitution. Longtime readers of Under Lock & Key have likely already seen pieces debunking the line that the prison boom was motivated by exploiting prisoner labor. With our expectations from the title, we were pleasantly surprised by the film.
The film first focuses on the 13th Amendment, and explains the South needed labor after slavery was abolished. Where once there were slaves, there were then prisoner laborers. The exception in the 13th Amendment which allowed slavery for people convicted of a crime was primarily economically-motivated. From there, the film tracks prison expansion, which really took off after the exploitation of former slaves had ended, in response to social movements.
How the title relates to the theme of the film may be in that the 13th Amendment satisfied a dominant need of the time – white Amerika's economic need for Black labor – and white Amerika has been adapting to meet its needs at the expense of New Afrikans ever since. 13th spans almost two centuries of U.$. history, and draws attention to many ways Amerika has adapted to meet its needs, whether they were economic needs or social needs.
13th does touch on the topic of prisoner labor for profit for private corporations, but doesn't overly focus on it. Is prisoner labor for private profit a bad thing? Yes. Being that fewer than one percent of prisoners are engaged in productive labor for private profit, should we focus on it with all our energy, as if it is the main push for prison expansion?(1) MIM(Prisons) would answer this in the negative.
There are some economic motivations for prison expansion in recent-decades, but not for exploiting prisoner labor. 13th spends quite some time exposing the lobbying group American Legislative Exchange Council's (ALEC) role in prison expansion, as well as its present role in pushing for "community supervision" (read: ankle and wrist bracelet GPS trackers, and privatized probation and parole).(2) The economic interest in prison expansion is in job security for Amerikans, and state funding funneling into private corporations for services. There is a socio-economic benefit to Amerika in draining the oppressed internal semi-colonies of time and resources through expensive phone calls, long drives to visit families, and other exorbitant and arbitrary fees and expenses.
In the end, the audience is left with a call to remain vigilant to what's coming next. It leaves the focus on ALEC and corporate influence in legislation. A take-away of 13th is that nothing has worked to get the white oppressors' boot (or knee) off of New Afrika's neck. Amerikkka just changes tactics, but the effect is the same.
That's what we're seeing today with the recent Black Lives Matter movement upsurge. We don't need a less-funded Amerikan police force. We need New Afrikans to have their own police, and military, AND state to do as they please without having to cooperate with this clearly sociopathic Amerikan nation. On the whole, 13th affirms our view that prisons are primarily a tool of social control, and we will answer the film's call to remain vigilant so Amerika can't continue oppressing New Afrika any longer.

Related Articles: