Hip Hop: Living Culture or Commodity?
Hip-hop can be a very powerful weapon to help expand young people's political and social consciousness. But just as with any weapon, if you don't know how to use it, if you don't know where to point it or what you're using it for, you can end up shooting yourself in the foot or killing your sisters and brothers." — Assata Shakur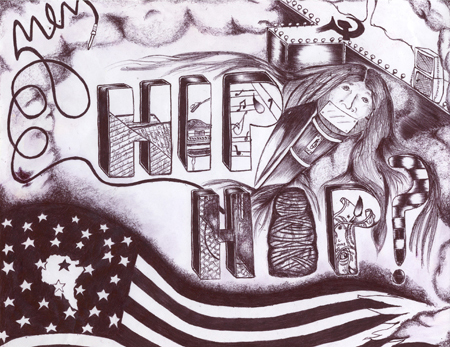 There are four main elements that make up what hip hop culture really is: Break dancing, DJing, MCing and Graffiti art. Each element plays a major role in hip hop. This beautiful culture originated in the Bronx, NY from the oppressed lumpen proletarians. The music from this culture was diligently expressed through MCing (rapping) about oppression and the conditions the oppressed people were going through in this capitalist decadent society. It was not about money, cars, jewelry and negativity but as the years went by and white capitalist businessmen saw a fortune in this culture that they could exploit the voices that created hip hop were greatly silenced.
The common refrain of many submissions we got for this issue of Under Lock & Key was that "Hip Hop is Dead." But the reality is much more complex, and we are not ready to dismiss hip hop. The objectification and commodification of culture often signifies the end of its existence as a culture, as Fanon argued. However, in the height of imperialism, where the capitalists have learned to fashion their products to niche markets, all cultures will be commodified, and yet the oppressed still need a culture to call their own.
The reason why MIM(Prisons) is focusing on hip hop in this issue on culture, is that hip hip came from the oppressed nations in the u$. Today, "hip hop" is pretty much considered synonymous with oppressed nation youth culture even as that culture continues to evolve in many different ways. This is true in the united $tates, but also true to an extent in many parts of the world today.
We put our hope in the oppressed nations because of their objective interests in progressive change. That interest comes through in hip hop culture, as much as the white corporate media and its white consumer audience do to discourage that. Still the mainstream acts like all you need is a certain type of a beat in a commercial and it's hip hop. Or dress your employees a certain way and it's hip hop.
In their day, the Black Panther Party criticized Black bourgeois elements who fetishized pieces of African culture with no context as "pork chop nationalists." There was no connection to a real people with an existing lifestyle. The Panthers were greatly influenced by Frantz Fanon, who wrote in an essay entitled "Racism and Culture":
"Exoticism... allows no cultural confrontation. There is on the one hand a culture in which qualities of dynamism, of growth, of depth can be recognized. As against this, we find characteristics, curiosities, things, never a structure."
Hip hop developed as a living, dynamic life of a people; oppressed people in north amerikan ghettos. As we'll touch on below it is still a living evolving culture that has been both adopted and adapted by people around the world. But before going global, hip hop culture was commodified by white record owners for white consumers. They sold this exotic culture to white youth looking for rebellion and excitement. Decades before, thousands of white youth gave money and support to the Panthers to express their desires to challenge the dominant culture and status quo. With hip hop, corporate amerika could sell a much more sanitized and safer version of Black rebellion to whites. And while there were benefits in terms of the building of public opinion around the struggles of the oppressed, this was soon drowned out in what became a new form of cooning - reinforcing racist ideologies.
Commodification of Hip Hop
Hip hop culture began in the late 1970s, but it wasn't until the middle to late 1980s that the cultural life and expression of hip hop grew to influence youth throughout amerika and the world.
During the late 1980s and early 90s, the culture continued to thrive. In this era, Black and Latino youth further developed their voices through hip hop to express their anger, fears, ideas, art and frustrations within the dominant white-oppressor culture, with its police brutality and poverty.
Hip hop culture isn't just about the music, it's about a lifestyle - from the clothes we wear, style of hair, taggin' rail cars and walls with radical art and graffiti, unity and more. It's a culture of resistance.
As Immortal Technique wrote in his article, "Gangsta Rap is Hip Hop" a few years back, what was called Reality Rap in the early years of hip hop was a reflection of the conditions that the MC's saw around them. These images were influenced by machismo and other viewpoints that were part of the survival techniques of those coming up in that environment. As survival also required recognizing that the system does not work for us, this Reality Rap was a reflection of the mass revolutionary spirit that had fueled the Black and Brown power movements of the previous generation.
The first response from white amerika was predictably negative, but the amount of attention given to hip hop quickly escalated as fears rose. There was a reason why the George HW Bush and Bill Clinton administrations spent so much time disparaging artists like 2pac and Ice-T. Someone was telling Dan Quayle and Tipper Gore to carry out their censorship campaigns. (see Hip Hop in the Scopes of the State)
To counter their critics, rappers said they were merely reporting the truth. It is true that the rapper has usually served as a block reporter, but there are two problems that have skewed this reporting. The first is bourgeois views of "objective" reporting, that pretend that what is reported and how it is reported could be somehow outside of class struggle. This view allows the oppressed to report on conditions thru rap without taking an approach that serves our struggle. The attitude is "this is just how it is", which leads to acceptance and reinforcement of the status quo.
This becomes an even bigger problem with the pressures from an industry, which tries to protect its bourgeois interests. This brings us to the second problem: the block reporters who make it are the ones reporting in a way that sells to white youth and please white corporations.
Coming from the depressed ghettos of the 1980s, flooded with crack cocaine by the CIA, there was no question of whether or not to become a professional rapper if the opportunity presented itself. As Tupac rapped in his song Don't Stop, "If I wasn't spittin' it'd be prison or death/This rap game all we've got left." Yes, a lot of us found a way to eat, but the result was a lack of potency in the music and a watered-down culture where cars and ice are the motivating factor. It is a culture that is teaching our youth that it's all about them (as individuals). That it's cool to be a dope fiend (sippin' syrup, etc.) and to be victims of HIV/AIDS (it's ok to have multiple sex partners, without ever mentioning protection). Is there any wonder why the highest rates of HIV/AIDS are among Blacks and Latinos between the ages of 13-24?
White-owned corporations saw a profit to be made and stepped in to co-opt the movement. They became owners of record labels and put up money so these impoverished and oppressed people could sell their soul and music for crumbs while these CEO's got millions upon millions of dollars.
With the help of the rappers, the record labels promoted a one-sided image of oppressed youth, an image that has been pushed on the oppressed for hundreds of years - one of uncontrollable libidos, violence, substance abuse and general barbarism. They did this through lyrics about smoking crack, robbing and shooting other Blacks and Latinos in oppressed communities, misogynist raps and raps with no substance. We started to stray away from the four elements and this type of hip hop started to negatively influence the youth and poison their minds. While culture reflects life, it also influences it. And arguably, the corporatized thug image contributed to the thousands of deaths that plagued southcentral Los Angeles and other amerikan ghettoes in the 1990s.
Hip Hop is Dead until it takes up revolutionary politics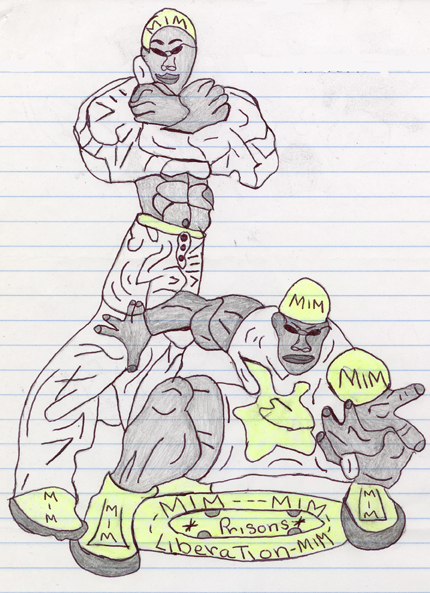 So with this contradiction in the culture of the oppressed came total destruction of the originality and with this concrete analysis there must be change. Like comrade Lenin once said, "concrete analysis of concrete conditions is the most essential thing in Marxism, the living soul of Marxism." We must regain the true culture of hip hop, which is based in the real struggles of the people and helps to teach, empower and unite the masses. This culture can be used to ignite the lumpen proletariat to support the revolutionary cause, like Mao once said, "Revolutionary culture is a powerful revolutionary weapon for the broad masses of the people."
Culture is an essential element of the history of a people, and it's social development. Culture in general, and hip hop culture in particular, plunges its roots into the base of the material reality of the environment in which we live in the hoods and barrios and it reflects the organic nature of society, which is more or less influenced by the dominant white society and culture of our oppressed communities. Currently the revolutionary side of hip hop is not the dominant aspect of the contradiction with the corporate/oppressor side. Amilcar Cabral once had this to say about culture:
"Study of the history of liberation struggles shows that they generally have been preceded by an upsurge of cultural manifestations, which progressively harden into an attempt, successful or not, to assert the cultural personality of the dominated people by an act of denial of the culture of the oppressor... it is generally within the cultural factor that we find the germ of challenge which leads to the structuring and development of the liberation movement."
We saw this germ in the Reality Rap two decades ago. If hip hop is to transform into a true vehicle for social change, we must demand that our artists keep it a hundred and give us more analysis in their music. Stop promoting the use of addictive narcotics, that they become more active in our communities, and give our youth the encouragement to study, unify, and resist oppression. Hip hop needs to reflect the struggle, and push it forward. If they fail to do this, hip hop remains sterile and dead.
Hip Hop as Reflection of Amerikan Culture
During the 1990's, people like Dolores Tucker and Tipper Gore earned the loathing of the booming hip hop culture as they targeted it for censorship and blamed it for the moral depravity of oppressed people. There was a lively debate around whether art reflected life or the other way around. But the answer to those involved was clear: people didn't start rapping about murder, drugs and misogyny because they were trying to corrupt the youth. The youth were corrupted by a system that did not provide them with positive outlets and this was reflected in hip hop, both for good and for bad. Everybody knows censoring rappers isn't going to improve the hood, but improving the hood will change what people are rapping about.
Even after its takeover by white-owned corporations, hip hop continues to be under fire for its misogynistic, materialistic, explicit content and for delivering negative messages to today's youth. What they did is sanitize the rebellious voice of the oppressed, while maintaining the negativity as a form of pseudo-rebellion to reinforce racist stereotypes of what oppressed nation youth are all about. Yet, upon deeper examination, one tends to see that the messages are merely the same ones being transmitted to the society at large by the institutions which govern society.
The parallels between the ideas propagated through the mass media and other sources; and the ones rapped about on the radio by recording artists are not hard to recognize. While this society proposes to thrive on such "rights" as "freedom of speech" and embraces such abstract concepts as individualism, materialism, and using sex to make a profit, it lambasts and condemns artists who are the products of such defunct ideas and who have chosen to endorse and promote them for monetary gain—similar to their capitalist counterparts and employers, only creatively set over catchy beats in rhyme form.
While the hip-hop/rap culture is made up primarily of lower-class, urban youth, generally from the New Afrikan community, the question that arises is: Why are these destructive, negative values so unacceptable now? It seems that as soon as these inner-city youth find a way to use this society's own value system to their benefit, and use their experiences and conditions of poverty, drugs, and crime as an avenue to create material wealth, they are demonized for their efforts. "Rap music" is condemned, rather than society as a whole. This theme is a regular refrain for many rappers who tell their critics through rhyme, "I am what you made me."
While rappers are being chastised for glorifying violence and criminality, the chastizers fail to confront the underlying causes of such crime and its solution, instead placing the blame on rap culture. From a young age, youth are taught by society that accumulation of wealth is the desired goal of life, to look out for yourself and obtain as much as you can. At the same time — through acts of war at home and abroad — our country reinforces the idea that during the quest for the "almighty dollar" any means may be employed to get more money, including violence, murder, and deceit. When a person not from a privileged upbringing and background employs these same tactics, even for the same objectives, they are labeled "criminals" and are subject to incarceration and, in some cases, death. The laws that govern this country blatantly display the fact that they were made to protect the privileges of the upper-class and oppressor nation at the expense of the lower-class and oppressed nations.
If we want to get to the root of the problem, our attacks shouldn't be aimed at a rap culture that developed from the harsh conditions of this society and which only reflects the same backward ideas and values that have been indoctrinated into the masses since birth. Instead, our attacks should be concentrated at a capitalist system that institutionalizes these degenerate values and ideas, and the ugly conditions it has consequently created in this country. Only when we begin to confront the root causes of crime, poverty, unemployment and racism will we be able to teach and educate our youth, and society as a whole, to new positive and progressive ideas and values, based on people helping and caring about other people-in one word: socialism. Anything short of this is a failure to confront the real issues and is simply a step backward.
Hip Hop Lives in Palestine, Senegal, Somalia...
When hip hop blew up in the amerikan market, it was only natural that the capitalists tried to push it globally, as much of the Third World is so brainwashed into worshiping anything that comes from the united $tates as being superior. In many cases, the Third World has adapted hip hop to their own conditions and needs though. In fact, Third World hip hop has consciously rejected many aspects of hip hop that we are also critical of: the killing, the misogyny, the drugs and promiscuity. Many Third World nations are not comfortable with all that. In Muslim countries in Africa, there are hip hop heads who very much look up to rappers from the u$, but do not imitate much of the negative lyrical content. (see http://www.africanunderground.com) There is a class difference between the Third World masses and the u$ lumpen, who have become cultural leaders globally because of u$ imperialism not in spite of or in opposition to it.
While we can be very critical of hip hop for promoting drug use, violence against the oppressed, misogyny and racism, others want to back-handedly criticize it for empowering the oppressed. In contrast, revolutionary artists often embrace while redefining the gangster and the hard images of both mainstream and underground rap music. With the globalization of hip hop and the "I'm more hard" and "I'm more gutter than you" personas that are even pushed by the mainstream, we've seen the appearance of Third World voices with a more internationalist voice.
New York-based artist Immortal Technique said in his title track about the Third World, "it makes the hood in amerika look like paradise." Meanwhile, Somalian rapper, K'naan, claims to be from the most dangerous place in the world and challenges the studio gangster images of rappers in the u$ in his song "What's Hardcore?":
I'ma spit these verses cause I feel annoyed
And I'm not gonna quit till I fill the void
If I rhymed about home and got descriptive
I'd make 50 Cent look like limp bizkit
It's true, and don't make me rhyme about you
I'm from where the kids is addicted to glue
Get ready, he got a good grip on the machete
Make rappers say they do it for love like R-Kelly
It's hard
Harder than Harlem and Compton intertwined
Harder than harboring Bin Laden and rewind
To that earlier part when I was kinda like:
We begin our day by the way of the gun
Rocket-propelled grenades blow you away if you front
We got no police, ambulances, or fire fighters
We start riots by burning car tires
They looting, and everybody start shooting...
This is the kind of "Reality Rap" that the OG's from Los Angeles used to spit, before "gangsta" became a caricature.
A thriving Palestinian hip hop scene has popularized the slogan, "Hip Hop's not dead, it lives in Palestine." This is coming from youth who are using hip hop to express their desires for national liberation, combating the slander being used to label their people as terrorists.
The idea of a global culture is still a new reality. But if such a thing can exist that is really based in the lives of real people, then it must represent the interests of the world's majority. Maybe a culture that arose from the oppressed in the heart of the empire, and was then popularized by the empire itself, can be turned around by the masses to become just that. We are currently seeing two futures of hip hop play out. One has billions of dollars behind it, the other has billions of people. If we can still call it "hip hop" culture in all its different forms around the world, then we can bet on the oppressed peoples' version winning out.

Related Articles: