USW Shows Solidarity with Palestine, but Face Resistance from U.S. Prisoners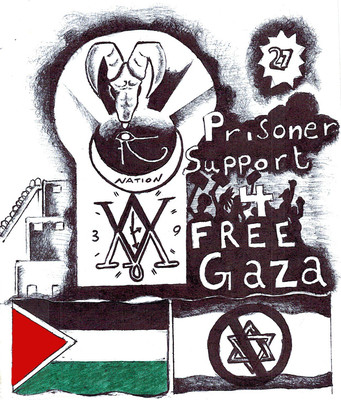 In August 2014, in response to I$rael's renewed attacks on Palestinians in the Gaza Strip, United Struggle from Within (USW) drafted and began circulating a petition denouncing the imperialist genocide of the people of Palestine. The petition draws connections to the oppressed nations suffering in the United $tates, and in particular recognized the support Palestinian prisoners gave to the California hunger strikers. While this round of bombing by I$rael was over before most could even return their signed petitions, the damage is still being felt and the imperialist occupation of Palestine continues.
"According to the United Nations, 100,000 homes have been destroyed or damaged, leaving 600,000 Palestinians — nearly one in three of Gaza's population — homeless or in urgent need of humanitarian help. Roads, schools and the electricity plant to power water and sewerage systems are in ruins."(1)

In addition, the Cairo agreement to "rebuild" Gaza after I$rael bombed it to pieces, will be managed by none other than I$rael, who will ensure that all the money goes into the pockets of I$raeli construction companies.(1) The democratically elected government of Palestine, led by Hamas, will be deprived of any oversight of this process, as they are further isolated with Egypt closing off the border with Gaza to the south.

It is not too late to rally in support of the Palestinian struggle! As of the beginning of November, USW comrades have gathered over 60 signatures to this petition in at least seven different prisons. Signatures are still coming in and a number of comrades have reported to still be working on collecting signatures in their latest communications.

While the numbers may not be overly impressive, to date only 17 of those comrades originally sent the petition have even reported receiving it. One Texas comrade who gathered 9 signatures reported doing so despite the prison being on lockdown (no one being able to leave their cells) and the recent cut off of fishing (sending notes between cells by string). At least one comrade could not get any other signatures due to the risk of political repression as a validated "gang member" in the control unit where he is held. It is no coincidence that many of our most active and politically conscious comrades find themselves in such conditions.(2)

This campaign to support the people of Palestine is significant in that it is the first USW-initiated campaign around an issue not related to the immediate conditions of prisoners themselves since MIM(Prisons) has been around. The campaign was launched without a lot of preparation, and despite the inherent limitations imposed on those in prison, we got good participation. As one California comrade recently reported, the petition was a tool for outreach that led to many political dialogues and lessons learned that will contribute to the building of the anti-imperialist movement in U.$. prisons. Their efforts to collect signatures reached beyond just those who signed the petition.

The need for these types of agitational campaigns is one of the lessons that we can take away from this experience. The barriers among much of the prison population to supporting the Palestinians' right to survival are built on a combination of Amerikan patriotism, misinformation and apathy. However, to sum up the reports we have received, we'd say that fear of repression is the number one barrier being faced, which is a problem USW faces with all its campaigns. One comrade reported setbacks due to fears around hysteria surrounding the Islamic State.

A number of comrades reported not being able to get any signatures yet, and one wrote from California:

"My focus thus far has been on the socially conscious Muslim prisoners, whom I guessed would be the most willing out of everyone to sign the petition. But I'm starting to see more and more that the overwhelming majority in Amerikkka just ain't willing to take a stand against these racist imperialist idiots in no way shape or form. Not one of the Muslims, out of the around 25 prisoners I approached, would sign the thing. The excuses ranged from, 'We need to worry about fixing 'home' first...' to just flat out 'The Jews have too much control in this country for me to sign some paper and get on their shit list.' ... so far everybody but me has been too scared to sign it."
A few weeks later this comrade submitted h petition with 25 signatures. This fear of signing is a common problem in prisons where all mail is read and punishment for activism can be severe. A comrade in Colorado wrote:

"I read the last issue of ULK and I want to say that the U.S. policy against Palestine has long been underrepresented and ignored. Amerikkka is telling the people of Gaza and Lebanon that it will allow Israel to murder and justify it in the name of 'peace.' I feel that the greatest threat to world peace is the U.S. foreign policy. As prisoners we all should stand with the people of Gaza and their right to self-defense and self-determination. Progress is being made here as far as the petition goes. Many are in solidarity against amerikkkan imperialism as it stands with Israel yet many are afraid to sign."
One letter from Virginia described the difficulty promoting internationalism:

"I have been having trouble convincing prisoners here to sign the Palestine USW petition. The fear of institutional retaliation keeps a majority of them from involving themselves in any type of radical struggles or demonstrations. Compounding the problem is the fact they cannot grasp the concept of 'internationalism.' The dominant question was, 'what do the Palestinians have to do with me?' I tried as hard as I could to convince them that all struggles against imperialism abroad are a reflection of the non-ruling class struggles here in the Empire. So please do not construe the lack of signatures as an indicator of my lack of organizing skills."
This question of "what the Palestinian struggle has to do with me" is a manifestation of the relative wealth and privilege of Amerikans as a whole. In reality the Palestinian struggle is counter to the material interests of the petty bourgeois majority in the United $tates which enjoys a supply of cheap gas ensured by Amerikan military presence in the Middle East. Like the struggle of oppressed people around the world, the Palestinian people's fight for national liberation threatens Amerikan imperialism and its ability to control and exploit the labor of Third World peoples. Any successful revolt against Amerikan imperialism and its allies/puppets (such as I$rael) will destabilize that power and may inspire others.
But when building public opinion with the lumpen in prison we can at least draw some connections to national oppression within U.$. borders and the national oppression of Palestinians. One researcher has claimed that Palestinians are the most imprisoned people in the world, based on the percentage who have been in prison (the United $tates is still #1 in the number of prisoners it holds at one time). New Afrikans and the original inhabitants on North America are potential rivals for this title. In both places, the dominant nation, with the weapons and wealth, is denying the oppressed nations independence and self-determination. And the cause of the Palestinian people is allied with the cause of oppressed nations everywhere in the world; the common enemy is imperialism.
Another persyn wrote about some more reactionary responses to h attempts to collect signatures.

"I attempt to discuss issues raised by MIM, but I'm completely lacking in knowledge. For example, prisoners here state that the Palestinians deserve the bombing because Hamas fired rockets into Israel. They say the land of Israel is not occupied by foreigners — that it belongs to Jews. They (prisoners here — a large number) say that there has never been a nation called 'Palestine' and that the people who today label themselves 'Palestinians' are simply Arabs mostly from the Trans Jordan area. So what is the correct response?"
These positions raise the important question of how we define a nation. Stalin gave us guidance on this point, describing a nation as a group of people with a common language, culture, territory and economy (which is different than a nation-state). The Palestinian people certainly meet these requirements. Nations can arise and fall over time, as humynity evolves and conditions change. While I$rael has evolved into a nation today, Stalin was correct to argue that there was no Jewish nation in his day. It was only after WWII and a mass migration of Europeans to Palestine, and the genocide that cleared the previous inhabitants of that land, that I$rael began its formation.
As for the question of Hamas firing rockets into I$rael, this certainly has happened. And we uphold the right of people to defend themselves. This is simply a question of incorrect facts. The Palestinian people are righteously defending themselves against a much more powerful oppressor who is constantly threatening their lives and taking over more of their land. A cursory study of history shows who is the agressor in this conflict. Even numbers from the end of July on this recent battle demonstrate this: while I$rael reported 56 deaths (53 soldiers), in the Gaza Strip 1,170 had been killed, many of them civilians in their homes.(3) For those who are serious about studying the history of Palestine and I$rael we can offer reading material, but for those who just want to support the imperialists and accept their lies and propaganda, it's probably best to just move on and look elsewhere for supporters. Let them eat their Thanksgiving turkeys and celebrate the superiority of Europeans over the indigenous people of the lands they occupy and destroy.