Texas Continues to Fight Neglect, Censorship and Heat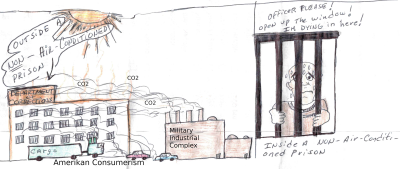 Texas prisoners face some of the harshest conditions in the kkkountry mainly due to neglect from prison staff, and disregard for prisoners' health, safety and rights. For example recently in Estelle High Security we had received a report from one of our readers on dialysis, and a copy of eir grievance,
On 15 August 22 at 5:45PM-7:10PM 11 Dialysis patients were put in a van with NO Rear A/C. We got to the rear gate of high security at 6:10pm our officer driving the van told Lt. Phillips:
"Hey there's Dialysis in the van and it's hot for them."
Lt. Phillips said ,"I don't give a fuck, I'm crossing my kitchen crew to the main building. They can fucken wait."
It was about 90 outside. Our officer driving the van told her again, "They just got off dialysis."
Lt Phillips said, "They'll be fine."
Their report describes a fellow prisoner who had passed out after they were left in there for an hour. This is not the only heat related incident, as heat waves were going on for weeks, many units went without A/C or adequate ice or respite as reported on from the Luther Unit. Meanwhile, Stiles Unit spent much of September in lockdown during the heat with no showers and limited food. Heat exhaustion and health issues are being exacerbated by lack of respite, this all being against directive A.D. 1064 requiring access to ice during times of elevated heat. The oppressors at this unit deny this happening of course, and show their own unwillingness to follow their own laws, which gives light to the real purpose of prisons of course being national and political oppression. Unity and mass action is the only way to address this, such as TX T.E.A.M. O.N.E.'s mass petition to mail to the U.$. Department of Justice as mentioned in ULK 78 Juneteenth Freedom Initiative (J.F.I.) Phase 2.
This year has seen an increase in reports (at least 135 recorded by Texas Dept. of Criminal Injustice (TDCJ)) of censorship of mail from MIM(Prisons) across Texas, since the start of the J.F.I. As stated in the last 2 issues of ULK, the J.F.I. is simply organizing for prisoners' legal rights as stated by the imperialist's own laws (peacefully advocating for legal rights is not inciting a disturbance). Massive censorship continues in the Allred and Hughes Units, among many others, where conditions are some of the worst in the state. The reason behind this as stated before is to prevent organizing and political education from prisoners, and to limit their knowledge of their legal rights. The state's interest are of population control, and torture (Restricted housing for decades is unconstitutional torture) along with the many cases of neglect beyond what's referenced here.
"MIM Distributors and our subscribers within the TDCJ have exhausted all administrative remedies with our appeals, letters and grievances. The TDCJ is not interested in following the law on it's own accord. Therefore we have begun to step up outside pressure on two fronts.
the legal front by filing a lawsuit
the public opinion front via our postcard campaign"
"A prisoner's administrative remedies are exhausted when prison officials fail to timely respond to a properly filed grievance." (Haight v. Thompson 763 F. 3d 554 (6th Cir 2014)) According to this, if they do not respond to our grievances we can go on to a §1983 Civil Action.
Anti-imperialist Prisoner support (AIPS) has been hitting the streets with ULK, J.F.I. Flyers, and postcards to be mailed to TDCJ's Director's Review Committee office and Jimmy Smith's (Warden of Allred) office, collecting donations and educating those on the outside. We can always use more feet on the ground, and legal funds from those on the outside, more support in general.
This short summary of some of the conditions recently faced by Texas prisoners is a call to unite against all oppression, primarily against the United Snakes of Amerikkka, and to unify under the common banner of Anti-imperialism. Don't let the divide and conquer tactics work as intended, this political oppression cannot and will not go unanswered. We need the people on the outside to support those on the inside in their efforts to further organize, rehabilitate, and educate in the United Struggle from Within in Texas. We need public opinion to shift, so keep on the pressure from both sides. The more they censor and oppress, bigger our fight gets!
All Power to the People