Democratic Presidential Convention Highlights Chicano Assimilationist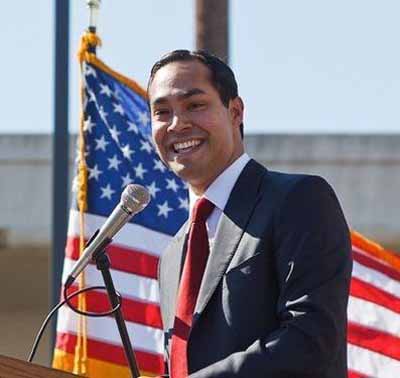 On September 4, 2012 the Democratic convention was held, almost every TV channel was broadcasting this. Like the Republican convention, the Democrats had speakers come out to make a short speech on why you should vote for their candidate. These conventions are a classic 'good cop, bad cop' game meant to hoodwink the oppressed.
This year's democratic keynote speaker at the convention was Julian Castro the mayor of San Antonio, Texas. Castro is running for congress and is seen as an up and coming Democrat. Although he merely adds to the rest of the numerous defenders of imperialism, what is different and thus dangerous about someone like Castro is that he is a Chicano bourgeois politician who is now being propped up to fool the Brown masses, just as Obama was used against the Black masses.
Castro's background is similar to many Chicanos today. His grandmother migrated to the United $tates in the first wave of migration after the Mexican Revolution in 1920. His mother was born in Texas and was actively a part of the Chicano movement of the 60s and 70s. As a first generation college student she joined the Raza Unida Party (RUP) and became one of its leaders.
La Raza Unida Party came about from the leadership of Crusade for Justice another Chicano organization of that time. It was in 1970 that Corky Gonzalez announced the formation of RUP. The Crusade for Justice was actively leading many Chicano struggles of this time period. At one point as Acuña described, "The Crusade for Justice leadership also wanted to form the 'Congress de Aztlan', which would build a Chicano nation."(1) The RUP meant to uplift the Raza's consciousness, take community control of social services in the Barrios, taking control of schools and development (building homes, parks, etc.) which all seems cool and "progressive." But without completely breaking with the oppressors politics these efforts were simply spinning wheels, like trying to ride a bike with no chain; you can turn the pedals all you want but the bike stays in the same spot.
The RUP had a left wing and a right wing, like all phenomenon there were internal contradictions that pulled this group in different directions, and without a clear path for liberation RUP was doomed from the beginning. The biggest error in RUP's program was in attempting to work within the framework of Amerikan bourgeois politics. RUP naively thought Amerika would stand by and allow a historically oppressed people, an internal semi-colony, to build a political party in the barrios, even though it attempted to do so within Amerika's political system. The state would not allow this, as organizing the oppressed for any progressive political activity poses a real potential threat. Once organized and educated this force can easily make a leap from working within the current system to working against the system. This is why people like Martin Luther King and Malcolm X were assassinated even though they were not calling for socialism and pretty much worked within the confines of the Amerikan laws. They still had influence and the potential was too much, the threat assessment told the state what must be done.
RUP was heavily surveilled by the CIA (1) and so all the Cointelpro tactics were used to destroy this party. And ultimately RUP suffered from believing Chicanos could be liberated via Amerika's bourgeois politics or through reforms. The fault also lies in those more revolutionary elements within RUP for not steering RUP on a more revolutionary approach that sought the liberation of the Chicano nation by building for a socialist revolution on these shores.
So this is where Julian Castro comes from and thus this bourgeois nationalism is what shaped his ideas and lead him down the road to Brown capitalism or outright defender of imperialism. His assimilationist stance shined forth in his speech with statements like "[we need to] do our part as one community, as one United States of Amerika." This is typical language of a comprador who's job is to bring the other oppressed into the fold of the oppressor. His/her job is always to quell or smother the burning embers of resistance in a people and keep things as they are. The slave of old who lived in the massa's house would go out to the slave shacks and talk about how good the massa is, how good the slaves got it, maybe even given them a piece of bacon or the good meat with a promise for more so long as they hang on and be content or say some prayers. This is the approach Castro took in his speech, his focus - like the rest of the Democrats was on the "middle class," and at one point his petit bourgeois colors intensified as he yelled: "The middle class the engine of our economic growth!" The Brown bourgeoisie must have soiled themselves with excitement at hearing this parasite babble on.
Castro's interests are stripped of the more progressive aspects of 1970s political line of his mother, Rosie Castro, which he branded as outdated in an interview on Pacifica Radio. As misguided as the RUP may have been in their approach, they never spoke of leaving Raza behind, nor were they reduced to telling Raza to 'Pull themselves up by the bootstraps.' Rather they sought to include even the poorest Raza living in shacks and fought to better their conditions while Julian Castro has aligned with imperialism as he stated: "we know in our free market economy some people will prosper more than others." The idea that in a society there will be the haves and the have nots is not something we can accept. But Castro sends the message to the ruling class that he is okay with this and thus is not intending to threaten or challenge this status quo. This buys his seat in the imperialist shuttle of Amerikan politics.
The use of Julian Castro is just the latest attempt to get Chicanos and other Raza to become part of Amerika. But many Raza still remember the oppression we have faced, it is still too much for many to side with the enemy. According to the 2010 U.S. Census about 2.3 million businesses are owned by Latinos. Yet when it comes to voting in bourgeois elections only 60 percent of adult Latino citizens vote compared to 70 percent of Black adults who vote and 74 percent of whites who vote. At the same time approximately 500,000 Latino youth will turn 18 every year for the next 20 years. So I believe Julian Castro is the tip of the iceberg where Amerika will begin courting Latinos much more than they ever have in history, and not just any Latinos but preferably those with family history of activism as Julian Castro and his mother in an attempt to paint these parasites as "legitimate" in the eyes of the Chicano nation. But these Brown faces in high places will never be legitimate so long as they support the super parasites. Those who we see as legitimate are those working to liberate our nation, those working to neutralize the super parasite.
We see Amerika's open repression reaching fascist proportions in Aztlán, especially in prisons and on the "border." Most recently we saw along the Texas/Mexico "border" the U.$. instillation of a "mini navy" (4) where speed boats with high powered weapons are guarding the Rio Bravo and have recently baptized these new boats in Mexicano blood when they shot and killed a Mexican citizen on the Mexican side who was barbecuing in a picnic area with his family right on the river. Footage on the Amerikan corporate media this week shows families and children as the border patrol speeds off while cries erupt in this park. This open war on Raza comes without a peep from bourgeois politicians like Julian Castro, who, rather than condemn this repression in his speech, instead declares "Amerika will prevail" in his speech to massa.
We must also learn from the lessons of the past. We are not free to create our own political parties that struggle for our nations, look at what happened to the RUP and Panthers and others. In Amerika although parties of the internal semi-colonies are not publicly banned, they are certainly banned behind closed doors in Langly, in Washington DC, and their other hideaways. We know this is true when we learn about Cointelpro and other operations to infiltrate and disrupt peoples parties or groups. And so we refuse to be fed snake oil from the imperialists or their allies and hasten the day when Aztlán and the other internal semi-colonies can be liberated from attacks by Amerika!