Plan de San Diego Commemoration Starts with 1492 Invasion of the Americas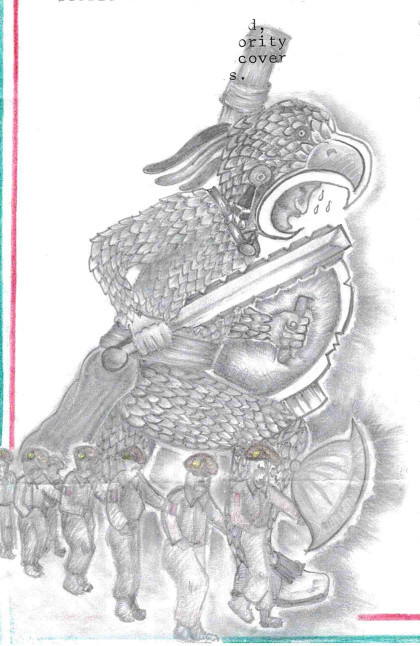 In 1492, the European colonization of Turtle Island, which they'd call the Americas, began with the voyage of Christopher Columbus, in command of the Niña, Pinta, and the Santa Maria. This recon expedition arrived in the Caribbean and landed on the island of present-day Haiti and the Dominican Republic, which they named Hispaniola. In 1492, Columbus returned with a second, larger force, comprised of 17 ships and 1,200 soldiers, sailors, and colonists.
By 1535, Spanish conquistadors had launched military operations into Mexico, Central America, and Peru. Using guns, armor, and metal-edged weapons as well as horses, siege catapults, war dogs, and biological warfare, the Spanish left a trail of destruction, massacres, torture and rape. Tens of millions of indigenous peoples were killed within the first century. The Mexica (or Aztec) alone were reduced from 25-million to just 3-million. Everywhere the death rate was between 90-95% of the population.
For all native Americans, the coming of Europeans to the New World marked the beginning of a long, drawn-out disaster. Their cannons and rifles gave them the ultimate power to inflict their will on the indigenous people. Even as they learned from the indigenous people how to survive in their new environment, Europeans saw their own way of life as the only "true" civilization. Indeed, so powerful did the notion of European superiority become that today they celebrate the "Discovery" of the New World by European explorers. Too often, we forget that what happened in 1492 was not the discovery of a New World but the establishment of contact between two worlds, both already old.
Was the European, or "Western" way of life really superior? This question remains a subject of stormy controversy throughout the world. Much of the resentment against Europeans and North Amerikans expressed by people in the Muslim world, for example, is based on the history of invasion, conquest, and domination by Western powers, a subject to which our RAZA and ALL indigenous people in the Western Hemisphere are familiar. European invasion and settlement spelled the doom of indigenous societies.
Amerikkka has always been a hegemony, a term which refers to dominance or undue power or influence. A hegemonic culture is one that dominates other cultures, just as a hegemonic society is one that exerts undue power over another society.(Gramsci, 1992/1965, 1995)
Ideologies
A classic study of the emergence of an ideology was Max Weber's analysis of the link between Protestantism and Capitalism, The Protestant Ethic and the Spirit of Capitalism (1974/1904). Weber noticed that the rise of Protestantism in Europe coincided with the rise of private enterprise, banking, and other aspects of capitalism. Weber hypothesized that their religious values taught them that salvation depended not on good deeds or piety but on how they lived their entire lives and particularly on how well they adhered to the norms of their "callings" (occupations).

The most important norms in Western civilizations are taught as absolutes. The Ten Commandments for example, are absolutes: "Thou shalt not kill," "Thou shalt not steal," and so on. UNFORTUNATELY, people do not always extend those norms to members of another culture. For example, the same "explorers" who swore to bring the values of Western civilization (including the Ten Commandments) to the New World thought nothing of taking Indians' land by force. Queen Elizabeth I of England could authorize agents like Sir Walter Raleigh to seize remote "heathen and barbarous" lands without viewing this act as a violation of the strongest norms of her own society.(Jennings, 1975; Snipp, 1991) Protest by the indigenous people often resulted in violent death. But the murder of indigenous people and the theft of their land were rationalized by the notion that the indigenous people were inferior people who would ultimately benefit from European influence (the same ideology that justifies in their minds the wholesale murder of our Raza throughout the barrios of Aztlán by the police). In the ideology of the conquest and colonial rule, the Ten Commandments DID NOT APPLY (then or now).

So when you hear Trump making statements like, "Make Amerikkka Great Again!", make no mistake about it, what he is in fact saying is, "Make Amerikkka White Again!"

So in commemorating the Plan de San Diego, when asked the question, "What's this gotta do with me?" "Everything you're talking about happened a long time ago." RAZA, it has everything to do with YOU! It's time for the sleeping Giant to WAKE-UP! And say YA-BASTA! We have a rendezvous with destiny!

In this New Katun! This is OUR SIXTH SUN! As [email protected] growing up in occupied Aztlán. This is why [email protected] and Raza are discriminated against, marginalized and imprisoned at higher rates than Amerikkkans.

We must build for the Reunification and Liberation of Aztlán!!!

We have been plagued with this Amerikkkan disease LONG ENOUGH!!!

VIVA LA CAUSA VIVA LA RECONQUISTA!!!

VIVA MIM!!!

---
MIM(Prisons) adds: By the time this issue of Under Lock & Key hits the cell blocks across the United $tates, August will be upon us. In addition to the 38th annual Black August, commemorating the New Afrikan prison struggle, this August we mark the beginning of a campaign to commemorate the Plan de San Diego. This Plan called for a united front of oppressed nations living on occupied Turtle Island to take up arms against the settlers and reclaim land for the oppressed. If you haven't already, write to MIM(Prisons) to get Plan de San Diego fliers to distribute. The flier calls on [email protected] comrades to study, build with others, write articles, make art and develop [email protected] consciousness inside prison.

The building of consciousness and unity this August should lead up to the 9th of September when all prisoners are encouraged to mark the United Front for Peace in Prisons Day of Peace and Solidarity. Last year, September 9 was marked with many actions across U.$. prisons to commemorate the Attica uprising. Let's build on that momentum! Keep us updated by sending in your reports on what you achieved during Black August, Commemoration the Plan de San Diego and on the September 9 Day of Peace and Solidarity.