Andy Lopez: Another Chicano Youth Killed by Police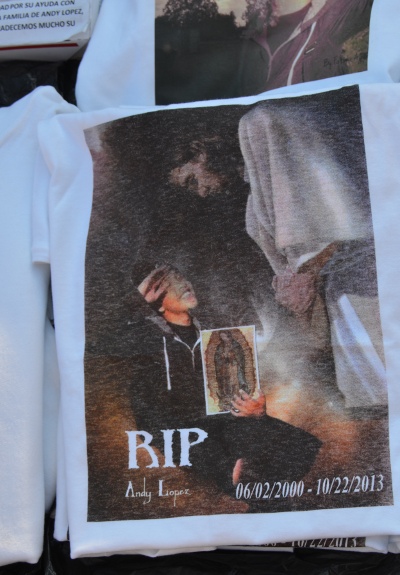 Chicano youth Andy Lopez, whose 13-year-old life was cut short by a Santa Rosa pig, has yet to obtain justice. This was a concrete example of what it means when people say that Aztlán is occupied under a settler state. Our colonization is expressed in many ways and our youth being shot dead in the street is one of the in-your-face OVERT examples, which even the bourgeois Chicanos cannot pretend not to notice.
When the white Deputy Sheriff Erick Gelhaus executed Andy on 22 October 2013, comrades here discussed what should be done in response to these attacks on the Chican@ Nation. Our conversation on the subject was pretty heated. One topic that kept coming up was the example that the Black Liberation Army provided back in the day when the Black Nation was under heightened attack from the lethal COINTELPRO. Everywhere in the world where a people are under attack and being murdered by the occupying state, at some point the people will fight fire with fire.
It's been four months and still there has been no indictment of the pig in question. But then when do we ever see the state prosecute its own when the oppressed are murdered in our occupied streets? We cannot allow Andy's death to be swept under the rug. So many within the Chican@ nation have begun a perverted romance with imperialism. The super profits that are extracted from the Third World seem to have intoxicated many in our nation to the point where when our youth are turned to swiss cheese by a pig, it's conveniently ignored. Revolutionary Chican@s need to work to detoxify the people and put Aztlán back on a revolutionary path. Our work should start with mobilizing Aztlán around acquiring justice for Andy Lopez.
There are plans for a march on 2 June 2014 in Santa Rosa to build awareness of this tragedy and to commemorate what would have been Andy's 14th birthday. Let us spread the word and gain momentum on the justice that we need to obtain. We support this march and will continue to develop ways to properly respond to the occupation of Aztlán. Andy's death should be seen as not only a rallying point but a juncture where we usher in a new wave in the Chicano movement. Aztlán libre!