The Murder of Tyre Nichols - Do You Approve?
27 January 2023: At about 5:30-6:00 PM the nation watched the horrific video of 5 policemen who beat a man literally to death weeks prior. The man, Tyre Nichols, was handcuffed and had no way to defend himself as 5 large officers beat the man far beyond what anyone could call humane. Dogs don't get beat this bad.
I saw this in my dorm from USP Tucson, in the day room. Of the seven televisions in the dorm, four was on the CNN broadcast of the vicious beating. At least half the dorm of over 100 prisoners in here watched in horror and shock, witnessing the same thing the rest of the United $tates (and the world) was viewing. I have never seen such interest in a television event outside a sports event.
I sent an email to the Warden of the prison, challenging him if he approved such methods. This could be seen as an insult, but what we see on the streets of America is simply a reflection of what commonly happens in the prisons of the United $tates. For decades staff brutality has been common, and often overlooked in prisons, because many may believe that the victim probably deserved it, or the prison staff will lie and cover up the act.
I have to believe that what happened to Tyre Nichols that horrible night, which resulted in his death a couple of days later, could have happened in part here at USP Tucson… multiple times, and happens in many jails and prisons in our country.
I believe this likely happened to a prisoner here back in November of 2022, shortly after an incident in a nearby camp, where a prisoner managed to acquire a gun. He would have likely shot and killed an officer were it not for the fact that the bullets did not match the gun. We at USP Tucson went on a lockdown for 3 days, although we had absolutely nothing to do with that incident. That was a different facility, yet we were punished anyway, which led to a second incident.
A few days later, on November 18th, we went on a month long lockdown because we heard there was a "staff assault." If this was the case then the usual protocol for prison staff is to beat that prisoner physically, then throw him in the SHU until the wounds heal… it is what they do.
How bad did they beat the prisoner here? Did they cuff him, and like cowards, beat that man with sticks, tase him, kick him and slam him on the walls? It's pretty easy to beat a man if you outnumber him 5 to 1, and cuff his hands behind his back.
We have to compare what happens in prisons to what happens in the streets. We seem amazed that what happens to George Floyd, Rodney King or now Tyre Nichols, is so unusual. This is very common in the prisons, and you have to ask the staff here at USP Tucson if this is the method they approve of.
It must be, if it continues to happen.
Why would law enforcement treat humyn beings so horribly? And to be stupid enough to do it with a BODY CAM on? Did they not know that this would be viewable to anyone in time? Why would you beat a man to death, with the cameras on?
This is an idea that prisons fear greatly; they fear that if society knew what happens in prisons, coupled with how law enforcement is clearly losing the ethical training they have, there would be such a cry for justice that the country may not be able to contain it.
But consider: some don't sympathize with prisoners being brutally beaten because in some way, they think that the sentence of prison comes with the brutality of abuse. Yet the Constitution clearly disagrees. No human being deserves to be treated like that, to be beaten by another officer. No officer working in the United $tates is given a green light by the government to beat prisoners. Yet, it happens, and many excuse it because maybe we believe that deep down, the prisoner must have deserved it.
So reflect back to Tyre Nichols, why would those cowardly officers beat a man to death? Could it be that maybe they felt that Tyre "deserved" to be beaten… but if so, why?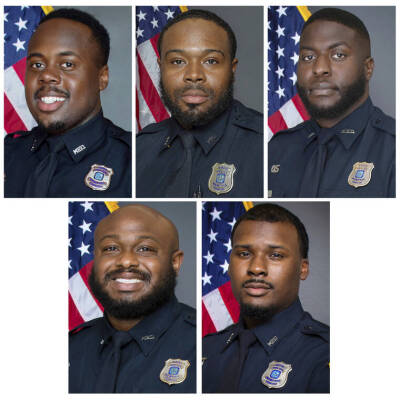 Here's one idea, one I have seen from the prison point of view: In prisons, where there is a disturbance, they call it "hitting the deuces." When this happens, for example from a fight, officers come running from everywhere. In seconds, you can see up to 50 officers on the scene.
But note, when this happens, these officers get into a different frame of mind. The adrenaline rush puts many of these officers in an almost rage. Once that rage sets in, that officer is looking for a reason to release it. They are almost HOPING for a physical altercation, so that they can release that rage that is created because the situation could be a violent riot where a life may be lost.
The problem here is that once an officer gets into that adrenaline they don't know how to come down, and so they are looking for a release. This happens very often in prisons, and no doubt, it happens in society. The problem is that these officers are not taught to TALK down to de-escalation, rather they are looking to make demands and argue.
Prisons prove this happens all the time, and many prison officers are not trained to de-escalate a situation; they are left to act on their anger and rage, which results often in physical violence, most times on defenseless prisoners.
So, I asked the Warden, does he approve of the methods we saw in Memphis… based on how staff treats prisoners, I think we know the answer. Their advantage: they don't wear body cams, so they can get away with murder, literally. All they have to do is blame it on the prisoner, lose the footage and lock everyone down for a few weeks, so they can clean up the mess.
The Warden, as of August 10th, never responded.
UPDATE: On 12 September 2023 the five pigs were indicted on federal civil rights charges in addition to the state charges of second-degree murder they are already being tried for. The four-count indictment charges each of them with deprivation of rights under the color of law through excessive force and failure to intervene, and through deliberate indifference; conspiracy to witness tampering, and obstruction of justice through witness tampering.