Free Alabama Phase 2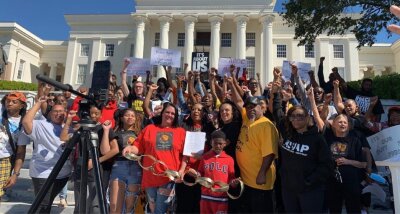 The Free Alabama Movement has declared their recent organizing a success, with over 15,000 prisoners participating and prodding response from the governor during the campaign season.(1) They have announced the next phase of their struggle for reasonable paths to parole and release. It involves the drafting and proposal of a state bill. The Alabama Legislature opens on 3 March 2023, and prisoners have planned to launch a campaign to promote and support the proposed bill at that time.(2)
Following the recent actions, a damning report came out substantiating the prisoners demands:
"July 2022 was the deadliest month on record in Alabama prisons. Thirty-two people died in Alabama prisons in July — the most since at least January 2000, the earliest month for which data is available online. More people died than were granted parole that month."(3)
The Free Alabama Movement concludes in their recent statement:
"On September 26, over 15,000 people stood up for freedom in the Alabama prison system. That's 10,000+ new soldiers, warriors and generals to the ranks who had NEVER participated in a shutdown before. Most of them didn't know they would be challenged by the ADOC at the core of our most basic human need: food. This is a real struggle against a system that is well funded and has been in existence for over 100 years. We gotta act like we want freedom, and move with the understanding that that will be a test of your will and spirit to achieve something great.
"Understand the mission brother and sisters. A call has been made for us to stand again. We cannot miss our assignment and expect change.
"Dare to struggle, dare to win."
Notes:
1. Free Alabama Movement, 23 October 2022, "Fifteen Thousand Stood Up on September 26, 2022".
2. Free Alabama Movement, 24 October 2022, "A Path to Freedom".
3. Evan Mealins, 18 October 2022, "July was the deadliest month on record in Alabama prisons. Here's what we know", Montgomery Advertiser.

Related Articles: