National Struggle or Assimilation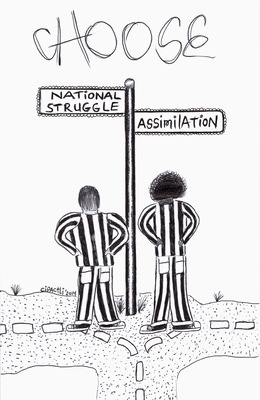 Reading MIM Theory #7: Proletarian Feminist Nationalism I couldn't help but notice that to date there has been a strong trend of oppressed nationals becoming more and more molded and fitted to U.$. culture and its parasitic ways.
A quote by Malcolm X found in MT7 struck me hard: "I'm not going to sit at your table and watch you eat, with nothing on my plate, and call myself a diner. Sitting at the table doesn't make you a diner, unless you eat some of what's on that plate. Being here in America doesn't make you an American. Being born here in America doesn't make you an American."..."No, I am not an American, I'm one of the 22 million black people who are the victims of Americanism. I don't see any American dream, I see an American nightmare."(1)
I'm hard pressed to find an organization that's "Latino" nationalist and agitating for the emancipation of what is currently the south western portion of the United $tates to become a nation itself.
These days you hear Latinos all throughout the United $tates clamoring for comprehensive immigration reform. Enough of this assimilation, and how about a call for what was once Mexico to return to its people. Whether this emancipated state will become part of modern day Mexico or form its own nation is for the people to decide for themselves. Those same people clamoring for immigration reform, who fail to realize that they are an oppressed nation within an oppressor nation, can't help but feel as if they constitute a part of this oppressor class (white chauvinism). The policies that will be enacted due to their protesting and petitions will only hurt and destroy the Latino communities. As a people who are already stigmatized and oppressed, the crumbs of the white nation are counter to the ultimate interests of Latino people.
It's no secret how the INS and ICE deport huge numbers of Latino people who only come here to make and earn a living. Some might ask: if Amerika is so fucked up why do you want Latinos here? Well if numbers are power then the more people we have the better we are able to form a revolutionary nationalistic party and arouse national sentiment in face of brutality. Moreover as burdensome jobs will go to those immigrants the better it'll be to swell the ranks of the proletariat.
Most people these days are so jingoistic with Amerikanism that at the same time they wave the U.$. flag they wave their country of origin flag too, not grasping how NAFTA and trade relations with "south Amerika" are one sided and are to the advantage of the white U.$. middle class. Even within prison you hear prisoners clamoring of how great the United $tates is.
Oppressed nations must take notice that you are not what the U.$. constitution meant to defend, you never will be and it's futile to think cheering and asking for reforms will free your nation. H. Ford Douglas put it nicely: "There is as much force in a black [Brown, red, etc] man's standing up and exclaiming after the manner of the 'old Roman' - 'I am an American citizen,' as there was in the Irish man who swore he was a loaf of bread, because he happened to be born in a bake oven... I can hate this government without being disloyal, because it has stricken down my manhood and treated me as a saleable commodity. I can join a foreign enemy and fight against it, without being a traitor, because it treats me as an ALIEN and a STRANGER, and I am free to avow that should such a contingency arise I should not hesitate to take any advantage in order to procure indemnity for the future. I can feel no pride in the glory, growth, greatness or grandeur of this nation."(2)