Downloadable Petition for Access to Law Library, Missouri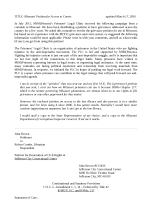 Click the PDF to download a copy of the Missouri petition to allow prisoners in Administrative Segregation to receive cases from the law library. This petition can be used on any security level where the law librarian is arbitrarily denying prisoners access to legal materials. It is meant to be rewritten by prisoners in Missouri and sent to State Representatives and the Missouri Department of Corrections (MDOC) Inspector General.
While we struggle to build public opinion for socialst revolution in the United $tates, we use the courts to fight winnable battles — battles that will help make space for our overall anti-imperialist movement. The denial of legal assistance to prisoners without active cases prevents our comrades from even beginning an active case, or studying law in order to prepare for a case. We know that most cases will not be won in our favor, but maintaining the right to challenge injustices in court try is an important part of our struggle at this stage in the game.