Strategic Confidence in the International Balance of Forces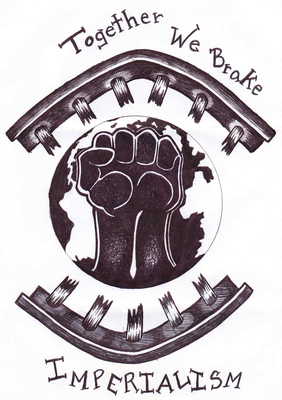 While many of our readers write to us to express the lack of consciousness and unity in the prisons where they are held, one USW comrade pointed out in ULK 31 h realization that ULK is a venue where conscious prisoners can come together and build, minimizing that isolation. We try to make ULK a tool that helps the development of the growing new prison movement. But primarily it is to be the "voice of the anti-imperialist movement" in U.$. prisons, and it is a Maoist-led project. This not only sets this newsletter apart, but makes for what we believe is a more effective way to address oppression.
Over the years, we've received comments from some USW comrades that ULK is too light on international news and analysis. With all the reader surveys we've gotten back recently, we've had many say they love the content of ULK and like to hear about similar struggles throughout the U.$. prison system. But a few have said they find the prison reporting dry and, more importantly, it does not provide a clear political message to the less ideologically developed comrades. If true this would be a grave error.
Even if we unite the handful of conscious comrades in each prison across the country, we are still only dealing with a small minority of prisoners, not to mention the whole U.$. population. One young comrade recently wrote us, "I write this because I seek advice. At times I feel like giving up trying to fight this fight because it seems like I'm here fighting by myself."
While the day-to-day struggles of USW comrades are primarily focused on the conditions of oppression that the prison masses around them face, a reformist strategy would understandably lead one to defeatism. This is particularly true if you accept our line that Amerikans in general support the current injustice system and have made it what it is today. How could asking them for change ever change anything? That is why we strive to help prisoners build reformist battles in targeted ways that build a movement, while realizing the limitations of such struggles. Campaigns for prison reform are a tactic to push the prison movement to develop.
One important piece of our strategic orientation is the strategic confidence we have from our global class analysis. Basically, our analysis says that the vast majority of the world's people, a solid 80%, will benefit materially from an end to imperialism. This is why we believe anti-imperialism is destined for success. Subjectively, this can be important to keep in mind in an environment surrounded by class enemies or by those with bourgeois consciousness.
Pulling these theoretical points together into our practice, as editor i will continue to push for international content in each issue of Under Lock & Key, as has been our policy. One way i plan to expand the international connections we make is to have a section in each issue to print news snippets on events from the Third World that demonstrate determined resistance and a broad class consciousness that is opposed to imperialism. We hope that our readers find inspiration in this information that you probably aren't getting from other news sources. With no further ado, here are a few recent events that help illustrate why we have strategic confidence in the people's struggle against imperialism.
Paktiya province of Afghanistan, 17 April 2013 - Hundreds of angry residents protested against NATO occupation troops for conducting a night-time raid that killed at least one citizen.(Khaama Press) The sentiments of the people of Afghanistan are so clear that even U.$.-backed President Karzai has continuously called for an end to these raids led by the Amerikan military.
In India it is reported that Maoist forces have established a "Red corridor" allowing troop movement between the two key fronts of the People's War in southern Chhattisgarh and Jharkhand, near Gumla. (Hindustan Times, 15 April 2013)
The Communist Party of the Philippines, which has been leading a People's War for decades, has clearly opposed the use of the Philippines to stage a U.$. war in Korea:
"With not even a hint of advocating or forging an independent foreign policy, the Aquino regime declared it an 'obligation' on the part of the Philippines to side with and support US warmongering under the RP-US Mutual Defense Treaty (MDT) of 1951. The Filipino people must take a stand and resist the Aquino regime's puppetry to US imperialism and for dragging the Philippines into intervening in the Korean Peninsula and the Asia-Pacific. Such a policy endangers the Filipino people."(CPP Ang Bayan, 10 April 2013)
Meanwhile, Hezbollah's Nasrallah said in a TV statement, "Syria has real friends in the region and the world that will not let Syria fall in the hands of America, Israel or Takfiri (extreme jihadi) groups."(The Guardian, 30 April 2013) Russia and Iran continue to support the Syrian government, while Obama threatens intervention and Israel has reportedly bombed the capital of Damascus. This over two year "civil war" is an example of why we say World War III is already here, and it is characterized by U.$. hegemony and low-intensity warfare in the Third World involving both local interests and the conflicting interests of the imperialist camps.
In South America, indigenous people have once again interrupted construction of the Belo Monte Dam in Brazil. Hundreds of people including, "Munduruku, Juruna, Kayapo, Xipaya, Kuruaya, Asurini, Parakana, Arara, fishermen and peoples who live in riverine communities" occupied the site releasing a statement that read, in part,
"You invent stories that we are violent and that we want war. Who are the ones killing our relatives? How many white people have died in comparison to how many Indigenous people have died? You are the ones killing us, quickly or slowly. We're dying and with each dam that is built, more of us will die. When we try to talk with you, you bring tanks, helicopters, soldiers, machineguns and stun weapons."(Earth First! News, 2 May 2013)
Finally, in Ecuador, the media has covered the continuing struggle of the Wuaroni and Kichwa people who have pledged to fight to the death to keep oil operations out of their homeland in pristine Amazon rainforest habitat. Both struggles stand strong against formidable opposition of the local state and multinational corporations.

Related Articles: