The Tragedy of Officer Woods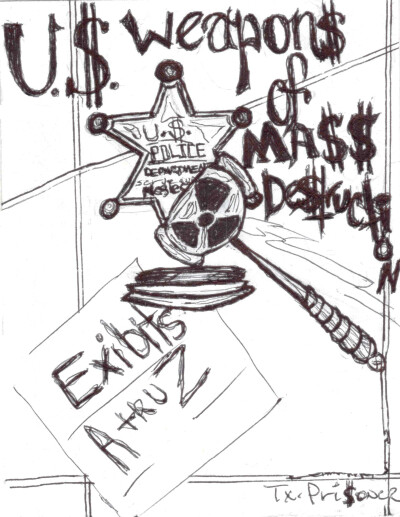 I'll never speak ill of the dead. However, if by telling their stories, we can prevent needless suffering, then those stories must be told. There is both beauty and power within our words. If we are to progress from erudite to enlightened, then we are obligated to speak effectively and responsibly. Sometimes, the greatest damage is done by not speaking up or not speaking out.
When I first saw Ms. Woods, I couldn't help but ask my neighbor "Wow! Who is that?" Oh sure, I've seen some very attractive guards down here. But this girl seemed almost too pretty to be working at a prison. My cellie spoke up and said "Do yourself a favor bro, leave that one alone. She's poison candy. Nice shiny wrapper on the outside… but completely toxic inside."
I take everything with a grain of salt down here. Surely, this was an exaggeration. I thought these two were just being cynical. Time in here has a way of making people jaded. You're either going to get better or bitter. Unfortunately, their warnings proved to be both timely and accurate. From the first moment she opened her mouth, the most venomous hatred imaginable spewed out.
For the most part, I wouldn't have to be around her very much. I'd managed to land a good job at our unit print shop. Four days a week, I'd be gone for 12 hours a day. Guards here work 4 on 4 off. So that even further reduced my chances of seeing her. I figured I could handle just about anything for 3 days. Guess I was wrong.
My very first run-in with her happened on a Saturday. I knew to be at my cell when they called count time. They came through and did their thing. Then the lights turned out. I went into the restroom to finish getting ready for visit. I heard a door pop open moments later, only to be followed by her screaming "10 bunk!" then a string of profanities. Talk about getting caught with your pants down. She walks by while I'm still on the toilet, screaming, "You're getting a case!"
My neighbor walks over and says "She took your I.D. bro! And your house is thrashed!" Sure enough, I get back to my cubicle and it's a mess. Everything is on the floor. She wasn't even doing a search. She simply did it out of spite. By the time I get things almost back in order, it's about to be lunch. She's still got my I.D. card, but now she's nowhere to be found. Great. Hopefully, I can track her down before I get called in for visit.
Sure enough, lunch rolls around and I gotta tell them to punch in my number. "Ms. Woods took my I.D." The guard at chow hall looks up and smiles, "Sucks to be you!" By the time I get back to the wing, they call me for visit. I leave to find the sergeant to explain that I can't get into visitation without it. He tells me, "She probably went on break to write you up. Don't worry about the case. I got you. From now on, you'd better steer clear of that one! Got it?"
The weeks fly by, and I'm fortunate enough to only see her in passing. Oh sure, she's definitely pretty to look at, but now I avoid her like the plague. All I'm trying to do is stay out of their way.
One day my boss at print shop says "Okay, shut it down. They're racking up the farm." We get out to the back gate and they make me sit down. All these guards go running past us headed for one building.
Two guards are talking between themselves, but we can hear over the radio chatter that there has been another assault on staff. Now these guards start to argue, "Look, I don't care where you put them! But they gotta be out here so that ambulance can come in!"
By the time we get back to our own building, all hell has broken loose. We can hear the warden's voice on another radio screaming, "LOCK IT DOWN!!" They got one of the halls blocked off. As we walk by to go back in our wing, we can see all these burgundy pools of coagulated blood. This is bad.
Soon as we walk in, they ask me, "Did you hear about Officer Woods? DUDE … he beat the brakes off of her!" I look down at him and ask, "Who?" his eyes get real big when he says "Smitty! I thought y'all knew. Man … he just flipped out! Followed her right out the door into deep space, knocked her out, and then went to WORK on her! After that they say he just walked up to the desk and turned around so they could put the cuffs on him."
After three weeks of lockdown, we were finally able to go back to work. Then I learned the rest of the story. Seems that while Smitty was off work on his bereavement, Woods went in and tossed his cell. The straw that broke the camel's back was when she took his pictures off his wall. You see … this poor man had just lost his mother, sister and baby daughter, all in quick succession within about six weeks of each other.
Now, of course, I wasn't there to see it, but everybody says he got down on his hands and knees to BEG that woman not to take those precious photos. I'm told that even after he explained their sudden deaths, she callously laughed in his face and said "Forget your dead family." Only she chose to use a different "F" word.
That beating wasn't what killed her. It was the lifestyle. Reports say that they saved her life multiple times, both on the way to the hospital and in the operating room once she got there. There was extensive reconstructive surgery. Nobody will even know the full extent of the traumatic brain injury. It's often those scars on the inside, that just won't heal.
After a few months off, she returned to work. Doctors had done an amazing job, considering the extent of her injuries. Her entire face was pulverized. Oh, she was still somewhat pretty. But those drop dead gorgeous, model-quality features, were long gone. Her nose, eyes and cheekbones weren't the same. People couldn't tell if they were dentures or implants, but that smile would never be the same either.
You see … all along, she'd been manipulated and exploited by the gangs. For almost her entire tenure, she'd been smuggling in dope and cell phones. The perverts had simply preyed on her own insecurity. How could somebody so stunning on the outside be completely devoid of the true beauty that only comes from within? The only way prison officials ever found out about her activities was when they busted somebody with one of those phones.
The photos and videos were as numerous as they were explicit. So was all that contact information. It was a treasure trove of evidence. She'd also been prostituting herself. The predators had simply used her, then discarded her like some piece of garbage. Administration walked her off the unit in disgrace.
In the end, the prosecution's job would be easy. She was facing a long list of criminal charges. I suppose the stress of an impending court trial, along with everything else, simply proved to be too much for her. I was SOOOO HOPING that all those rumors weren't true. Unfortunately, she really did it. Ms. Woods died of a single gunshot wound to the head. She put the pistol in her mouth – just to stop the pain.
We found out about officer Woods' suicide in 2019. A few months ago, we found out that Ms. Davis had met a similar fate. We are still unclear as to whether her death was a suicide or accidental overdose. The specifics of each of these tragedies is not nearly as important as the root causes of the problem, which remains the Texas Department of Criminal Justice. TDCJ does not care about stopping the rampant corruption and injustice here in Texas. Everyone from the newest correctional officers to the top administrative officials are complicit and therefore profits from this malfeasance!
---
MIM(Prisons) adds: We have seen some interesting things in the last year or so. Some prison systems have instituted egregious restrictions on mail claiming it was used to smuggle drugs, and all prisons locked down completely with no visitors for months due to the global pandemic. Yet, reports from prison after prison, from state to state to the feds, have unanimously reported no change in the availability of contraband during these periods.
The imperialists portray ending crime as a great mystery that can't be solved, a timeless problem that we can only respond to with force and punishment. This is metaphysics, it fails to look at the past, at humyn societies before classes and poverty, at countries who built socialism and virtually eliminated drug abuse, prostitution, theft, hunger, homelessness, etc. These things go hand-in-hand. Our crime-ridden society is not eternal, it stems from our economic system and is reinforced by the cultural ideas that come with such a system. Changing the economic system is hard, it will take determination and sacrifice by many. But once we do, ending so much needless suffering and conflict between humyns is not so hard.