In Remembrance of the Attica Uprising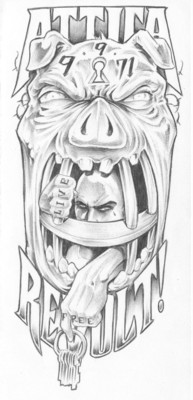 In 1970 few of Attica's captives made more than 6 cents a day and the state's food budget was a meager 63 cents per day per prisoner, causing able-bodied men to go to bed hungry in, of all places, the United $tates of America! These same men were also only allowed 1 shower per week & spent 15-24 hours everyday locked in tiny cages as if they were some type of exotic bird. For prisoners from the New York City area it would cost loved ones over $100 in travel expenses to visit and 24 hours of time away from work, school, etc., leaving no realistic way for those struggling to provide help to their loved ones in the future if they did in fact decide to visit.
With money being a known issue for these poor Black and Brown prisoners, doctors at Attica Correctional Facility would offer these men money to be "volunteers" as subjects for exposure to a test virus.(1) Albeit, these men were made to sign informed consent agreements being denied access to real vocational & educational training opportunities and/or drug programs. How "informed" were they really? Only 1.6% of Attica's operating budget was allotted to academic & vocational training. That is 1.6% out of 100%! So, malnourished, ignored, & hindered from life skills, "They'd need to fight the invisibility that comes with being poor… They would have to work just to learn!" (quoting imperialist Michelle Obama) And "a riot is the language of the unheard." (Dr. Martin Luther King Jr.)
What was falling on deaf ears were a list of 15 "practical proposals" by these oppressed prisoners, which could've been easily agreed to putting an end to this uprising. Question: Why not "allow all inmates at their own expense to communicate with anyone they please"? (Request #5) Why not "when an inmate reaches conditional release, give him a full release without parole"? (Request #6) Why not "institute realistic rehabilitation programs for all inmates according to their offense & personal needs"? (Request #8) Why not "educate all Correctional Officers to the needs of the inmates, i.e. understanding rather than punishment," (Request #9) & so on & so forth.(2)
Instead government would rather send in armed troopers, policemen, Correctional Officers, Conservation Corps helicopters that would drop C.S. gas [orthochlorobenzylidene] that would hang suspended in the air causing tearing, nausea, & retching in anyone that inhales it. Instead, Governor Rockefeller via Executive Order No. 51, even after all inside were immobilized by the gas, would give the command: "Tell all your units to move in!" Cosigning the murder of hostages and prisoners alike. "Trooper Gerard Smith … saw a trooper approach a prisoner who was lying still on the pavement and shoot him in the head."(3) "It was very painful to see all these old & crippled guys getting shot … They were in D yard because they had no place else to go."(4) "Another prisoner who had been shot in the abdomen & in the leg was ordered to get up and walk, which he was unable to do. 'The trooper then shot him in the head with a handgun.'"(5) "Guard Robert Curtiss also felt the fear of imminent death when a trooper kept knocking him over every time he tried to sit up. He shouted… that he was an officer, but still had to beg the trooper not to shoot him."(6) "Ultimately … 128 men were shot – some … multiple times … 9 hostages were dead & … 29 prisoners had been fatally shot."(7) Another hostage in critical condition would later die, pushing the total to 10 hostages killed. "The most tragic thing about the bloody riot & massacre … is that it could have been avoided. If the state had listened to warnings from correctional officers, if administration had shown a modicum of sensitivity in providing for the inmates – if the state had just listened, the revolt might never have occurred!"(8)
For this carnage, escalated by the state to a protest for civil rights and basic liberties, you must blame someone and so you charge 63 prisoner survivors with 1,289 crimes, and not 1 single trooper or guard was indicted. However, some of these survivors continued to fight & share their little light on the hidden truth(s) and via civil rights litigation would win their lawsuit against one man, Attica's deputy superintendent Karl Pfeil. But, "if any defendant was found liable, the state was liable, and this was no small thing."(9)
On 5 June 1997, they awarded one of the survivors "Big Black" $4 million in damages. The state would recoup for these losses by underhandedly paying hostage survivors and surviving family members from the workman's compensation fund, knowing that these people could no longer sue under NYS law because they had elected a remedy the moment they cashed these much needed checks. This is after 2,349 - 3,132 lethal pellets from shotguns were fired indiscriminately in Attica's D yard; 8 rounds from a .357 caliber; 27 rounds from a .38 caliber & 68 rounds from a .270 caliber, [not to include C.O.'s and other members of law enforcement] fully aware that not 1 prisoner or hostage had a single firearm.
You don't show a modicum of remorse & pay everyone their just due, but instead you con and scam the dead in the name of budgeting. "40 years after the uprising of 1971, conditions at Attica were worse than they had ever been … by 2001 the Department of Correctional Services had cut over 1200 programs providing services to inmates that were there in 1991."(10) I wonder how much more money they'd save if they cut out prison & kept the programs? There will be more Attica's until Federal and State governments and the American people accept their responsibility to establish minimum standards of decency & respect for human rights in our prisons. We cannot afford to wait for new explosions." (Senator Jacob Javits) Instead of waiting for "new explosions" why not get rid of the powdered keg altogether… prisons!
In remembrance of Sept. 9, 1971 REST IN POWER
---
MIM(Prisons) adds: This issue of ULK is inspired by recent scholarship by Orisanmi Burton, that centers around Attica. One of the points made by Burton is about the revolutionary vision of leaders in Attica and other contemporary organizing efforts, some of which included the same people. These were people who were members of or worked closely with formations like the Black Panther Party, Young Lords Party, Republic of New Afrika, the Puerto Rican Nationalist movement, etc.
One of the conclusions drawn from this is that the reformist demands listed by the comrade above were merely a campaign, with obvious and reasonable demands, that would appeal to the broadest sectors in this country. These reformist demands were not the be all end all goals for many of the leaders involved in these movements. They were winnable demands within a broader strategy for total liberation from oppression.
Notes:
1. Dr. Michael Brandriss, Interview Transcript, Aug. 18, 2012, Criminal Injustice: Death & Politics at Attica, (Blue Sky Project 2012).
2. Richard X Clark, Testimony, Akil Al-Jundi et al. v. The Estate of Nelson A. Rockefeller et al., October 25, 1991, 131;133.
3. Heather Ann Thompson, Blood in the Water p. 183 (Vintage Books)(2016).
4. Ibid. @ p. 184
5. Ibid. @ p. 185
6. Ibid @ p. 186
7. Ibid @ p. 187
8. Ibid. @ p. 260
9. Ibid. @ p. 477
10. Ibid. @ p. 567