Downloadable Grievance Petition, Texas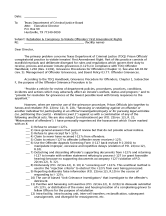 Mail the petition to your loved ones and comrades inside who are experiencing issues with their grievance procedure. Send them extra copies to share! For more info on this campaign, click here.
Prisoners should send a copy of the signed petition to each of the addresses listed on the petition, and below. Supporters should send letters on behalf of prisoners.
TDCJ Legal Affairs
Attn: Leonard Peck
P.O. Box 99
Huntsville, TC 77342-0099

TDCJ - Office of the Inspector General
Investigations Department
P.O. Box 4003
Huntsville, TX 77342-4003

United States Department of Justice - Civil Rights Division
Special Litigation Section
950 Pennsylvania Avenue, NW, PHB
Washington, D.C. 20530

Office of Inspector General
HOTLINE
P.O. Box 9778
Arlington, Virginia 22219

State Bar of Texas Grievance Commission
1414 Colorado
Austin, TX 78701-1627

ACLU of Texas
William Harrell, Executive Director
P.O. Box 3629
Austin, TX 78764-3629

Committee on Criminal Justice
Sen. John Whitmire
P.O. Box 12068
Capitol Station
Austin, TX 78711

Governor Rick Perry
1100 San Jacinto
Austin, TX 78701

Senator John Whitmore
Committee on Criminal Justice
P.O. Box 12068
Austin, TX 78711

TX Civil Rights Project
Attn: Atty Scott Medlock
1405 Montopolis Dr.
Austin, TX 78741-3438

Brandi Grissom
Texas Tribune
823 Congress Ave., Suite 210
Austin, TX 78701
And send MIM(Prisons) copies of any responses you receive!

MIM(Prisons), USW
PO Box 40799
San Francisco, CA 94140
*Petition updated September 2011, January 2012, July 2012, January 2013, October 2013, August 2014, and October 2017*