Downloadable Grievance Petition, Illinois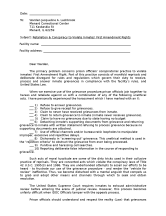 Mail the petition to your loved ones and comrades inside who are experiencing issues with the grievance procedure. Send them extra copies to share! For more info on this campaign, click here.
Prisoners should send a copy of the signed petition to each of the addresses below. Supporters should send letters on behalf of prisoners.


John Baldwin, Acting Director, 1301 Concordia Court, PO Box 19277, Springfield, IL 62794-9277

US Dept of Justice, Civil Rights Div, 950 Pennsylvania Ave., NW, PHB, Washington, DC 20530

And send MIM(Prisons) copies of any responses you receive!

MIM(Prisons), USW
PO Box 40799
San Francisco, CA 94140