Guantanamo Diary Book Review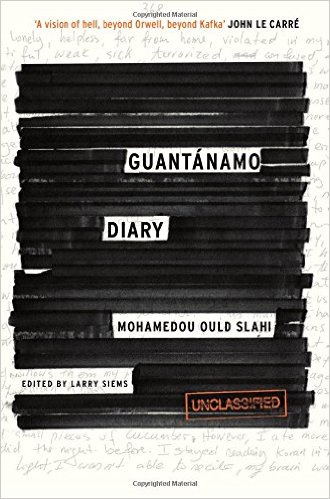 Guantánamo Diary
by Mohamedou Ould Slahi
2015
Mohamedou Ould Slahi has been held in secret detention centers by order of the Amerikan government since 2001, first in Mauritania (the country where ey was born), then in Jordan, and finally in 2002 in Guantánamo Bay where ey is still imprisoned. Slahi voluntarily turned emself in to the Mauritanian police on 29 September 2001; sure that ey would quickly be cleared since ey was innocent of any crimes. Instead ey faced years of torture, through which ey initially maintained eir innocence, until it became clear that ey would never be released and ey could no longer stand the suffering. After that point Slahi began to confess to anything eir captors wanted em to say. Slahi still occasionally told them the truth when they asked directly, but for the most part their stories were not possibly consistent or confirmable since the "confessions" were entirely fabricated. But after ey began to make false confessions and falsely implicate others Slahi was allowed to sleep and eat, and the extreme physical abuse stopped. The details of eir torture will make readers wonder how Slahi held out for so long.
Slahi started writing down eir experiences in 2005 (after ey was finally given paper and pen) and after many years of legal battles eir heavily censored manuscript was finally released by the Amerikan government. This book is an edited version of Slahi's story, complete with the original redactions. The editor, Larry Seims, includes some speculation about what is behind the redactions and documents other declassified information that corroborates what Slahi wrote. In spite of heavy censorship, the released manuscript includes surprising detail about Slahi's experience including years of torture, the clear evidence that ey is innocent, and the Amerikan government's desire for a false confession.
The book is written in English, Slahi's fourth language, one that ey learned in prison in order to better communicate with eir captors and understand what was going on around em. For six and a half years Slahi's was allowed no contact with the outside world and was even hidden from the International Committee of the Red Cross (ICRC) which has a mandate under the Geneva Convention to visit prisoners of war and others detained in situations like Slahi's to ensure humane treatment. For the first year of incarceration Slahi's family didn't even know where ey was, they found out when one of eir brothers saw an article in a German newspaper. In 2008 Slahi was finally granted the "privilege" of twice-yearly calls with family. In 2010 Slahi's petition of habeas corpus was granted by the DC Circuit Court of Appeals, ordering eir release. But the Obama administration filed an appeal and Slahi remains in custody.
Amerikan Imperialist Global Domination
The many people who were arrested and kidnapped from their home countries to be sent to Guantánamo Bay underscore the neo-colonial status of those countries. As Slahi explains "November 28th is Mauritanian Independence Day; it marks the event when the Islamic Republic of Mauritania supposedly received its independence from the French colonists in 1960. The irony is that on this very same day in 2001, the independent and sovereign Republic of Mauritania turned over one of its own citizens on a premise. To its everlasting shame, the Mauritanian government not only broke the constitution, which forbids the extradition of Mauritanian criminals to other countries, but also extradited an innocent citizen and exposed him to the random American Justice."(p. 132)
When the ICRC finally got in to see Slahi, the last detainee they were allowed to visit, they tried to get em to talk about abuse ey experienced. "But I always hid the ill-treatment when the ICRC asked me about it because I was afraid of retaliation. That and the fact that the ICRC has no real pressure on the U.S. government: the ICRC tried, but the U.S. government didn't change its path, even an inch. If they let the Red Cross see a detainee, it meant that the operation against that detainee was over."(p. 348)
This book underscores the power of Amerikan imperialism to do whatever it likes in the world. There is no government or organization able to stand up to this power. This is something that many Amerikans take pride in, but this is the power of a people who seek to dominate the world for economic gain. When the oppressed fight back, that power is deployed to squash the resistance by any means necessary. Of course there is a contradiction inherent in this power: Amerikan imperialist domination breeds resistance from the oppressed around the world. So-called terrorist attacks on Amerikan targets are responses to Amerikan terrorism across the globe.
As Slahi noted when ey was watching the movie Black Hawk Down with a few of eir guards: "The guards went crazy emotionally because they saw many Americans getting shot to death. But they missed that the number of U.S. casualties is negligible compared to the Somalis who were attacked in their own homes. I was just wondering at how narrow-minded human beings can be. When people look at one thing from one perspective, they certainly fail to get the whole picture, and that is the main reason for the majority of misunderstandings that sometimes lead to bloody confrontations."(p. 320)
We would not agree that it is just misunderstandings that lead to these bloody confrontations. Rather it is the blood thirst of imperialist aggression constantly seeking new sources of exploited and stolen wealth that inevitably leads to bloody confrontations.
While Slahi is far from politically radical, eir experience educated em in the reality of injustice and the definition of crime by those in power. Writing about eir arrest and initial imprisonment in Mauritania: "So why was I so scared? Because crime is something relative; it's something the government defines and re-defines whenever it pleases."(p. 92)
War on Islam
The target of Amerikan aggression changes depending on where there is the most resistance to imperialism. Back in the mid 1900s it was focused on the communist countries, this shifted to the "War on Drugs" and attacks on Latin America in the late 1900s, and then to the Arab world in the early 2000s. Slahi is acutely aware of this latest wave of aggression by the Amerikan imperialists targeting Islam and the hypocrisy of this attack:
"...Americans tend to widen the circle of involvement to catch the largest possible number of Muslims. They always speak about the Big Conspiracy against the U.S. I personally had been interrogated about people who just practiced the basics of the religion and sympathized with Islamic movements; I was asked to provide every detail about Islamic movements, no matter how moderate. That's amazing in a country like the U.S., where Christian terrorist organizations such as Nazis and White Supremacists have the freedom to express themselves and recruit people openly and nobody can bother them. But as a Muslim, if you sympathize with the political views of an Islamic organization you're in big trouble. Even attending the same mosque as a suspect is big trouble. I mean this fact is clear for everybody who understands the ABCs of American policy toward so-called Islamic Terrorism."(p. 260-61)
Slahi also documents the denial of religious practice in detention camps:
"But in the secret camps, the war against the Islamic religion was more than obvious. Not only was there no sign to Mecca, but the ritual prayers were also forbidden. Reciting the Koran was forbidden. Possessing the Koran was forbidden. Fasting was forbidden. Practically any Islamic-related ritual was strictly forbidden. I am not talking here about hearsay; I am talking about something I experienced myself. I don't believe that the average American is paying taxes to wage war against Islam, but I do believe that there are people in government who have a big problem with the Islamic religion."(p. 265)
Slahi misses that this chauvinism is not at root a problem Amerikans have with the Islamic religion. Rather it is a problem they have with oppressed people who rise up to oppose Amerikan imperialism. Islam is just one of many targets because it is a religion of the oppressed. The Amerikan government (and its people) had no problem with Islam when al-Qaeda was an ally in the fight against communism. In fact Slahi himself trained with al-Qaeda for six months in Afghanistan, but this was during the time when that group was supported by the Amerikan government and fighting against the Soviet-backed government in that country. This action was legal for Mauritanian citizens, and in fact encouraged by the Amerikan government. Nonetheless this fact became one of the cornerstones of the Amerikan insistence that Slahi was behind the World Trade Center attacks, among other things.
Will Amerikans Oppose Torture?
After years of torture and unjust imprisonment at the hands of the Amerikan government Slahi remains relatively moderate in eir views about the country and its people. Ey sees fundamental good in all people, a view that communists share, but one that has blinded Slahi to the economic interests of the vast majority of Amerikans which leads them to support the torture in Guantanamo even after reports like this one are released.
"What would the dead average American think if he or she could see what his or her government is doing to someone who has done no crimes against anybody? As much as I was ashamed for the Arabic fellows, I knew they definitely didn't represent the average Arab. Arabic people are among the greatest on the planet, sensitive, emotional, loving, generous, sacrificial, religious, charitable, and light-hearted.... If people in the Arab world knew what was happening in this place, the hatred against the U.S. would be heavily watered, and the accusation that the U.S. is helping and working together with dictators in our countries would be cemented."(p. 257)
The reality is that most people in the Arab world do know about Amerikan injustice. In fact, in Mauritania the police told Slahi "America is a country that is based on and living with injustice"(p. 134) when Slahi asked why they were extraditing em when they believed ey had already proven eir innocence. And it is this knowledge that leads to many taking up the fight against Amerikan imperialism. At the same time most Amerikans now know about the torture of detainees at Guantánamo Bay and still public sentiment is far from outraged at these actions. Large portions of the population rally around political figures like Donald Trump when ey calls for more torture.
From all of this we see further evidence for the potential of Islam as a liberation theology for those fighting against Amerikan imperialism. Just as the masses in Latin America were drawn to Catholic liberation theology as a reaction to oppression and injustice in that region, segments of any religion are likely to adapt to popular sentiments. Liberation theology was a valuable ally for the revolutionaries in Latin America.
Regardless of the format this liberation struggle takes, we know that the oppressed people of the world can not wait around for Amerikans to wake up and stop the torture themselves. Now more than a year after Slahi's book was released (which even spent some time on the best seller's list), still nothing has been done about eir situation. The masses must liberate themselves; their captors will never willingly give up power. And the Amerikan people are enjoying the spoils of the captors, so most Amerikans are happily going along with imperialist torture worldwide.

Related Articles: