Consolidating USW Leadership thru Organization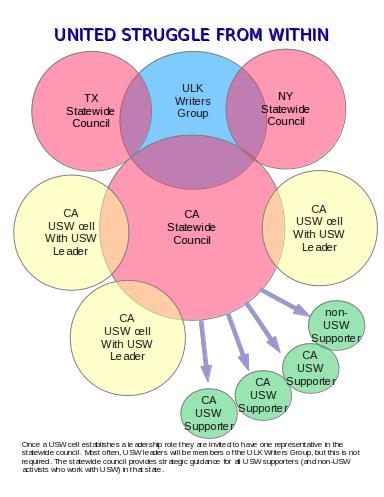 [At our 2012 Congress MIM(Prisons) decided to begin the process of building statewide councils to develop USW and its leadership. That winter the work began to set up the first council in California. This coincided with a renewed round of strikes in the state involving more than 30,000 prisoners. As activism spread, so did invitations to join the council. In short time, lack of participation cut the membership back down. For about a year and a half now, leading USW cells in California have been participating in the council on a regular basis, struggling over theoretical and practical questions of organizing the prison movement. This article is by one participant in the USW California Council discussing some of the issues the council has tackled.]
The United Struggle from Within (USW) political line is anti-imperialist, as those behind the walls recognize the penal system and its institutions as an extension of imperialism. Therefore our struggles include both domestic and international issues. As a generated organism from the Maoist Internationalist Ministry of Prisons, or MIM(Prisons), some within USW have taken up MIM line while others have not yet. USW is an eclectic group of anti-imperialist prisoners working in cells, individually or in a coordinated groups through MIM(Prisons) guidance. Our revolutionary activities can vary according to each cell and location. This makes USW a multi-issue mass organization.
It is important to have USW comrades focus on campaigns that are relevant to their conditions. For instance, field reporting is universally applicable. But those doing indeterminate SHU sentences should focus on getting policies changed or bring up campaigns to shut down control units, while other comrades on mainlines could organize a cell of like-minded comrades, set up study groups, and raise other campaigns. We can all contribute to fighting censorship and other legal actions that can benefit all prisoners if won in court.
Each USW cell works in the framework of bringing the humyn rights of prisoners to the forefront. It is no surprise prisons are swamped with internal semi-colonies, with the long sentences, new detrimental laws that disproportionately affect oppressed nations, and other practices of the criminal injustice system that contribute to the mass incarceration of oppressed nations. This injustice must be brought to the public. Comrades from USW use propaganda as a tool to reach the masses who are sympathetic or will become sympathetic. We utilize Lenin's method of having Iskra as his party's way to get the written word out to the masses by making use of Under Lock & Key to advertise our campaigns, our polemics, our developing theories, or just to expose the negative conditions in prisons. ULK is our voice behind the walls.
USW are we the cadre?
Recently there has been an open polemic in regards to USW. Is it just a mass org without a leadership role or does it have leadership influence, and because of this should it no longer be considered a mass org? Well to apply dialectic materialism to this topic I would say USW is a mass organization formed in part by MIM line. "All correct leadership is necessarily 'from the masses, to the masses.' This means: take the ideas of the masses (scattered and unsystematic ideas) and concentrate them (through study turn them into concentrated and systematic ideas) then go to the masses and propagate and explain these ideas until the masses embrace them as their own, hold fast to them and translate them into action and test the correctness of these ideas in such action. Such is the Marxist theory of knowledge."(1)
USW is guided by MIM(Prisons), leading revolutionary work at their location. Accumulating experience and knowledge while engaged in this work, many USW comrades aren't spontaneous in heading into revolutionary activity, as this would probably prove disastrous if a comrade knows very little of what exactly to do. For this reason MIM(Prisons) has study cells welcoming those ready for revolutionary theory education that is Maoist in content. There are even advanced levels for those who wish to continue into the ULK Writers Group, the most advanced Maoist study cell from which stem numerous USW comrades or cadres.
I use the term "cadre" for reasons of revolutionary language because it permits no dual meaning in our propaganda, and I utilize Che Guevara's definition herein:
"What is a cadre? We should state that a cadre is an individual who has achieved sufficient political development to be able to interpret the larger directives emanating from the central authority, make them his own, and convey them as an orientation to the masses: a person who at the same time also perceives the signs manifested by the masses of their own desires and their innermost motivations."(2)
It can be said that any well politicized USW comrade is a cadre behind the walls as we need not receive directives from MIM(Prisons) to know how to organize and commit ourselves to a campaign. Yet revolutionary learning is limitless and anyone wishing to engage in polemics or just learn from other comrades can do so by either writing in to the MIM(Prisons) USW coordinator, joining a study cell run by MIM(Prisons) or reading up on ULK and writing in.
The Statewide Council
The momentum created by USW cells throughout California prisons has brought us our own revolutionary council where pressing topics are discussed, and polemics, strategizing and other matters will be addressed. Through discussion and the democratic process we have passed resolutions to set the standards for USW cells joining the council. Resolutions passed so far include: time frames for when members must respond to council discussions, requirements that each cell vote on each proposal and provide justification for their votes, minimum study requirements before a representative can join the council, and requirements that each USW cell with representation in the council should put in at least 10 to 40 hours a week of revolutionary work. i.e. study, writing articles, making political art, etc. Cells are required to keep track of their work and report it monthly to build discipline.
The California Council has also built a treasury that we have been using to fund bonus pages in ULK. Our council has brought forth double the amount of donations than all other California comrades during a recent 6-month period. We recently finished a California-specific introductory letter for USW that went out to all existing members in June. We have had a slow start but overall we have established a steady pattern of discussion and work.
Amongst our struggles behind the walls, we will often have obstacles such as comrades abandoning a campaign or legal battle, or who just stop checking in with the council, USW or the ULK Writers group to pursue personal agendas and leave behind their revolutionary work. Our California Council and USW are a product of work and effort by politically conscious prisoners having a strategic goal in mind, be it anti-imperialist, shutting down control units, or prisoner humyn rights reform. The point is that our goals, strategic and tactical, are to struggle through the momentum whether it's low or high! Our focus is to work together for change and we hope our efforts, our resolve, inspires others to join our struggle behind the walls. Our struggle for humyn rights is a pressing issue for the comrades suppressed in solitary confinement, so contributing to litigation campaigns are essential but not our only venue! We need to be organized, we need to agitate and utilize propaganda as a tool in order to apply revolutionary practice!
We seek comrades who have a fair grasp on revolutionary theory. No comrade needs to be an expert, we are all still learning from each other, our USW work, and how to concentrate our USW branches through practice within our revolutionary California Council.
So I can say USW Council representatives are our cadres behind the walls, forging revolutionary discipline, education, legal assistance, study groups, etc. If comrades get transferred to another yard or prison we can expect them to do the same at their new location. And we do our work discreetly to not draw unwanted attention, thus maintaining all within USW cell security.