Immigrants, Migrants, and U.$. Citizens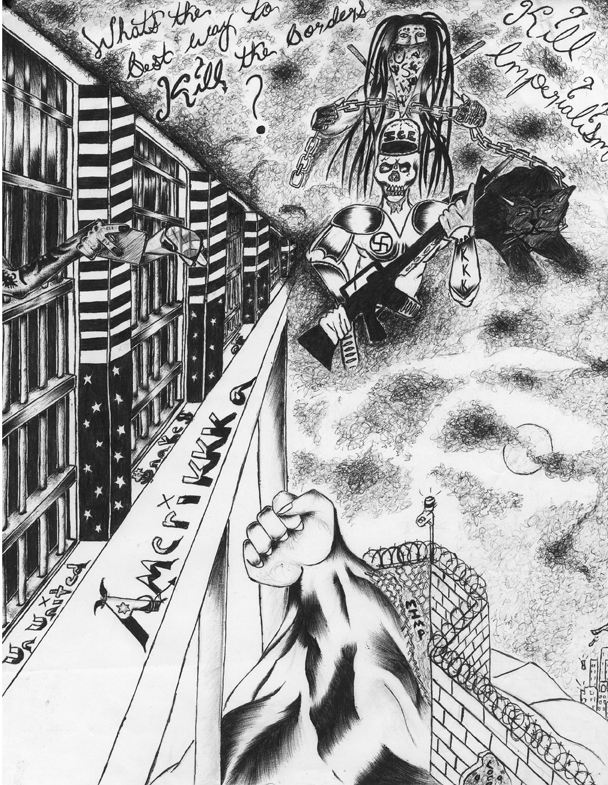 The U.$. is the melting pot of the world. A little bit of everybody and everything dwells in this land. It's the land of opportunity, what do you expect? From the North to the South, and the East to the far West people are tearing down doors to get over to this sorry motha fucka. It's the land of opportunity alright. The opportunity to get beat down, stepped on, and spit all over.
While the people of Third World or impoverished countries are under the perception that this is the place to be, and try to get here. The military agency ICE is sitting right at the top of that barb wired chain linked fence waiting for that opportune time to jump on their back and either allow the exploitation of their labor or send them back to the fucked up environment in which they're running from.
Being an individual born over here in these ununited $tate$, living amongst the imperialists themselves, one might take my opinion of the issue dealing with the border situation, or the incarceration of brothas from other countries who wish to better their situation by taking just a little bit of what these imperialistic snakes have taken from them, as a person who's looking in from the outs.
But trust and believe I'm a brotha looking in from the in. I ain't no U.$. citizen, and I damn sho ain't no Amerikkkan. My pops is of Somoan decent and my moms is a descendant of Africa. Period. I'm an immigrant along with every other individual in this ununited country who isn't indigenous.
Ol Chris and his squad came over here from Europe running from their fucked up conditions looking to receive an opportunity to better their situation and their queen's capitalistic hunger. Where was ICE then? On the same Mayflower boat that brought the first load of African slaves. He probably was the motha fucka who was drivin the boat. When you think about the foundation of the U.$. as an ununited country you should think about immigrants, and border hoppers. Everything from the English, Germans, the French, Dutch, and the Irish were the ones who entered this land trespassing on the Natives.
The only difference from them and many of the Third World countries is they can't stand in the sun too long without being physically burned by father sun, they don't have tight eyes or natted hair, and they don't know the first thing about communism. They are white. They only seek the growth and development of their white imperialistic race, and the destruction of the Third World people and the communistic spirit.
Now I'm not pulling the race card here so don't take it as such. But in order to effectively deal with this issue we must address the underlying fact of the imperialist's white supremacist ideology and concept of white supremacy. Since the beginning of colonial expansion, the white man has been advocating a campaign that he is the superior man of planet earth and all will bow down to him and give praise to him and his seed. In this campaign he has declared war on all nations not acknowledging this supposed superiority and attempted to not only suppress these nations, but knock them out of existence (ie. the First Nations of North America).
When the African slaves began running away from their masters and causing Lady Liberty a great pain in her ass, the Europeans quickly responded with the KKK who in turn attempted to discourage Africans from running off through terrorist attacks. It's no different today except they leave the white robes and swastikas at home. When you think about the ICE agency and what they're all about, all you're missing is the robe and shit.
They allow the poor nations to come over here via border jumping, get a job in the cotton fields, or warehouses, then as soon as they don't need the cheap labor force any longer they either send them to one of the new "social control camps" or knock them out of U.$. existence by sending them back to their imperialist war stricken country.
Hate it or love it, accept it, or reject it. The only way to kill the border problem is by killing imperialism and the ideology that keeps it living.
MIM(Prisons) replies: While overall correct, this comrade fails to distinguish between citizenship of a country and nationality. We agree that, in this country, to be on the side of the oppressed one must renounce any membership in the amerikan nation. We also agree that there are many nations within North America and many of them face oppression by the amerikan and kanadian nations. This is seen in the denial of land rights, mass imprisonment, chemical warfare through narcotics, high death rates from preventable illness and police state terrorism.
However, being a member of an oppressed nation in North America does not mean you're not a citizen. The difference being that, as a citizen, you can legally work and earn exploiter level wages for that work, even if it's harder for you to get than your fellow white citizens. Though migrants often can make much more than their sisters in the Third World, they face exploitation here in the united $tates, and other forms of oppression most legal citizens don't need to fear.
We do agree with the idea that this comrade is not a u.$. citizen because of h position as a prisoner of the state. We look to both prisoners and migrants as potentially revolutionary forces within the u.$. because they do not enjoy full citizenship rights. Aside from the fact that more and more prisoners are migrants, this is the connection that makes the migrant issue very relevant to u.$. prisoners. National liberation struggles will be led by those among the oppressed who have a strong interest opposed to imperialism.
The analogy between ICE and the KKK is right on, though we'd say that the Minutemen are the more direct comparison. ICE differs in that they are very well paid for what they do, not just volunteers for their nation. They both play the role of managing nations of exploited people for the profit of their nation.
One final note on definitions, a question that has come up in discussing this issue is how we use the terms "migrant", "immigrant" and "non-citizen." As stated above, non-citizens are people without legal citizenship rights, and in the u.$., prisoners, while usually legally citizens, might be included in this group or at least considered partial citizens. Immigrants and migrants are both not citizens of the united $tates. But an immigrant is someone who moves to another place to live. Migrants are people who travel from place to place in order to find work. They might not have a home, but they often do have a family that they send money to and would prefer to be with.