Book Review: Eastside Dreams by Art Rodriguez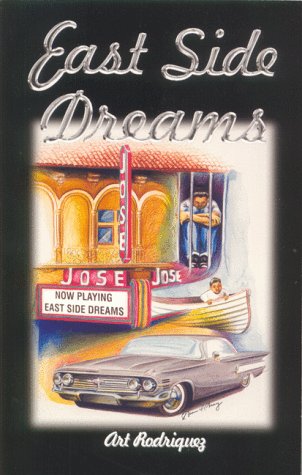 In my research of Chican@ novelists and storytellers I stumbled upon this book by California Chican@ author Art Rodriguez.
What grabbed my attention initially was that the Author was also an ex-prisoner, as a youth he spent time in Juvenile Hall and the California Youth Authority (CYA) and specifically in Preston School of Industry where I also did a stint in as a rebellious youth.
The cover art was interesting, it was done in the genre of "Aztlán-realism" which is a style developed and coined by California prisoners which focuses on the social reality of the Chican@ nation rather than bourgeois vomit art. Aztlán realism displays our reality while raising consciousness. Rordiquez really delivers in his cover art by showing a one time landmark of San Jose, Califas which is the Jose Theater. The Jose Theater was a theater in downtown San Jose frequented by Chican@ lumpen youth. In the 1960's the author states movie tickets were 50 cents and that up until the 1990's tickets stood at a buck or two. Poor barrio youth had an alternative to the streets at an affordable price.
The author also shows an incarcerated Chican@ on the book cover, again, a true depiction of Aztlán: colonized and imprisoned. Although the story "East Side Dreams" is a childhood story of the authors' life in San Jose, Califaztlan and Rodriquez could have chosen to depict bikini-ied wimmin on a local sports team to warm up to the local Chican@ petty-bourgeoisie who would rather pretend that captivity is not part of Aztlan's social reality. Rodriquez brings Chican@ mass incarceration front and center which is refreshing.
Reading East Side Dreams brought back so much memories of my own childhood. Cruising around and hanging out with the homies, picking up and just being a Chican@ youth is all there. It's very clear that Rodriquez didn't concoct his stories from being raised in some ivy league prep school. He could have been one of my childhood homies, especially when he writes:
"Driving during 1966, sometimes the guys borrowed a car from someone or would take a car without permission. That's what I would do occasionally."
The lumpen continue in this tradition of "taking" without permission on a small scale. The lumpen may "take" from other lumpen, especially here in the $nakes where lumpen are not the lumpen of the third world and thus have more material items at hand. But this sentence reveals some truth – the lumpen will not ask permission. It is a "ballsy" lot who are most likely not to ask for permission, we will witness this during a future civil war I'm sure.
The author reveals he is the product of a Mexican migrant father and a white mother who met at a dance hall in the Barrio in East San Jose. As a result he hints at the national oppression that came with this union. For example, his mother's white father (who was ironically raised himself by his white mother's Mexican migrant boyfriend) who would tell Rodriguez' white mother Mildred not to go to the dances because he didn't want her to interact with the "bad people" (these were Chican@-Mex dances). Sadly though, Rodriguez does not analyze this and unpack why this national chauvinism ("racism") exists or how it affected him and his homies growing up amidst it. This reveals that Rodriguez's choice of either not wanting to "take his book there" (political courage), or not having the political consciousness to crack that open for us all to see.
It was nice to read about his mom opposing her father and siding with Rodriguez's migrant father, eventually marrying him, having children, and even learning Spanish to communicate and to nurture Spanish in her children. As appealing as this biography was to me in depicting barrio life, I must say the parts describing being in the concentration kamp was more interesting to me.
Rodriguez describes a scene where he's being taken out of Juvenile Hall by a "Chican@ guard" who reveals information to him whereas the white guards were menacing to him. It was interesting that Rodriguez objectively identifies the pig as a Chican@. Most would not, our mistreatment and oppression likely would have many identify the pig as many things but not Chican@. It is true that people identify as they please; a person can assimilate but without knowing what they identify as we can also identify what we perceive them to be (i.e. a blond hair, blue eyes white man or a New Afrikan womyn, etc.). We may not be right, but it's our initial perception. A pig can be a Chican@ or a Chican@ traitor; but a Chican@ nonetheless.
It would have been nice to read a more political take on this book, but it was enjoyable to read a Chican@ novelist who does not bend to subjectivity in his novel and I look forward to review his other books available.