Downloadable Petition Against Z-Unit Zoo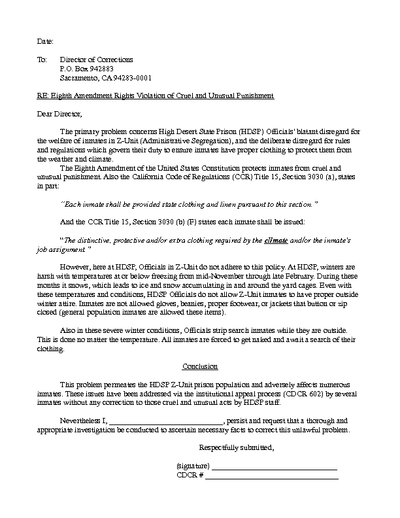 Mail the petition to your loved ones and comrades in High Desert State Prison's Z-Unit (administrative segregation) who are experiencing brutality and cruel living conditions. Send them extra copies to share! For more information on this campaign, click here.
Prisoners should send a copy of the signed petition to each of the addresses below. Supporters should send letters on behalf of prisoners.
Prison Law Office
General Delivery
San Quentin, CA 94964

Internal Affairs CDCR
10111 Old Placerville Rd, Ste 200
Sacramento, CA 95872

CDCR Office of Ombudsman
1515 S Street, Room 540 N
Sacramento, CA 95811

U.S. Department of Justice - Civil Rights Division
Special Litigation Section
950 Pennsylvania Ave, NW, PHB
Washington DC 20530

Office of Inspector General
HOTLINE
PO Box 9778
Arlington, VA 22219
And send MIM(Prisons) copies of any responses you receive!

MIM(Prisons), USW
PO Box 40799
San Francisco, CA 94140