On Fascist Censorship of 'The FBI War on Tupac & Black Leaders' in VA Prisons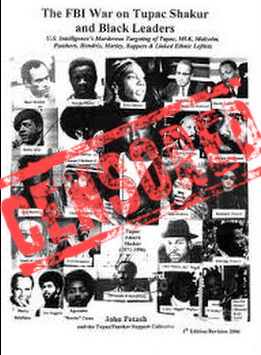 On Fascist Censorship
In early June, a book arrived here at this facility that was intended as a birthday gift from my family. The day the book arrived I asked the property officers if I had received any books and they responded "No," despite the fact that my sister confirmed that the book had arrived. When I informed the staff that I had gotten my family to track the package the staff acted even more standoffish, dismissive and suspicious. I suspected this type of behavior from the staff was due to the very controversial information contained in the book, but still, knowing my rights and also the purpose of the First Amendment I would not tolerate it without taking necessary legal action.
Almost ten days after the book had arrived the only thing I was given was a 'Notification of Publication Disapproval Form' that was signed by the Warden. But I was told the book wasn't here, correct?
The Warden, property office and mailroom clerk all stated falsely that the book contained "material that promoted violence, terrorism or criminal activity that violated state & federal guidelines." I know this is not even remotely the case, being that I actually read the book in 2014 prior to my incarceration. Knowing this I was highly offended & saw the property officer's actions and reasons for violating my First Amendment rights as not only an attempt to impede on my freedom of speech but also as an insult to my intelligence. The definition of 'promote' is 'to advocate' so I forced the staff to prove, legally, that this book, entitled The FBI War on Tupac Shakur and Black Leaders 'promoted' or 'advocated' 'violent acts' or 'terrorism.' Close examination of this book will prove anything but that.
The book actually promotes the opposite – principles almost identical with those of the United Struggle from Within and MIM(Prisons). It promotes Peace, Unity & Solidarity between tribes, gangs and lumpen organizations. And it also depicts the violent, cold-blooded & terrorist acts committed by the FBI, the CIA & local police forces in Amerikkka. We call this domestic, or, homegrown terrorism, used to reinforce the fascist policies of the capitalist social order.
My first action to get my book was to file informal complaints & grievances for violation of my First Amendment rights as well as Operating Procedures code 803.2 on the rights of prisoners receiving publications. Operating Procedure 803.2 clearly states that if the Warden or property officer found something 'questionable' about any publication or literature sent to an inmate then the inmate is to be notified and consulted before the officer in charge of passing out property takes further action. Then the inmate is given three options:
Have the book sent home.
Have the book sent to the Publication Review Committee.
Have the book destroyed.
The primary issue is that I wasn't allowed the liberty to explain to the staff what the book was really about & that I never gave them the consent to hold or send the book to the Publication Review Committee (or 'PRC'), as they claimed they had done. So, in fact, code 803.2 was violated by the property officer and the warden who signed the Publication Disapproval form which lacked my signature of consent.
This is a perfect example of fascist style censorship and violation of First Amendment rights within the Virginia Department of Corrections (D.O.C.). As Operating Procedures Code 803.2 states, "Offenders at D.O.C. institutions should be allowed to subscribe to, order, and receive publications direct from any vendor – so long as the publication does not pose a threat to the security, discipline and good order of the facility and it is not determined detrimental to offender rehabilitation." As I mentioned earlier, Potash's book would reveal to the reader that it actually promotes peace, unity & solidarity between tribes, gangs and lumpen organizations (very similar to the Maoist-promoted United Front for Peace in Prisons policies).
I also talked to an institutional lawyer who was very helpful & who also agreed with me 100% concerning the book. He looked up the title of the book while I was on the phone with him and he quickly observed, in his own words, that this was a very "historical" and "political" work. Policy 803.2 clearly states "educational and historic publications are not detrimental to offender rehabilitation" and that when it comes to disapproval of literature, "this criterion shall not be used to exclude publications that describe such [violent] acts in the context of a story or moral teaching unless the description of such acts is the primary purpose of the publication. No publication generally recognized as having literary value should be excluded under this criterion."
Point of fact, the so called 'violent acts' or 'terrorist acts' that the property officer tried to use to keep me from getting this book are actually committed by none other than Law Enforcement and also covertly 'promoted' by the intelligence community who controls the mainstream media and who work in collusion with the local police who, as we observe on the daily news, continue to beat, shoot and murder innocent men, women and children, which can only be described as very 'violent' and 'terrorist' acts.
After constant confrontation & inquiry the staff finally gave me my book on 3 September 2020, but still tried to use psychological manipulation to make it seem as if I were the one who had done something wrong. They said I had 'raised hell' and caused a lot of trouble about the book when all they had to do was give the book to me to avoid all this.
On John Potash's The FBI War on Tupac Shakur & Black Leaders
The FBI War on Tupac Shakur and Black Leaders was written by an activist and investigative journalist John Potash. He describes and documents historic events in comparison with more current events and describes, using documents & eye-witness accounts, how the U.S. intelligence & FBI target, assassinate, harass and imprison all individuals & organizations (Black, white, Latino, Asian, Native American) that 'promoted' & practiced ideas that were contrary to mainstream capitalist & fascist indoctrination that challenged the social order and the establishment's chokehold on 90% of the world's resources.
J. Edgar Hoover (former director of the FBI) once stated that the FBI must "stop the rise of a black messiah or anyone who could radicalize the civil rights movement", "by any means necessary." Meaning harassment, imprisonment and trumped up charges, destruction of public image or assassination. There are countless leaders; Black, white, Latino & Native American who met this messianic description and all of them fell under the cruel fate of COINTELPRO – including Mutulu Shakur, Afeni Shakur, Tupac Amarau Shakur and many of his relatives.
Potash describes Mutulu, Tupac & Afeni's efforts to create peace between the Bloods, Crips, Gangster Disciples, Vice Lords, Black P. Stone Rangers, Latin Kings & Young Lords and also to convert them into political organizations that would serve the communities that they exist in. This program is a direct influence of Huey P. Newton & Bobby Seale's strategy that was used to create the Brown Berets, Chinese Red Guard and the Young Lords.
Potash also details the predatory and very cold blooded nature of the 'Far Right' neo-conservative, fascist & capitalist powers in the U.$. and how the intelligence community utilizes informants and undercover agents to harass, spy on, falsely accuse, set up, imprison & assassinate leftist revolutionaries or any musician, actor or politician as well as business person associated with revolutionary organizations or movements, that promote peace & unity rather than violence.
After reading & examining closely, for the second time after seven years, I feel an obligation to quote and cite John Potash's work as well as all the revolutionaries he worked with before and after this book's publication.
In Chapter 21 (pp. 101-104) Potash describes what is called 'Penal Coercion', which is a way to break down certain prisoners psychologically, physically & spiritually.
"They found that the U.S. Department of Corrections had a 'Special Services Division' to carry out operations on prisoners. Researchers working from divergent groups, such as the Bureau of Prisons and Amnesty International, described several particular prison tactics as akin to both torture and brainwashing and referred to them as 'penal coercion'."
"A 1983 Amnesty International report on torture presented CIA-designed techniques outlined in Biderman's Chart of Coercion – 8 general penal coercion methods prison officials used to psychologically tear down individuals in order to manipulate them. These methods are isolation, monopolization of perception, induced debility, threats, occasional indulgences, demonstrating omnipotence, degradation, and enforcing trivial demands."
One of the most tragic & ironic cases of this is that of Afeni Shakur's son – Tupac Amaru Shakur. Tupac was targeted the same way his mother was – five assassination attempts, constant harassment from so-called law enforcement and incarceration under false charges. He was practically sentenced to 'Death Row' for his revolutionary work, forcing him, after FBI 'penal coercion' into a corner after which he finally gave in and went against his better judgement and signed with Suge Knight on Death Row Records, a label whose symbol & trademark was a man sitting in an electric chair. This label promoted drugs, sex, violence and ignorance and no higher social causes whatsoever – going against all Tupac & his family of activists stood for. Potash writes, "Tupac's jail conditions also helped influence Tupac to finally sign with Death Row Records."
Potash continues:
"Tupac finally stopped rejecting Time Warner's request to sign with its subsidiary, Death Row. Tupac had spent 10 months in jail. The appeals court refused Tupac's 1.3 million bail offer for those many months that he waited for his appeal trial, but within days of Tupac's September 1995 signing with Death Row Records, the Court of Appeals accepted virtually that same bail offer and released Tupac."
"…Years of accumulated evidence supports that the FBI orchestrated the murder of rap icon Tupac Shakur, and that they used similar tactics to murder other leftist black leaders. Thousands of pages of U.S. intelligence documents reveal how the FBI and other intelligence agencies have waged a war on black leaders. The U.S. Intelligence targeting of Tupac and his Shakur family provides a window into intelligence targeting of leftist black leaders from 1965-2005. U.S. Intelligence (Defense, CIA, FBI and police intelligence) historically opposed leftists – those working to make changes in society to gain more equitable sharing of wealth and resources. The CIA's leadership, the directors of intelligence agencies until 2001, were comprised of the wealthiest American families. Their founders also saved thousands of Nazis [after the end of WW2] and put them to work on intelligence projects."
Summing Up
So be watchful of all correctional officers, deputies, staff and prisoners because the capitalists of the 'criminal culture' that is fueled by drugs, sex and violence has captivated the minds of the 85% (majority of oppressed masses). And they have no real loyalty to any higher social causes and they will sacrifice anyone, and anybody, to keep whatever they gained from capitalist society and for whatever material or position they are trying to acquire. No matter how low they are on the pyramid, as Paulo Freire writes, "the oppressed class subconsciously emulates, imitates and identifies with their oppressors."
All conscious, political & revolutionary prisoners, within and without, in prison & at home; the intelligence community has perfected the art of utilizing the informant and the undercover agent for decades and has been proven to be their most valuable asset, used to assassinate (as in the case of the late Nipsey Hustle PBUH) and bring down countless revolutionaries. Be wary of all people (inmates and staff) who become super defensive and ultra-sensitive when you are critical about the current social order and the establishment. Most likely they are either active agents, informants or have friends & family members who work for Law Enforcement, the CIA, FBI, or U.$. Military – three institutions that are interlocked in the same criminal network.
All of our great leaders and revolutionaries; Black, white, Latino, Asian, Indian, Middle Eastern or Native American, have all pointed to the same facts and for this, like Tupac Amaru Shakur, Malcolm X, Che Guevara, Huey P. Newton, Bobby Seale, Clarence 13X, Marcus Garvey, George Jackson and Geronimo Pratt, they were harassed, imprisoned unjustly, or assassinated for it. Peace be upon them, for they are the true prophets and messengers of this age, and it is only men & women like them who will lead us into the new age of Revolutionary Transcendence.
Peace (Positive Education Always Caused Enlightenment)