Materialist Analysis of the Stop Snitching Slogan: Stop Collaborating!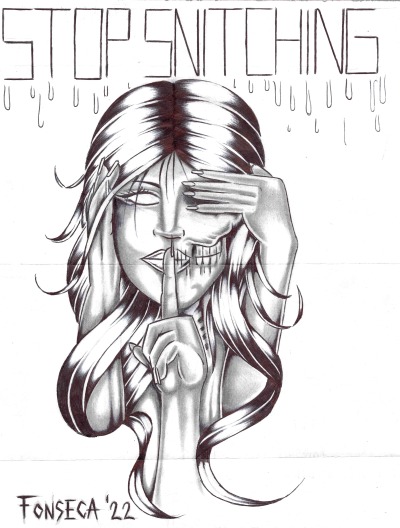 Introduction: Current Existing Ideas Around Snitching
As Marxist-Leninist-Maoists it is important to apply the dialectical materialist method when it comes to handling the contradictions among the masses. In the prison context where most of our organizing revolves around, the contradictions between various prisoner individuals, national groups, and lumpen organizations can become antagonistic and it is our job to transform this antagonistic contradiction into a non-antagonistic one and resolve it from there out.
One example of idealism is around the "stop snitching" slogan and campaign. Is "stop snitching" a correct slogan? Only an idealist could answer this question without more information. The materialist method of finding out what would constitute "snitching" would be to analyze the material conditions of how this "stop snitching" idea came about, the purposes it was for, which classes were promoting it, and going from there. What we must not do is treat it like a general platitude where it can be abused for anti-people purposes and exploited by the pigs to get the masses to fight amongst themselves.
To assume the most righteous origins of the "stop snitching" slogan, we can think of various lumpen organizations, who might be in competition and rivalry with each other at times. Yet these organizations all come to agree that they have a common interest in not sending the oppressor's cops against each other. Perhaps there is a consciousness as oppressed people uniting these L.O.s to come to this conclusion. But certainly there is a material interest in staying alive and out of prison by reducing the amount of police involvement in their lives.
The "stop snitching" campaign was a success. So much so that today, in many prisons, it has been taken up as an idealistic and dogmatic truth rather than a materialist principle to apply in differing conditions. To many this slogan is true for all times and all places. In fact, it is so absolutely true that they apply it to the police themselves! We've received reports from many parts of the country that comrades can't get others to file grievances against abuse and inhumane conditions against the system because fellow prisoners don't want to "snitch".
Now in reality, those fellow prisoners are probably just scared of what prison staff will do to them, so they use the "stop snitching" slogan as an excuse to do nothing and live quietly under the boot of oppression which the stop snitching principle was brought up to fight against in the first place.
However, those who stand up for themselves recognize the role of grievances. We live in a bourgeois democracy. The image of the rule of law is important to the enemy even if things become lawless in the corners of society, like in prisons. There is a grievance system and the bourgeois/imperialist state says they will follow that system. That means this is a tool that can and should be used to improve conditions for comrades organizing within the belly of the beast and fight for the political rights to build independent institutions. To call that snitching is to say that something is true because it's true; not because of any actual evidence or material basis. To call this snitching is to lack any analysis of class, nation, gender or who are our friends and who are our enemies.
And as we discussed in the last issue of ULK, we must learn to think in percentages to build the United Front for Peace in Prisons. Thinking in absolutes, allows the enemy to keep us divided.
Case Scenario: Inmate Collaborators and Pigs Using Anti-Snitching Sentiment to Repress Prisoners in CDCR
In one of many reports like this, a comrade in California recently wrote us:
Dear MIM Distributors,
I am a disabled person under the Armstrong v. Newsom injunction where I continue to be targeted by officers who specialize in pitting prisoners against each other to discourage and deter use of the grievance process at Richard J. Donovan Correctional Facility (RJD), and in retaliation for the same.
On the morning of 25 August 2023, while exiting my cell quarters to be issued my breakfast and lunch Kosher meal, one of the inmate porter workers (infamous for not only disruptions, violence, and fighting other prisoners on the unit; but also carrying out retaliatory terrorism for officers against prisoners who use the RJD grievance process to report misconduct) began to ridicule me without provocation.
Subsequent to returning to my cell and at commencement of A.M. medication, officer G. Sellano supervised pill line near my cell as the same prisoner porter worker came to my cell door and began hostile provocation calling me a "snitch" for pending grievances (Attached as Exhibit A). Both of which involve this very same inmate porter worker and officer G. Sellano.
This inmate porter worker then stood outside my cell door on a rant to provoke me by yelling "snitch, you a bitch, you wrote a buz on me and Sellano." The whole time officer G. Sellano stood listening, watching as the inmate porter worker then openly blasted how he is able to "do what I want all around here, I can fight anybody I want and nothing will happen. I won't even get a 115." Challenging me to fight as officer G. Sellano stood listening and watching while supervising the A.M. medication line next to my assigned cell.
Said inmate porter worker then began yelling to the tower officer to open my cell door in order to attack me while officer G. Sellano continued to fail to intervene, act, or quell the growing disorder.
The inmate porter worker in question is allowed to volunteer work for officer G. Sellano where the inmate receives detailed information on pending grievances filed against officer G. Sellano – then uses that personal knowledge of grievance information to confront, intimidate, and provoke some violent incident with the grievant: all while officers on the unit watch.
Facility Captain Lewis has turned a blind eye to not only this particular inmate porter worker's ongoing propensity for violence and daily disruptions on the housing unit, but also the fact that this particular inmate porter worker is and has been for months now, used as a torpedo for housing officers like G. Sellano to be programmed to target prisoners like me who use the grievance process here at RJD while Warden James Hill has been unable to prevent officers like G. Sellano from using working knowledge of department operations to gather information for the purposes of endangering the safety and the welfare of those confined therein.
Inmates vs Prisoners
Inmates are the categorical definition used by the U.$. law to white wash their crimes. It is no different politically than to call the torture of Iraqi POWs "enhanced interrogation." Inmate also implies a more collaborative relationship between captive and captor, which is an appropriate term to use for the inmate porter described above. A politically appropriate term for the vast majority of the imprisoned lumpen in this country would be prisoners or captives. We do not live in a time where wars are officially declared or sanctioned by governments through formalized documents. Wars are declared through invasions (such as the Russian invasion of Ukraine), bombings (such as Al-Qaeda's destruction of the twin towers), etc. The U$A has waged war against the oppressed nations inside their borders through mass imprisonment and police occupation – thinly disguised as "war on crime" or "war on drugs." During this mass imprisonment and lumpenization of the oppressed nation masses through the criminal inju$tice system, inmates are those who collaborate with the pigs behind bars – a consciousness of a lumpen class in itself. A lumpen class for itself, as Marx used the term, would recognize the political importance of the two distinctions.
As stated earlier, the stop snitching slogan can be utilized as principled solidarity as fellow oppressed nationals within the constant anti-people activities of the lumpen class. Through popular support, such as hip-hop culture, this stop snitching principle would even extend beyond street life into the youth where telling on adults or school teachers would even be considered snitching. The principle of a specific lumpen life now become a general platitude and empty virtue. We ask our imprisoned lumpen readers, can snitching really be stopped without independent power from the oppressor? What would it mean to be loyal to "your people" or "your folks"? Can the principle of anti-snitching be applied to the enemy who it is designed to protect fellow oppressed nations or lumpen from in the first place?
We hope to move the discussion a step forward for our readers who seek to transform the anti-people gangster mentality to the pro-people revolutionary path. Using the few rights that the oppressed are given against the oppressor to build power among the masses is not snitching. Perhaps this over-emphasis on snitching on fellow criminals (as the government are criminals oftentimes in lawless corners of society such as prisons) shows the class in itself level consciousness that many of our readers might be susceptible to.
Stop Snitching!
Stop Collaborating!

Related Articles: